Brad Pitt's Rolling Stone Cover From the '90s Draws Comparisons to Harry Styles' Recent Vogue Cover
There are many ways to measure a celebrity's success and status. Perhaps it is in how many Oscars they've won. Perhaps it is in how many Instagram followers they have. One measure is in the prestigiousness of their magazine cover appearances. Getting the coveted spot on some of the world's most glamorous magazines has long been a sign of making it big. Appearing on the cover of Vogue is definitely an honor many celebrities would love to have. Recently, Harry Styles got to take up this particular celebrity milestone, and his memorable appearance is drawing comparisons to yet another iconic cover photoshoot.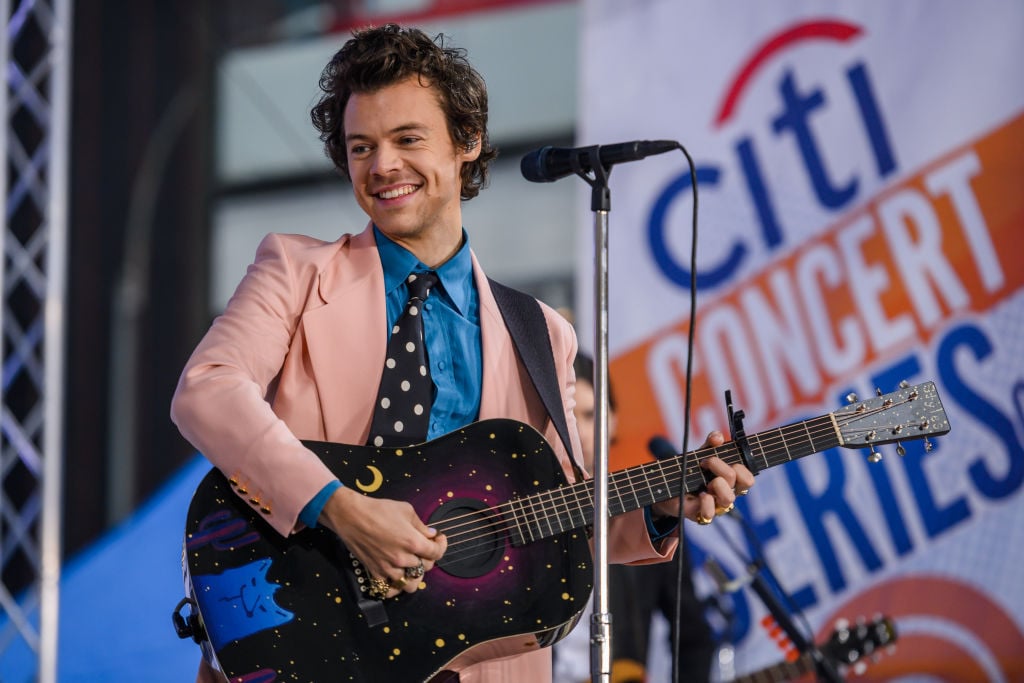 Harry Styles rose to fame with One Direction
Harry Styles rose to fame as a member of the iconic pop band One Direction. The band gained critical acclaim for their hit songs that often drew influence from tunes first recorded in the 1960s and 1970s. In fact, Styles considers Fleetwood Mac frontwoman Stevie Nicks to be a huge influence, and she's quite fond of Styles as well.
The band was made up of Styles and Niall Horan, Liam Payne, Louis Tomlinson, and Zayn Malik. They notably formed as participants on the reality television series The X Factor, and their fandom grew to epic proportions after their 2010 debut. Unfortunately, the band hit some rocky times and had a somewhat messy split in 2016. Fans may still be hoping for a reunion, but with several members pursuing successful solo careers and little action from them as a group, it seems unlikely.
Harry Styles has made waves with his fashion choices
RELATED: Harry Styles Was a 'Consent King' While Filming the 'Watermelon Sugar' Video
Arguably the most successful solo artist from One Direction, Styles has definitely made a splash in the music world since venturing off on his own. He even has the distinction of breaking into the elusive Rolling Stone top 500 songs list just after his album was released. The music magazine had nothing but praise of Styles' album Fine Line, stating that the musician "stakes his claim as one of his generation's most savagely imaginative musical minds" with the album's release.
It's not just music that gets Styles his fans, though. He is also well-known for his fashion choices. He frequently appears in edgy looks that defy notions of gender barriers in the fashion world, and he makes a nod to his childhood days of dressing up with his sister as inspiration.
Harry Styles' Vogue cover reminds fans of Brad Pitt's cover photo
Recently, Styles made a groundbreaking appearance on the cover of Vogue. His appearance was not without controversy. He brought his signature style with him, and the ball gown he wore ruffled the feathers of conservative commentator Candace Owens who lamented that his choice of clothing was "an outright attack" on the "manly man." As BuzzFeed explains, fans were having none of it and quickly snapped back by pointing out that Styles likely didn't need or care for Owens' opinion.
Meanwhile, some fans weighed in on the controversy by pointing out that Styles was not the first high-profile man to appear on a magazine cover in a dress. In 1999 — at the height of his heartthrob days — Brad Pitt appeared on the cover of Rolling Stone smoking a cigarette while wearing a boldly printed dress. Pitt's appearance definitely had a darker tone than Styles' playful one, but fans are quick to point out that the choice to play against gender stereotypes in these moments of high-profile attention links these two men across decades.