Brandy Did Not Get Along With This 'Moesha' Co-Star
Apparently, Monica isn't the only person Brandy had a rivalry with during the 90s. Many fans were shocked to find out that things between "The Boy Is Mine" singers turned physical but Brandy had another feud – and it was with someone closer to home.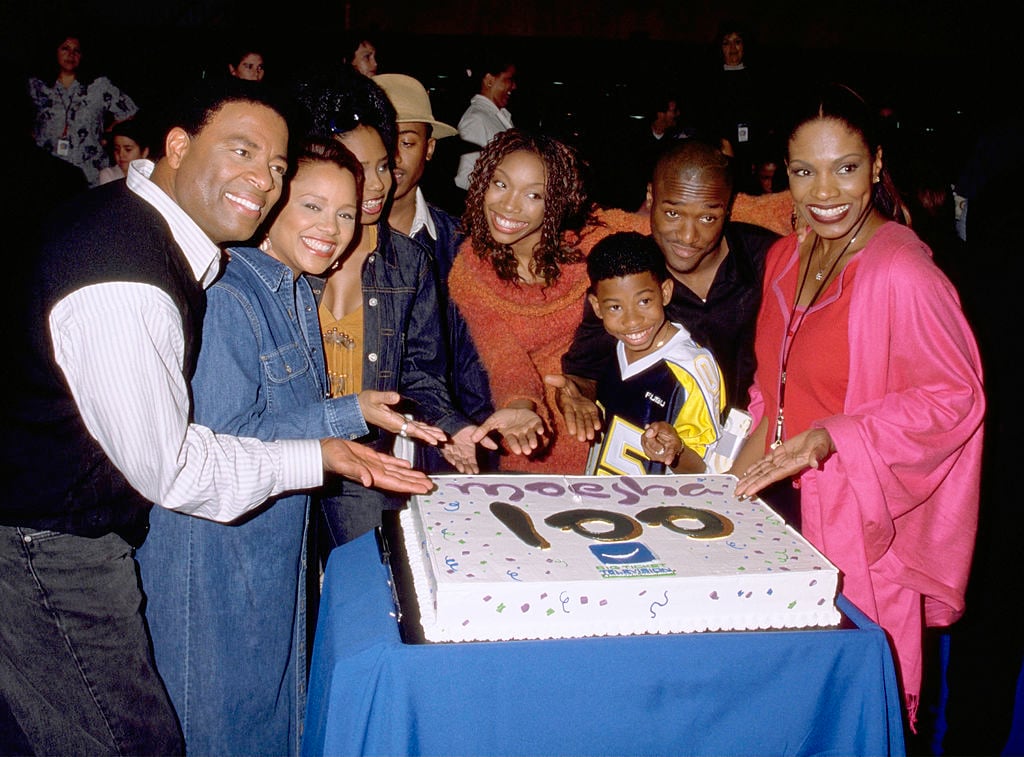 While starring on the hit UPN show, Moesha, Brandy, and her co-star, Countess Vaughn, were said to not be as close as their on-screen characters. Years later, the truth about their relationship would be revealed.
Brandy and Countess Vaughn feud during 'Moesha'
Though the two stars played best friends on the show, they had very little camaraderie off-screen. Brandy starred as Moesha with Vaughn as her BFF, Kim Parker. Vaughn played the funny and often times ditsy sidekick to the ever-perfect main character, but her wit drew lots of laughs from fans. Though the show was successful, rumors of tension on set ran rampant during the first few seasons of the show.
Brandy confirmed that there were issues between her and her co-star in a 1998 interview with Vibe Magazine. She even insinuated that their feud stemmed from jealousy on Vaughn's part, telling the publication:
"I think she's very funny, very talented. I just feel like she wants to be in the position I'm in. People tell her, 'You're the reason why the show's successful.' And she's told me that before. And she's called me a bitch—to my face. She said, 'I'm the reason why the show is successful, bitch.' In front of a lot of people. And I looked at her like, 'Wow.' I couldn't say nothing about her because I wasn't about to. She knows. She wakes up and looks at herself in the mirror and gets disgusted. I don't."

VIBE Magazine
Their tumultuous relationship became too much to handle on set and the network figured out a way to keep both stars happy. During season 4 of the show, an episode centered on Vaughn's character and the decision on what college she'd attend after high school. Her mother, Nikki Parker (Mo'Nique Hicks), was introduced in the episode and their close mother-daughter relationship was explored. The episode registered well with Moesha fans and led to a spin-off led starring Vaughn and Mo'Nique. Vaughn left Moesha for her own show, The Parkers, which ran for a successful five seasons.
Countess Vaughn apologizes to Brandy almost 20 years later
Over the years, Brandy has been vocal about the personal struggle she experienced during her time on the show. It was difficult for her to balance life as a platinum-selling artist while also being the star of her own TV show. Adding to the pressures of her career was the difficult relationship she shared with Vaughn during their time on the show and her attempt to try and maintain the fictional level of perfection her Moesha character upheld.
Brandy quit the show after the sixth season and she and Vaughn rarely spoke of each other publicly. Vaughn dealt with personal challenges, including health issues related to her weight and a devastating divorce, that kept her out of the spotlight. Her career stalled but she was often questioned about whether or not a Moesha reunion was possible. More so, she was constantly asked about her strained relationship with Brandy.
Vaughn issues a lengthy apology to her former co-star on Instagram in 2015, writing in part:
"At the end of the day I had to learn in [sic] find myself why not be friends when we're both talented, Why call you names when your [sic] just an amazing person? I'm proud of you for being you and working to rise to the best you inside of you. You are an amazing being with amazing God-given capacity."

Instagram
Brandy later and accepted her former foe's apology.
Are Brandy and Countess Vaughn friends today?
All seemed well after the Instagram apology. That all changed just a year later when Vaughn seemed to have a change of heart. During an interview with HipHollywood, the actress seemed to throw shade the singer's way when asked if viewers of her reality show, Hollywood Divas, would see her rekindled relationship with Brandy.
Fans were confused but not all hope was lost. In 2018, there was a Moesha reunion on the FOX daytime talk show, The Real, and fans were excited for a potential reboot – or at minimum, a finale episode from the last episode that aired and left fans with a cliff hanger. Fans simply requested a resolution for their favorite 90s sitcom.
With all of the 90s sitcom revivals, anything is possible! More importantly, let's hope that Brandy and Vaughn can bury the hatchet or good.