Bravo's 'Camp Getaway': Is Someone Already Getting Fired?
Only three episodes in and could someone be getting fired at Camp Getaway?
Episode three of the docuseries about a camp for adults tease that perhaps someone could be sent packing as the show is simply referred to as "Camp Fire'd." Last week, social coordinator Nile Lundgren was told he had one last chance to remain at Camp Getaway.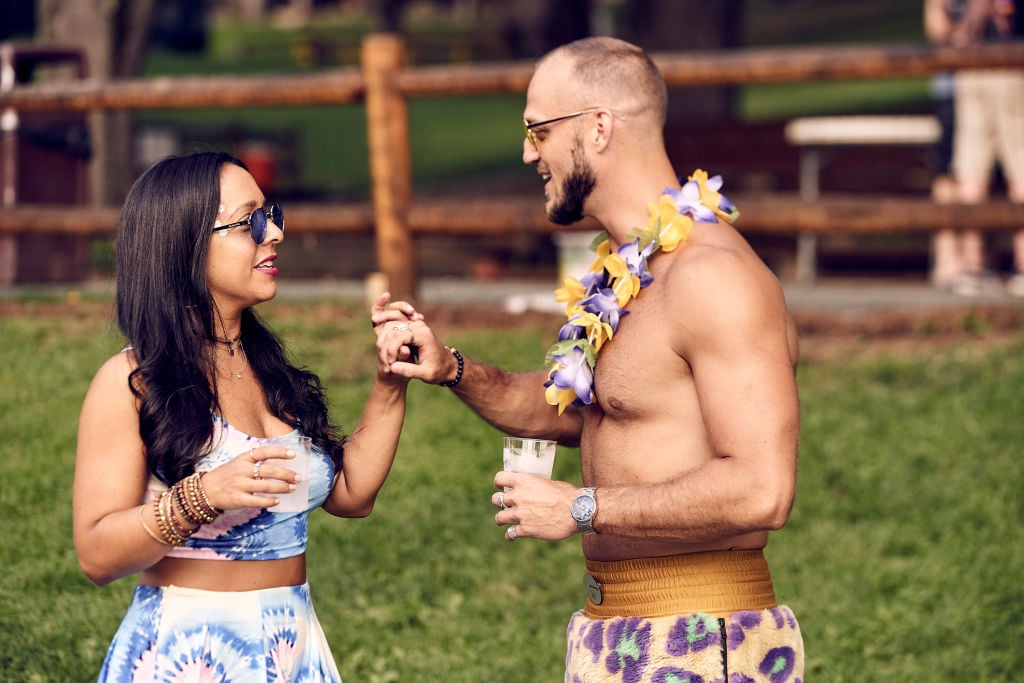 Lundgren led a group of campers in a late-night swim. Camp owner David Schreiber is furious. He finds the group and screams for them to "Get out" of the water. The next day he tells Lundgren he broke a major rule and compromised the guests' safety with that move. He also told Lundgren this was going to be his last chance to stay at camp too.
The episode could get messy
According to the episode description, Lundgren definitely seems to be on the brink of getting fired. "Gavin, a new social coordinator, joins the team, and Nile wonders if he's getting replaced," according to the teaser.
New social coordinator Gavin Stewart is a New York City-based accountant and youth basketball coach, according to his bio. Is he the social coordinator coming in to replace Lundgren? "Fresh out of a long-term relationship, he appreciates the attractions – and distractions – that Camp Getaway brings. His confidence, optimistic outlook, and great reputation make him the ultimate package for anyone looking for a summer fling," Stewart's bio states.
Stewart appears to fulfill that "summer fling" goal, along with plenty of drama, apparently with senior social coordinator Adam Mizrahi. The trailer shows there could be a love triangle between Stewart, Mizrahi, and Sophia D'Angelo. Well … maybe. D'Angelo is seen kissing Mizrahi. She's also looking pretty cozy with Stewart too. But then Randall Klein is also thrown into the mix.
Speaking of complex relationships
The other drama this episode revolves around Mizrahi. "Adam's mixed signals result in a confusing love triangle, and David reaches his limit with Adam's nonchalant careless attitude."
Perhaps Mizrahi's triangle could also be with Klein and D'Angelo too. After D'Angelo is seen kissing Mizrahi, she tells Monica O'Neal that Mizrahi left with Klein. Mizrahi is also seen snuggling with Klein too. But trouble is definitely brewing between Mizrahi and Stewart. "I like the girl," Mizrahi says to Stewart. "You knew that bro!" The plot certainly thickens.
Plus, Klein and D'Angelo end up having a tearful heart to heart too. Thankfully, at least their relationship is tight. "I'm also really close with Randall and Neely [Fortune]," D'Angelo told Showbiz Cheat Sheet. "They have been a huge support system. Also, Nile [Lundgren]. Nile has been super helpful with a lot of stuff throughout the whole season. We went through such a unique experience together. And we're all bonded on a really deep level."
Sophia D'Angelo says viewers should buckle up
D'Angelo told Showbiz Cheat Sheet she was surprised that being a social coordinator came with so much drama.
"Honestly, the biggest thing, which was so real for me and shocked me all summer was the amount of drama," she dished.
"It just organically happens," she says about some of the crazy moments at Camp Getaway. "When you have eight adults who have full-time jobs and are working all week. Then come on the weekend and work at a camp, where they're entertaining 300 people, [drama] just organically happens when you least expect it."
Camp Getaway airs on Mondays at 10/9c on Bravo.