Bravo's 'Camp Getaway' Owner David Schreiber Says 'Everyone Has a Breaking Point' (Exclusive)
'Camp Getaway' promises fun escapism with the dash of drama every Bravo lover needs.
Camp Getaway is Bravo's new series that combines a voyeuristic peek into a unique industry like Below Deck with the hedonistic indulgence of Summer House.
Set in the Berkshire Mountains of Kent, Connecticut, Camp Getaway was not created to be a reality show for Bravo. Camp Getaway is an actual camp for adults. Owner and director David Schreiber told Showbiz Cheat Sheet his camp and other camps throughout the country are designed for adults and have existed for decades. The only difference is no one has tried to film a reality series at one of the adult camps.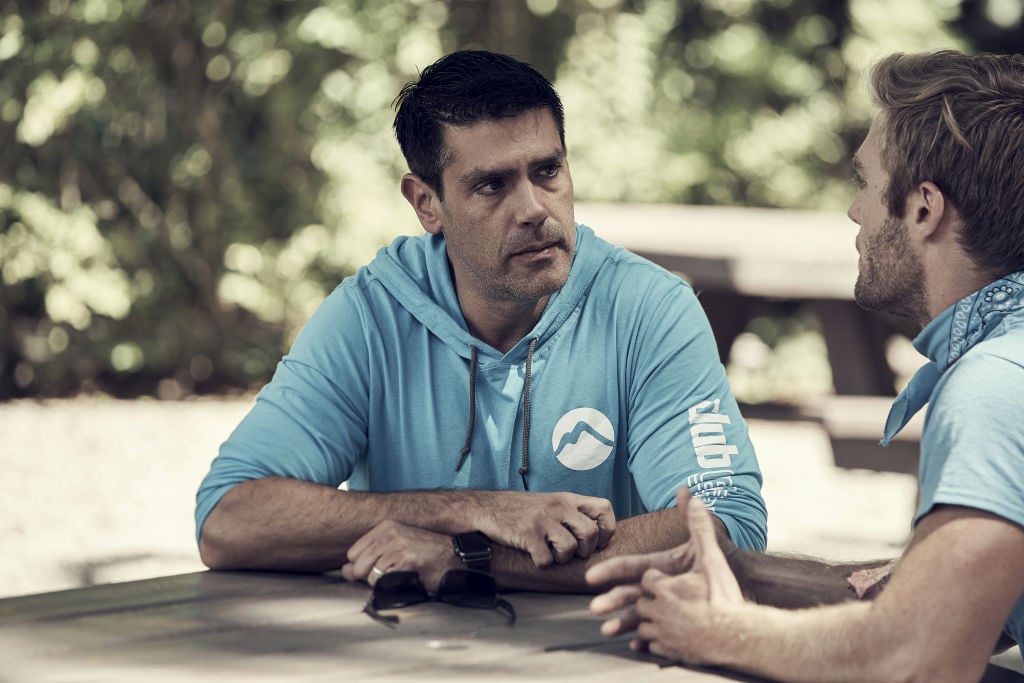 Schreiber opened up about what it was like to film a reality show while running his summer business. He said balancing business as usual with cameras following his staff and guests was dicey at times. But the overall experience was extremely positive and a lot of fun.
While the trailer shows it's fun and games for the adult campers and staff, Schreiber thinks viewers should buckle up. All the drama viewers relish from most Bravo reality series is here, bubbling under the surface at Camp Getaway.
'Camp Getaway' was born from an idea from camp parents
Schreiber purchased the camp in 2012. "I was a camp director for children," he explains. "But my wife and I had this idea because of the camp parents. They would tell us, 'My kids are in camp, but we want to be in camp!' So we purchased the camp so adults can come on the weekend. We focus not on singles or couples. We just wanted to provide the camp magic for everyone."
He has about 150 employees, with most who are seen on camera. But he also hires "social coordinators," who are part of the cast.
"My social coordinators are professionals [and have jobs outside of Camp Getaway]," he says. "They are doctors, lawyers, business owners. So their motivation for coming here is really about the experience and just doing something new and unique."
Previews show that social coordinators are camp employees, but they are also interacting with guests, which often blurs the line between staffers and guests. Social coordinators can have cocktails with the guests but are told to know their limits. However, sometimes those limits get pushed a little too far.
Social coordinators bring the fun (and also the drama)
"One of the challenges is balancing that level of accountability," Schreiber says. "This is not their career; they are here on vacation. How do they buy into my mission of what I want to accomplish? Because they are representing my business."
With that in mind, many social coordinators, especially first-year crew members, may find the job to be challenging. "You are dealing with guest demands, but you are also dealing with your own personal issues," Schreiber says.
"The crew develops their own community and social network and become peers with our guests," he continues. "And part of what is a gray line is what's a guest and what's a crew. And that's intentionally gray because we want our guests to feel like our crew are with them as part of the experience."
But as a result, the camp design may not be for everyone who arrives as a social coordinator. "It's really interesting. I'll start the season with a pool of about 70 people," Schreiber says. "We'll end the season with a pool of 35. People will be like, 'This isn't for me' or 'This isn't what I expected.' And they'll just not come back. Or I'll say, 'You're not right for us,' and they won't come back."
The drama can get a little intense
The trailer shows senior director Claire Sorrels becoming extremely angry with a decision two social coordinators make. Schreiber recalled the incident and didn't think her reaction was too over the top.
"You have to remember it's a people business," he says. "And everybody has a breaking point. I think Camp Getaway exposes everybody's breaking point. Even I have a breaking point. I think though it goes both ways. I hope my team realizes if someone reaches a breaking point, that they could step away and maybe not take it personally."
"And if they do take it personally, know that tomorrow is a brand new day," he says. "One thing I try to instill in my entire staff is we do not hold grudges." Schreiber says staff should offer a quick apology and move on because serving the 250 guests is the main priority.
Speaking of the guests …
One of the biggest challenges for Schreiber was making sure the group of guests who wanted to be filmed was followed, while at the same time protecting the privacy of other guests. Schreiber says his camp was filled during filming, but producers follow one specific group of adult campers.
"For the production crew, it wasn't a challenge because it is a big place," he says. "But what was challenging for me was to make sure if someone didn't want to be captured [on film], they're not being captured."
He adds that the production crew was extremely professional and was able to isolate the groups for the storyline from the rest of the campers.
Camp Getaway premieres on Monday, May 4 at 10/9 Central on Bravo.