Bravo's 'Camp Getaway': Sophia D'Angelo Says the Amount of Drama This Season Was Shocking
Sophia D'Angelo from Bravo's Camp Getaway may know how to run a company like a boss, but when it came time to deal with all the drama last summer, she was left feeling completely shocked.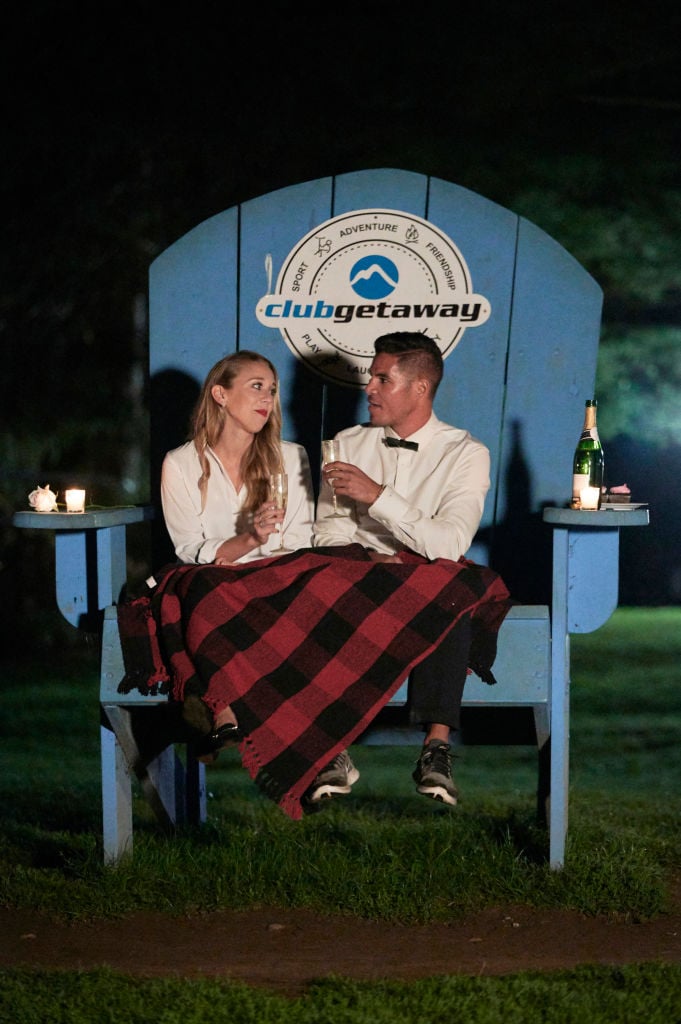 D'Angelo told Showbiz Cheat Sheet she wasn't prepared for the level of intensity involved with being a social coordinator and found that aspect to actually be pretty surprising. "Honestly, the biggest thing, which was so real for me and shocked me all summer was the amount of drama," she admits.
"It just organically happens," she says about some of the intense situations at Camp Getaway. "When you have eight adults who have full-time jobs and are working all week. Then come on the weekend and work at a camp, where they're entertaining 300 people, [drama] just organically happens when you least expect it."
Camp can be a little exhausting
She adds that having everyone sleeping in tight quarters lends itself to heightened emotions too. The extra drama was not exactly what D'Angelo had in mind when she signed up to be a social coordinator.
"I started my own company about two years ago," she reveals. "And like anyone who has been part of a small business knows, it pretty much rules your life. When I heard about an opportunity to get out of the city every weekend and meet new people and just honestly have a chance to kind of unplug, I really jumped at it. It was like a no brainer."
RELATED: Bravo's 'Camp Getaway' Owner David Schreiber Says 'Everyone Has a Breaking Point' (Exclusive)
She admits that while they technically got to "unplug" it didn't mean they were able to chill out either. "I love that the episodes showed the timestamps because for me, that was the hardest part. We were done working, but we were up at that point just sort of partying with the guests until sometimes 3:00 a.m. And then have to get up at like 7 [a.m.] the next morning. I had to get used to the lack of sleep. I'm usually somebody that goes to bed pretty early, so I had to get used to that."
Maybe a camp romance is part of the season's drama?
D'Angelo seems to get romantically involved with someone on the show this season. While she leaves viewers guessing, she dished about which cast members she was closest to. Could it be someone she was involved with?
RELATED: Bravo's 'Camp Getaway': Which Cast Members Already Knew Each and Why Was That Super Awkward?
"I think obviously from the trailer, you can see that Adam [Mizrahi] and I got really close," she dishes. "And we still have a very close relationship. He's a wonderful guy." D'Angelo didn't tease who she ends up having a "campmance" with but the trailer shows her in a liplock with Mizrahi. Meanwhile, Randall [Klein] had her eye on Mizrahi the minute she arrived. D'Angelo later shares with Monica O'Neal that Mizrahi leaves with Klein. Hello, drama.
"I'm also really close with Randall and Neely [Fortune]," she continues. "They have been a huge support system. Also, Nile [Lundgren]. Nile has been super helpful with a lot of stuff throughout the whole season. We went through such a unique experience together. And we're all bonded on a really deep level."
Camp Getaway is on Mondays at 10/9c on Bravo.