Bravo's 'Camp Getaway': We Now Know Why Nile Lundgren Doesn't Want to Be Friends With Monica O'Neal (Exclusive Clip)
Nile Lundgren from Bravo's Camp Getaway left fans guessing about why he wasn't interested in a friendship with senior social coordinator Monica O'Neal.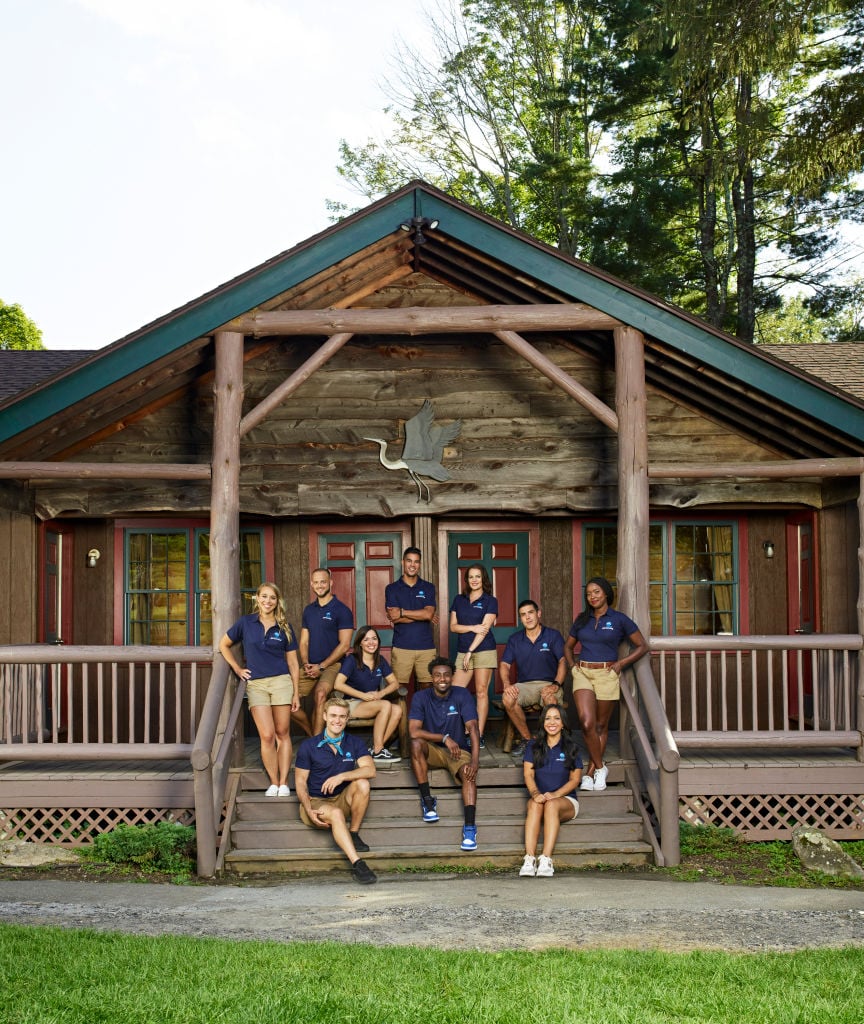 Lundgren told Showbiz Cheat Sheet that O'Neal was the only person he'd be fine not being friends with, but didn't offer any details.
"If there's anybody I don't really mind [not] talking to it's Monica," he said. "I think I could take that relationship out. Everyone else, everyone, in general, is a really good person. But I'm just saying if I didn't have to talk to one person, it would probably be Monica."
An upcoming spat on Camp Getaway sheds some light on why Lundgren and O'Neal probably won't ever be besties.
Nile Lundgren says he's tired of Monica O'Neal acting like the rules don't apply to her
In the clip, Lundgren approaches O'Neal and asks if they can talk. He hugs her to keep the encounter light but says in a confessional he's sick and tired of O'Neal thinking the rules don't apply to her. Examples include both times Lundgren got in trouble.
First, O'Neal told Lundgren she thought it was OK for him to present a birthday cake early when he was told to wait. He delivered the cake early, which earned him a verbal lashing from senior camp director Claire Sorrels.
RELATED: Bravo's 'Camp Getaway': Nile Lundgren Says Claire Sorrels Overreacted but She's Not the Crew Member He Doesn't Want to Speak to Again
Then, when the guests wanted to go night swimming, she put her hands over her ears and said, "I hear nothing, I see nothing." Lundgren got into so much trouble, camp director and owner David Schreiber told him he was only getting more shot to avoid being fired. As a senior social coordinator, O'Neal was tasked with mentoring the new social coordinators.
At this point, Lundgren has had enough. "Monica thinks she's the boss of the camp," he says in a confessional. "But she's not." Lundgren and O'Neal find a place where they can speak in private and it's all downhill from there.
Lundgren confronts O'Neal about her 'unsolicited advice' and wants her to 'check the ego'
Lundgren tells O'Neal he's not thrilled with receiving all of her "unsolicited advice." She asks for examples of the advice he's being given. "Even my name tag, you're like, 'Oh it needs to be here.' It wasn't perfect according to your standards."
He then tells her that he's spoken with other people who back up his assertion. "But I need you to speak about you," she replies. They continue to bicker until O'Neal says, "You don't listen."
RELATED: Bravo's 'Camp Getaway': Sophia D'Angelo Says the Amount of Drama This Season Was Shocking
This remark surprises him, but O'Neal insists he's spoken right over her. "And I'm like OK, this guy likes to talk and he likes to talk about himself," she adds.
As they continue to debate, it is clear neither feels heard. "Just check the ego a little bit," Lundgren says to O'Neal.
"That sounds really rich coming from you," she returns. "What ego?" As a psychologist, O'Neal has her own insight. "Whatever insecurities he has, whatever things he can't wrap his head around, me as a woman, confident woman. Black woman. Whatever, that's on him. Just let me be great and have a good time. You go do your thing."
Camp Getaway airs Mondays at 10 p.m. ET/PT on Bravo.