Bravo's 'Camp Getaway': What Does It Really Cost for a Weekend at Camp?
Bravo's Camp Getaway is a real escape for those who seek a little youthful adventure with an adult flare.
Viewers are getting a small taste of what it's like to be an adult camper at Camp Getaway, actually called Club Getaway in real life. Nestled on more than 300 acres in the Connecticut woods, Club Getaway offers activities and entertainment for weekend warriors.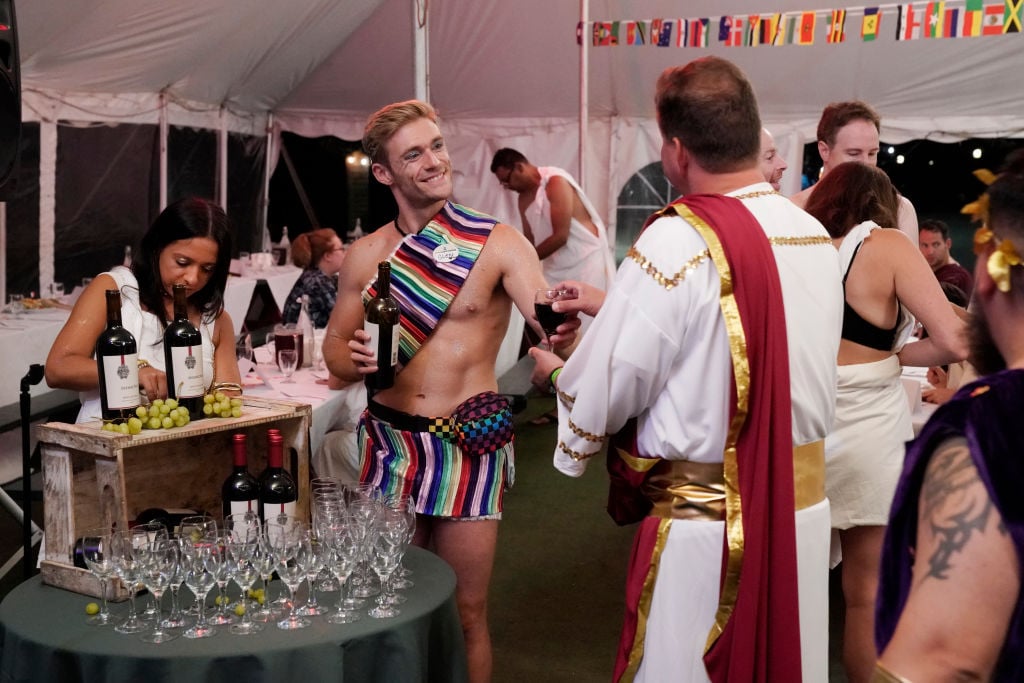 "Our attentive staff will spoil you rotten and help you indulge in a weekend adventure—as you like it! All to the backdrop of the gorgeous Berkshires of Connecticut," according to the website.
Camp packages include rustic "chic" cabin accommodations, daily housekeeping, and meals (plus wine). But also on-site activities and parties. So what would a typical weekend set you back? Going to camp is more affordable than you may think. And yes, you can go to camp this summer.
Summer 2020 is open
COVID-19 threw a wrench into many camp plans. However, the current rates are posted for the summer 2020 season. Camp owner and director, David Schreiber was hopeful camp would resume this summer, despite COVID-19.
"My hope is we can open up in June," Schreiber told Showbiz Cheat Sheet in April. But he insisted that he will not open unless he's sure camp will be safe for everyone. "But we will be open this season, I think it'll be a different type of season." The camp is currently opening for July 4th weekend.
RELATED: Bravo's 'Camp Getaway' Owner David Schreiber Says 'Everyone Has a Breaking Point' (Exclusive)
Schreiber described how being at camp will be safe. "I think instead of 250 guests on the weekend, we're going to be focusing on 100 guests for the weekend," he envisioned. "There will be a sense of social distance."
"I think it will be of the comfort level of people to come to camp," he says. "Some people may not be comfortable, some people may be very comfortable. Who knows. But my job is to keep everybody safe. And if we don't have the proper protocols in place, we're not going to open our doors."
Each weekend has a theme
From July 4th to "Camp John Waters," Camp Getaway has thought of everything. One of the camp's signature weekends, "Glamp Out LGBTQ" was featured in a recent episode.
Rates for the first weekend, Thursday, July 2 through Sunday, July 5 is $489 for early registration and $569 for the regular rate. Some weekends are even less expensive. The early registration rate is $429 and the regular rate is $509. Campers can score this deal for Friday through Sunday weekends.
RELATED: Bravo's 'Camp Getaway': We Now Know Why Nile Lundgren Doesn't Want to Be Friends With Monica O'Neal (Exclusive Clip)
However, Labor Day weekend, which starts on Friday, September 4 through Monday September 7 is a little less expensive than July 4. The early registration rate is $469 and the regular rate is $569. Camp this year is open through the end of October for those who want to go leaf-peeping.
Although wine is included with the package rate, campers can beef up their experience and add an extra $109 to their rate. "The only additional cost is for any drinks purchased at the bar. We can take care of that too…. For $109 you can add an All-Inclusive Cheers Package to your reservation."
Until camp opens, watch Camp Getaway on Monday at 10/9c on Bravo.