Bravo's Family Karma: Anisha Is Engaged! But Why Did She Want to Punch Someone?
Anisha Ramakrishna from 'Family Karma' is engaged! She shared her hilarious proposal story on her podcast, which left listeners hanging.
Anisha Ramakrishna from Bravo's Family Karma announced on her podcast that she is engaged! She is "over the moon" and so happy but of course – she had a hilarious proposal story.
Ramakrishna shared she was thrilled but at the same time, she was raging. "Most people cry tears of joy during their proposal," she said on her Currently Cringing podcast. "No. I wanted to punch someone in the f***ing face." Wait … why?
Anisha from 'Family Karma' got engaged at home
Ramakrishna explained she gave her boyfriend a Cinco de Mayo proposal deadline and wanted the moment to happen in either South Florida, Big Sur, or New York. The couple currently resides in Scottsdale, Arizona. She's a planner, her boyfriend – not so much.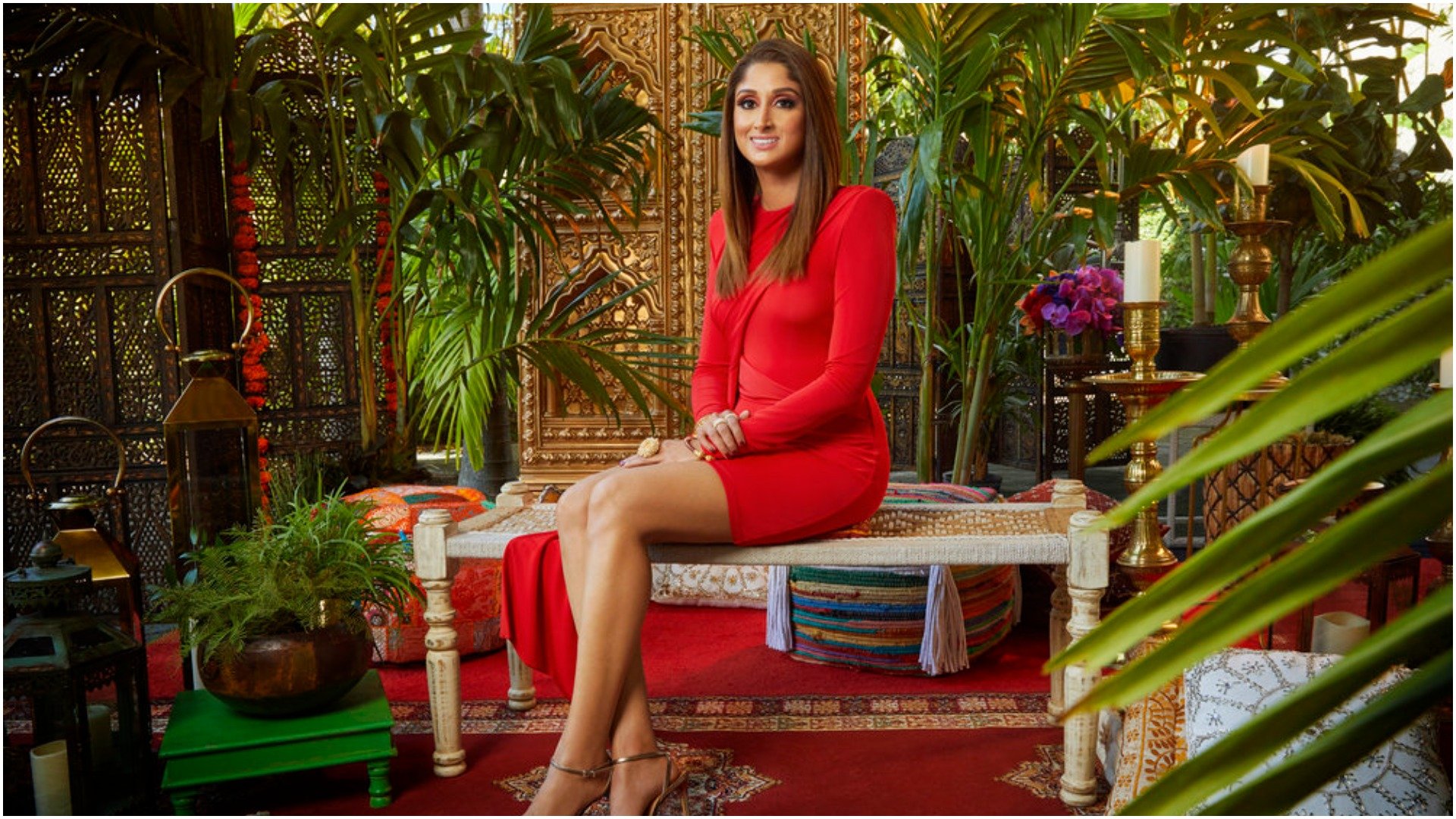 "I waited 37 years for this proposal," she said. "Meeting the love of my life. It was really important to me. And I'm a traditional girl at heart so I can't plan my proposal." Well, maybe she can. Ramakrishna consulted with her astrologer to lock down the best day for a proposal, which was in April. She and her boyfriend also shopped for rings in early April.
"My boyfriend did ask me to marry him not on one knee but sitting on the couch, in the living room. No pomp and circumstance. It was filled with love and happy and I of course said yes. We were chilling on the couch and the ring came. But then the ring was too big. And I knew that I wanted the official proposal."
But she wanted the perfect proposal
The Family Karma couple is officially engaged but they send the ring back for sizing so they can make the Cinco de Mayo deadline. And "this is where the story really starts, it sets the tone," she said. Her boyfriend is now in a conundrum about how to time the proposal because he didn't know his betrothed's schedule. "So we have a scheduled proposal!" she said.
But the day they chose wasn't great because it was a "black moon" day according to her astrologer. So they had to – again – rethink the day. Meanwhile, her boyfriend was literally sitting next to her booking their trip for the proposal, which annoyed her too.
The destination was set – New York City. So she wanted the proposal to go down at East Village Pizza. "Which is where we had our first date," she shared. She made sure her boyfriend knew that's where she wanted the proposal, even putting together a "proposal team" of friends. After the proposal she wanted friends and family to join them at Buddakan. 
The 'Family Karma' proposal began perfectly …
Even though Ramakrishna has the perfect man and was happy and in love, she was still stressing about the proposal and that she knew about it. Her parents were also in India at the time and sent her a congratulatory text.
She was getting excited about the proposal, her ring, and spending her life with the man of her dreams. Ramakrishna also secured a photographer and a videographer for the moment. The couple was booked at the Park Hyatt, a gorgeous hotel, perfect for a proposal.
Getting ready was easy breezy, her hair and makeup artist arrived and they were relaxing. And since she was getting proposed to at East Village Pizza she didn't eat because she'd be eating pizza later – wink, wink. She finally got dressed, complete with her Manolo Blahnik heels. After confirming numerous times they weren't walking anywhere she felt comfortable wearing the gorgeous (but not walkable) heels to the proposal site.
… but it slowly unraveled and now Anisha was 'unhinged'
On their way to the proposal, she realized she was starving. Unfortunately, their Uber got stuck in traffic outside Union Square and they'd have to walk the rest of the way. "And now I'm angry because my feet are pinching. I said I couldn't walk in these shoes, and I don't know where we're going," she recalled. "And now I'm also hangry."
She sees a DSW because she can't walk any longer in the heels. "Now I'm raging because I didn't want to be at a DSW on the day of my proposal," she explained. "But that's how bad my feet are hurting." She grabbed the cheapest pair of kicks she could find – a pair of fuzzy pink pumas and now she's standing in a long line.
They continued to walk and her boyfriend carried her heels. "And I look like a lady of the night," she recounted. "I'm in these pink pumas and he's my sugar daddy. That's what we look like right now."
Her friend called and asked them to swing by his house. Now they are a friend's apartment and everyone wants her to head up to the rooftop – which is not East Village Pizza! Ramakrishna is "unhinged." Did her boyfriend blow the plan and propose on the rooftop? Stay tuned.
She promised to share how the proposal ended on the next installment of her podcast.