Bravo's 'Family Karma' Season 1 Catch Up: What Happened Before Season 2?
'Family Karma' Season 1 ended with an engagement but did the cast resolved their differences before they began to shoot season 2? Here is where things stood last season.
Bravo's Family Karma Season 1 ended with a lavish engagement party, but many of the disagreements and cast tension was still bubbling "under the rug."
Season 2 begins on Wednesday, June 2 at 9/8c on Bravo and it appears that some of the relationships and friendships are turned upside down. Vishal Parvani and Richa Sadana made it Indian official during the season finale with their engagement party. But the season 2 trailer shows their relationship hits some turbulence. Brian Benni and Monica Vaswani ended the season as friends but still single. And also Anisha Ramakrishna seemed to resolve her disputes with Parvani and Vaswani, but did she? This is how season 1 ended.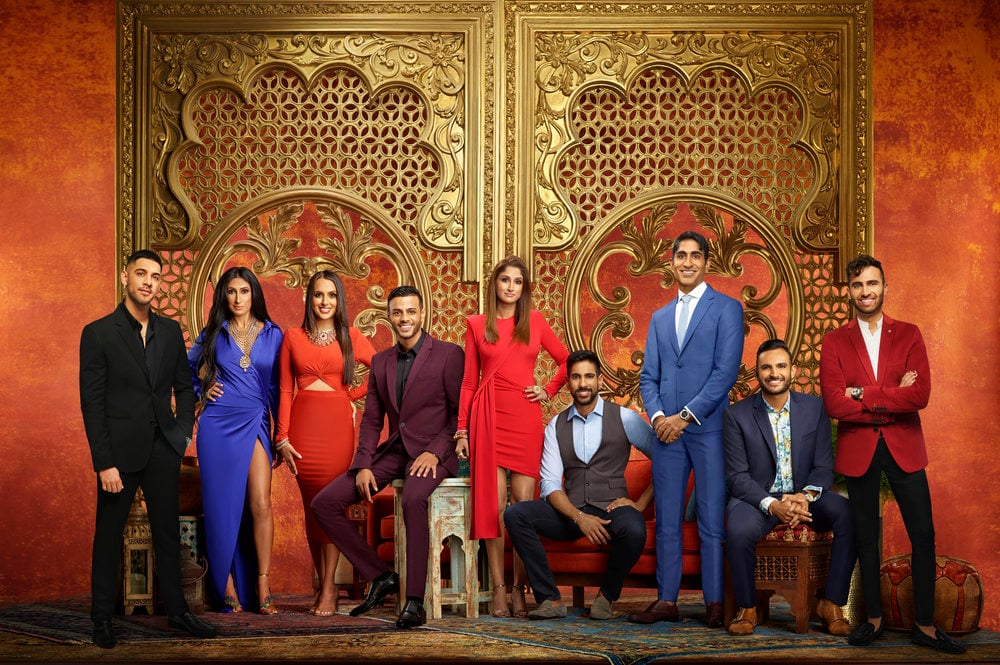 'Family Karma' relationships were still up in the air during season 1
One of the central themes during season 1 was the engagement of Parvani and Sadana. Sadana's mother did not like Parvani, especially because they never had an official Indian engagement ceremony. Determined to go the extra mile, the couple throws a huge engagement party and Parvani seems to obtain Sadana's mother's approval.  "I believe in most cultures parents want to see their children happy," Parvani told Showbiz Cheat Sheet about why he wanted Sadana's mother's approval. "Indians, with the best of intentions, may take this a step further by involving themselves in their child's relationships."
Meanwhile, Benni caught feelings for longtime childhood friend Vaswani, but his timing was off. She shared that the twosome flirted with dating for years. But when one would want to take the relationship to the next level, the other wouldn't be into it at the time.  "Brian and I have known each other since we were kids and share a very fun friendship," Vaswani told Showbiz Cheat Sheet. "When you've known someone for 15 plus years, there's a level of comfort you have with one another. I don't hold back with him because he gets me."
While they agreed to remain friends (albeit Benni ended with a bruised ego), Ramakrishna got in over her head when she got involved in their romance. The more questions she asked, the more infuriated Vaswani became. Vaswani and Ramakrishna ended season 1 with a chilly outlook toward their friendship.
'Family Karma' storylines still have many unanswered questions
Ramakrishna also feuded with Parvani, who she considers to be one of her closest friends. She was hurt when Parvani didn't confide in her about his future mother in law problems. The more she pressed, the further he retreated until the entire friendship became horribly awkward. Mediating (stirring the pot) were Amrit Kapai and Bali Chainani who tried to bring both parties together. But it was clear that Kapai was "Team Parvani" while Chainani was "Team Ramakrishna."
Kapai's biggest concern wasn't Parvani's relationship, however. He had just moved back to South Florida to open a new office for his law firm. But that meant leaving boyfriend Nicholas Kouchoukos back in Chicago. "[Kouchoukos] is still in Chicago," Kapai told Showbiz Cheat Sheet. "It's hard, it's long-distance. But I split my time because my main office in Chicago. So I go back and forth. I see him a decent amount." Like Kapai, Chainani's boyfriend lives in another state. Plus, she was preparing to send her daughter off to college.
Meanwhile, Shaan Patel ended up being perhaps the only cast member to avoid most of the drama. Unlike his co-stars who live at home with their parents, Patel moved out on his own and was even living with his girlfriend. "We don't keep it a secret," he told Showbiz Cheat Sheet about the relationship. "Which is what we wanted to do from the start. A big Indian thing is brushing things under the rug, but we didn't want that specifically."
So will Patel remain mainly drama-free (no)? Did Parvani and Sadana marry? Are Benni and Vaswani still single?
Find out when Family Karma returns on Wednesday, Jun 2 at 9/8c on Bravo.