Bravo's 'Summer House' Reunion Looks Range From Designer Dresses to Ripped Construction Jeans
Summer House viewers are getting a double dose of "summer" as the reunion caps off the season finale tonight.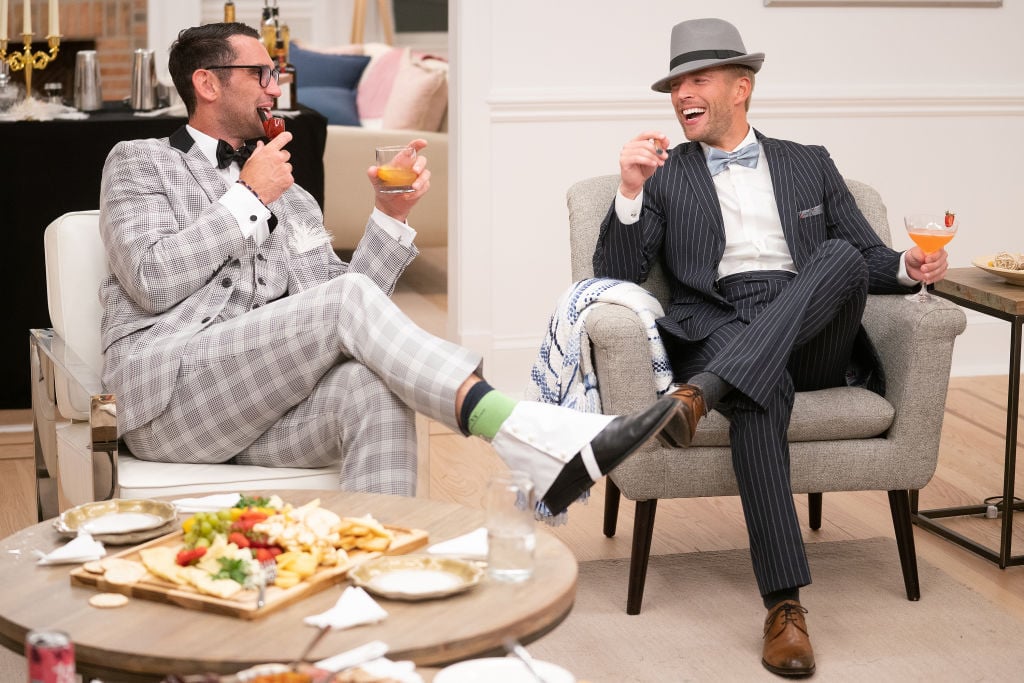 Since the reunion is being filmed virtually cast members assembled their looks sans their glam squad. Some of the cast went high-end donning designer frocks and attending to their own hair and makeup in some cases. Whereas others went uber-casual. Some may be wearing the most casual looks ever for a reunion.
The cast looks definitely reflect their individual personalities, which should provide for a pretty unique experience for both the viewers and likely the cast too.
Designer dresses, ripped jeans and everything in-between
In true form, fashionistas Paige DeSorbo and Jules Daoud went full glam for the reunion. "This purple one shoulder is from Asos, my shoes are Steve Madden and I did all my own hair and makeup," DeSorbo says in a Bravo digital original. Daoud wore a gorgeous deep blue wrap dress that makes her feel like "I'm wrapped in a blanket." Her shoes are from Revolve.
Lindsay Hubbard and Hannah Berner opted for bold color with their hot, form-fitting dresses. "Outfit is by Superdown for Revolve," Hubbard says about her bright green dress. "Shoes are Steve Madden." She also did her own hair and makeup. Berner's red, off the shoulder dress is from Pretty Little Things. She opted to rock a pair of cute slippers as opposed to adding heels. Kyle Cooke and Amanda Batula, who are home together shared photos of their looks. Batula is wearing jeans, coupled with a dressy top. Danielle Olivera is also wearing a dressy pant and shirt combo.
On the other end of the spectrum is Carl Radke and Luke Gulbranson. Radke wore a typical summer look that included a v-neck t-shirt, white shorts, and white shoes (although he says they are blue in the video). He referred to his look as, "summer vibes." But Gulbranson who has been busy working on his cabin decided to keep the cabin look going. "My outfit details are Thorogood boots, some ripped up old jeans I do construction in," he describes. Also, his jewelry, which he sells on his website.
Will they discuss season 5?
Bravo teased a number of topics the group will discuss during the reunion. Topics include Batula and Cooke's wedding plans, Gulbranson and Berner's relationship, plus Radke will discuss how watching the show inspired him to get sober.
Since Summer House films in the summer, questions about a season 5 are still up in the air. Executive producer Ian Gelfand recently insisted nothing has been greenlit for season 5. Gelfand shared he thought season 4 was the best season so far and the ratings reflected the viewers' response.
However, Cooke has a solution if producers are ready to film. He shared on the Hot Takes & Deep Dives podcast how the cast and crew could make Summer House season 5 move forward. "Summer House is probably [one of the] only Bravo shows that actually could film this summer because God forbid if it's still a social distancing type thing, we could all quarantine for two weeks," Cooke said. "And then just go into the house. We could all stay out there and work from home Monday through Friday."
He added the crew could also quarantine too for safety. "So they could in theory film Summer House and not be able to film almost any other show this summer. It would be very unique. We'd be like Summer House on steroids because we wouldn't really be able to go out and we'd be that much batsh*t crazier."
Summer House season finale is on Wednesday at 9/8c followed by the reunion on Watch What Happens Live with Andy Cohen on Bravo.