Bravo's 'Top Chef': What Is Tom Colicchio's Net Worth?
Celebrity chef and 'Top Chef' producer Tom Colicchio is using his platform to help the restaurant industry.
Celebrity chef and Top Chef producer Tom Colicchio amassed a fortune building a restaurant empire centered in New York City.
Colicchio is the chef and owner of Crafted Hospitality, which includes a number of restaurants located throughout the nation. He opened Craft in 2001, along with Wichcraft, which offers similar fare but with a casual flair.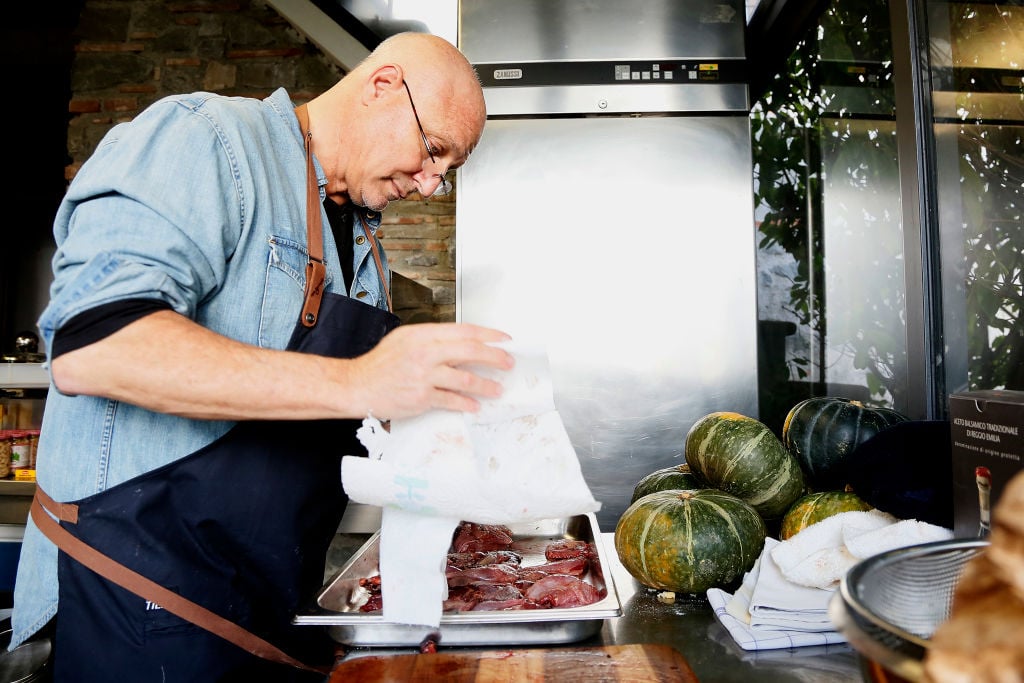 He is also a five-time recipient of the prestigious James Beard Foundation Medals for his cooking accomplishments. Plus he owned and was the executive chef of Gramercy Tavern in New York City. The restaurant was voted "Most Popular Restaurant in New York City" in 2003 and 2005.
Colicchio began his journey on Top Chef in 2006. He serves as producer, host, and judge of Top Chef. Plus he is the producer of Best New Restaurant. Colicchio won an Emmy for Top Chef in 2010.
Colicchio's net worth stands at $20 million
In addition to Top Chef, Colicchio also produces Top Chef Masters. Plus, he's appeared in films like The Smurfs. His reported net worth is $20 million.
While he's built a serious fortune, Colicchio is very generous, especially when it comes to finding relief for the millions of restaurants and employees who are sidelined due to COVID-19. He created the Independent Restaurant Coalition designed to lobby Congress to provide financial relief to the restaurant industry. He's had to lay off all of his employees, except for about 300.
He admitted to NPR that he doesn't see a pathway to resume normal activity until a vaccine is offered. "At least for the next year until there's a vaccine, we're going to have to [change how business is run]," he said. "You know, we're looking at a possibility of maybe 30% of our original business. So we're looking at opening up into a really depressed market. And so we have to figure out how to, you know, increase our revenue streams as much as possible."
Colicchio has a vision to move forward
From the minute restaurants had to shutter, Colicchio had a plan to move forward. He admits a vaccine and treatment are the only paths to normalcy, so he still continues to fight for his industry to be given the same financial support as other industries.
"If somebody asked me, I could have a plan together in 10 minutes," he told NPR in May. "So, for instance, what I would have said is, OK, restaurant, I'm going to give you 75% of your revenue that you did last year. We'll break it down per month, and I'm going to give you that money and you're going to hire your staff back, and you're going to pay your suppliers and you're going to continue to produce food — not your menu, but produce food, because that's a whole distribution model now that we can tap into."
"What's frustrating is hearing, 'No one knew. No one knew this was going to happen.' Yeah, plenty of people knew this was going to happen. Bill Gates talked about it two years ago in a documentary that was made. People have known this," he said. Adding, "For too long, we've spent a lot of money on the military because the military was supposed to protect the country. The military can't protect against something like this. So we need to be smarter."