'Braxton Family Values': 3 Funny Impromptu Songs Created By The Sisters
The Braxton sisters are known for their musical ability and have proven they can create songs constantly on 'Braxton Family Values.'
One of the reasons fans love Braxton Family Values so much is because of the Braxton sisters' immense talent. All five Braxton women are musically inclined and together, they sing in perfect harmony. While they've had successful singles and albums, their ability to create original – and oftentimes hilarious songs on the fly – sets them apart. In honor of their musical genius, here are three of the funniest impromptu tunes created by the sisters.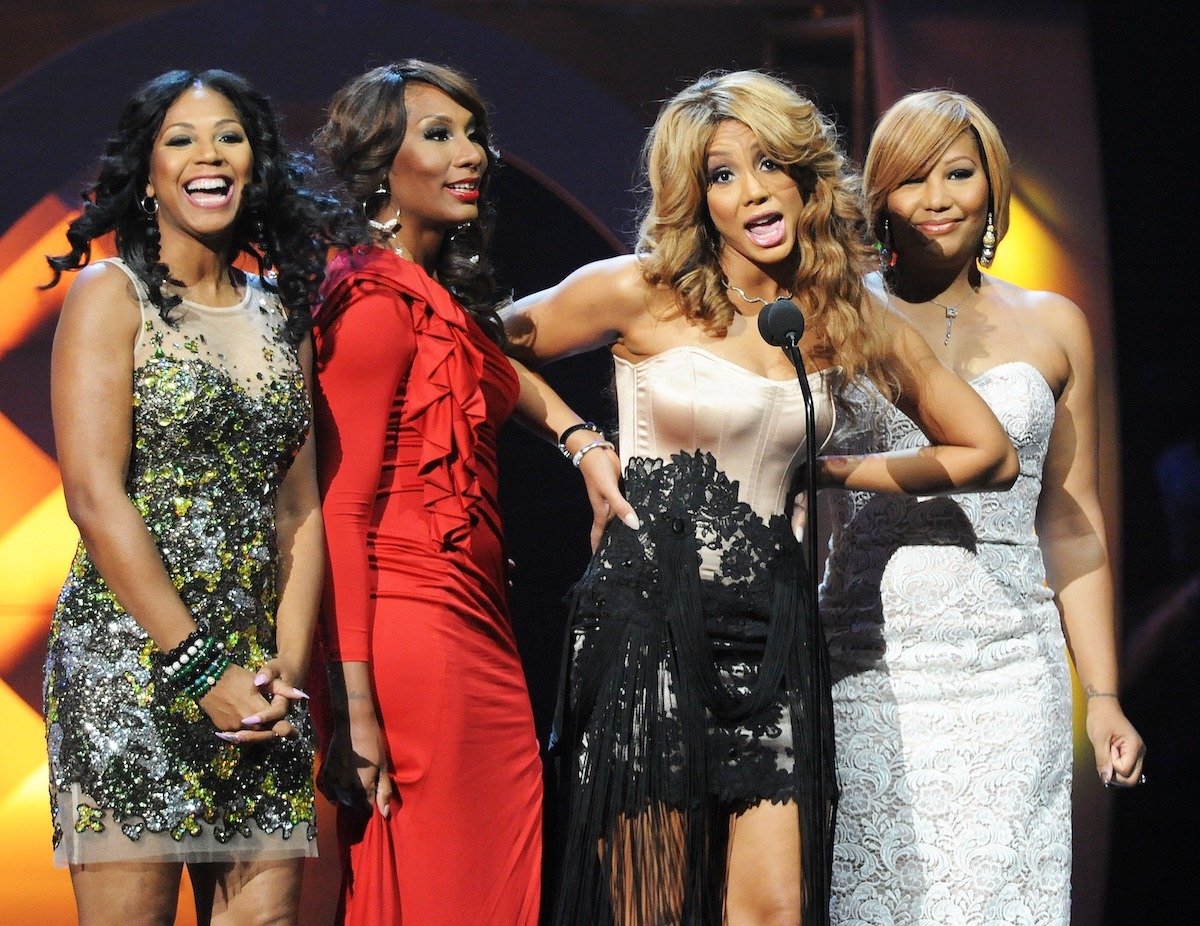 Ding-a-ling of Gold
The Braxton's rollercoaster romantic relationships have always been a huge storyline on the show. But out of all of the sisters, Trina's marriage to her ex, Gabe Solis, was arguably the most confusing.
From the start of the show, the former couple engaged in an an-again-off-again cycle. Cheating was prevalent throughout their marriage on both ends. They broke up and made up so often that it was hard for the family -and fans – to keep up. The family at one point became so frustrated that they pushed Trina to end things for good, but she could never stay too far away. 
Tamar summed up Trina's reluctance to leave Solis to him being good intimately. While sitting at a piano with her big sister Toni, Tamar created an impromptu song about Trina staying with Solis, with the recurring line of Solis having a "ding-a-ling of gold."
Related: 'Braxton Family Values': Why Trina Braxton Stopped Releasing Music
Solis unexpectedly died of cancer in 2018. To support Trina in her grieving process, the family threw a celebration of life in Solis' honor. During the celebration, the sisters broke out in an updated version of the song. Even Trina chimed in, confirming that Solis was indeed good in the bedroom. 
Dear Dog
Only the Braxton family, led by Tamar of course, can turn a beloved dog's funeral into a church revival. Evelyn took grieving the death of her loving dog Jackson to the next level. Not only did she rent out a funeral home, but she also printed out an obituary on the dog's life for funeral attendees. 
During the service, Evelyn asked attendees if they had any words of encouragement for her in her time of bereavement. She also welcomed attendees to share fond memories of Jackson at the podium.
While some spoke of Jackson's dog personality, Tamar took the opportunity to create an impromptu song dedicated to Jackson's life. She sang of the family's adoration for Jackson and made jokes about her dislike of animals. Making things crazier, her sisters joined in, harmonizing throughout the remainder of the song. 
Related: 'Braxton Family Values:' How Did The Braxtons Do As a Singing Group?
The day did not end with the funeral. There was also a repass – which is an after funeral celebration typically honored within the Black culture. The repass usually includes food, drinks, and the sharing of memories on the passing of a loved one. In this case, it was for a dog.
I Don't Want Nobody Cheating On Me In These Streets
Black-ish star Jenifer Lewis became popular on Instagram when she began partnering with her celebrity friends to sing a song about avoiding drama. The famous line from the song was "I don't want nobody f***ing with me in these streets." 
While reflecting back on some of the best moments of the show, Tamar once again created an impromptu song with Lewis as an inspiration. As the sisters talked about not accepting infidelity in their relationships, Tamar declared in a song "I don't want nobody cheating on me in these streets."
The singers joined in, singing and dancing along. But Tamar made it known that cheating would not be tolerated, adlibbing at the end of the song with threats that she'd take half in the divorce if cheating was involved.