'Braxton Family Values': Traci Defends Her Blowup at Trina's Wedding and Talks Drama Between Her Son and Her Sister
Traci Braxton is making it known that she's setting boundaries with her sisters and it's causing a level of estrangement. This season on Braxton Family Values, viewers are witnessing Traci's demand for respect and space. Some fans are not happy with the way in which she's executing such.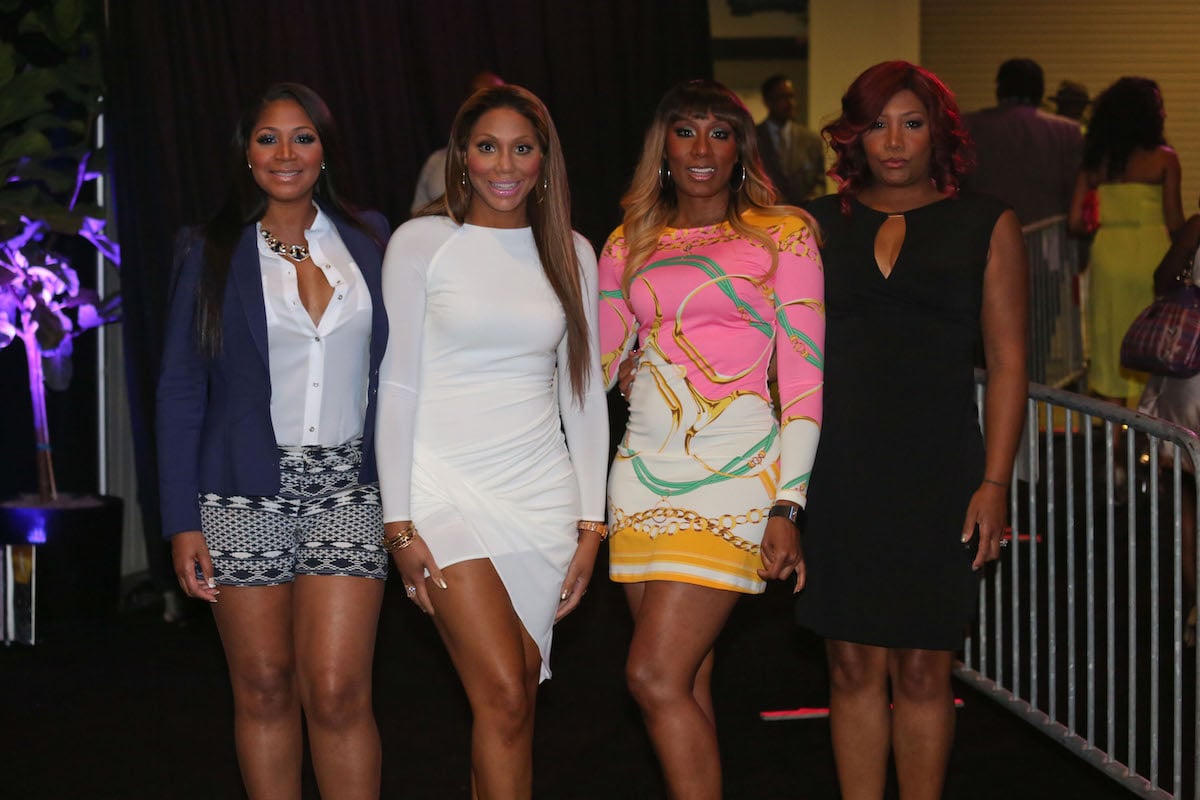 One scene in particular that has fans upset is Traci's blowup at Trina's wedding. Traci isn't letting the criticism get to her and is defending her actions in a recent interview.
Traci Braxton blows up at Trina Braxton's wedding
The tension between Traci and the rest of her sisters has been brewing since season one but it came to a head during the season six finale when Traci accused her sisters of ostracizing her. Since then, Traci has made it her priority to put herself and her own family first.
Season seven opens up with Traci admitting to not being in consistent communication with her sisters for nearly a year. The sisters reunite for Trina's wedding celebrations, including a wild bachelorette weekend.
Though Traci says she enjoys the moments with her sisters, she says she's taking precautions to ensure she does not fall into the same patterns with them.
Related: 'Braxton Family Values': Towanda Braxton Is Not Happy With Traci Braxton's Comments About Her Sisters' Marriages
Things go awry during Trina's wedding. The girls father performs a song to Trina and asks Traci to join him for a duet. During the performance, Traci feels as though her sisters are laughing and mocking her. They however insist that they were laughing at their father for forgetting the lyrics.
A verbal spat between Traci and her sisters ensues off-camera. Traci is overheard telling her sisters that they are fake and that she does not believe they genuinely love her.
A physical altercation also takes place between Traci and Tamar, though it's not caught on camera. As a result, Traci and her husband leave the wedding early.
Traci Braxton says Tamar Braxton provoked her at Trina's wedding
Per Traci, her actions at Trina's wedding were warranted. She details what led to the blowup between her and her sisters in a new interview with DJ Richie Skye and says Tamar is to blame for agitating her. 
According to Traci, she went into another room following her duet with her father in order to calm herself down. It was then that she says Tamar followed her and began to antagonize her. 
Related: 'Braxton Family Values': Traci Braxton Explains Why She Needs Space From Her Sisters
"I went and sat in the back and I was on the phone with my managers and lo and behold, Tamar pulls up a chair in front of me and starts moving my hair. 'What? What's wrong? What did I do? What?'," Traci alleges.
"I said 'Get out of my face. Really Tamar? Right now? You want to do this now? At the wedding now? She kept doing it. So I grabbed Tamar's hands out of my face and pulled her back," she says. "Her boyfriend grabbed me and pushed me. He grabbed me and pushed me! So after that I went totally berserk. I grabbed a chair. My husband grabbed the chair from me."
Traci Braxton says her son has the right to defend her against fans' criticism and to speak out against her sisters
Traci's son, Kevin Jr., and Tamar have been trading jabs on social media as the episodes air. Some fans believe Kevin should stay out of the drama between Traci and her sisters, but Traci believes otherwise.
"We have to have our mother's back. That's our mother. But if my son has my back, 'Stay in a child's place.' He's a grown man!" she says. "He is 25 years old, makes his own decisions, bought himself a house, bought himself a car. What I'm a tell him? You grounded? Take his house keys? Take his car keys? [laughs] Beat him? You can't see your son and your fiancée no more? I mean, come on now."
Traci also says she's disappointed in some of her sisters' reactions, mainly Towanda, who has been speaking out about her on social media. Despite such, Traci is committing to continue setting boundaries, no matter how estranged her relationship with her sisters is.