'Braxton Family Values': Trina Braxton Disagrees With Tamar Braxton's Stance on Bad Editing
Braxton Family Values is currently in its seventh season but Tamar Braxton is noticeably absent from the cast's individual confessionals. Though she appears in several scenes throughout the season, she will not appear on the show in the future now that she is no longer contractually obligated by We TV.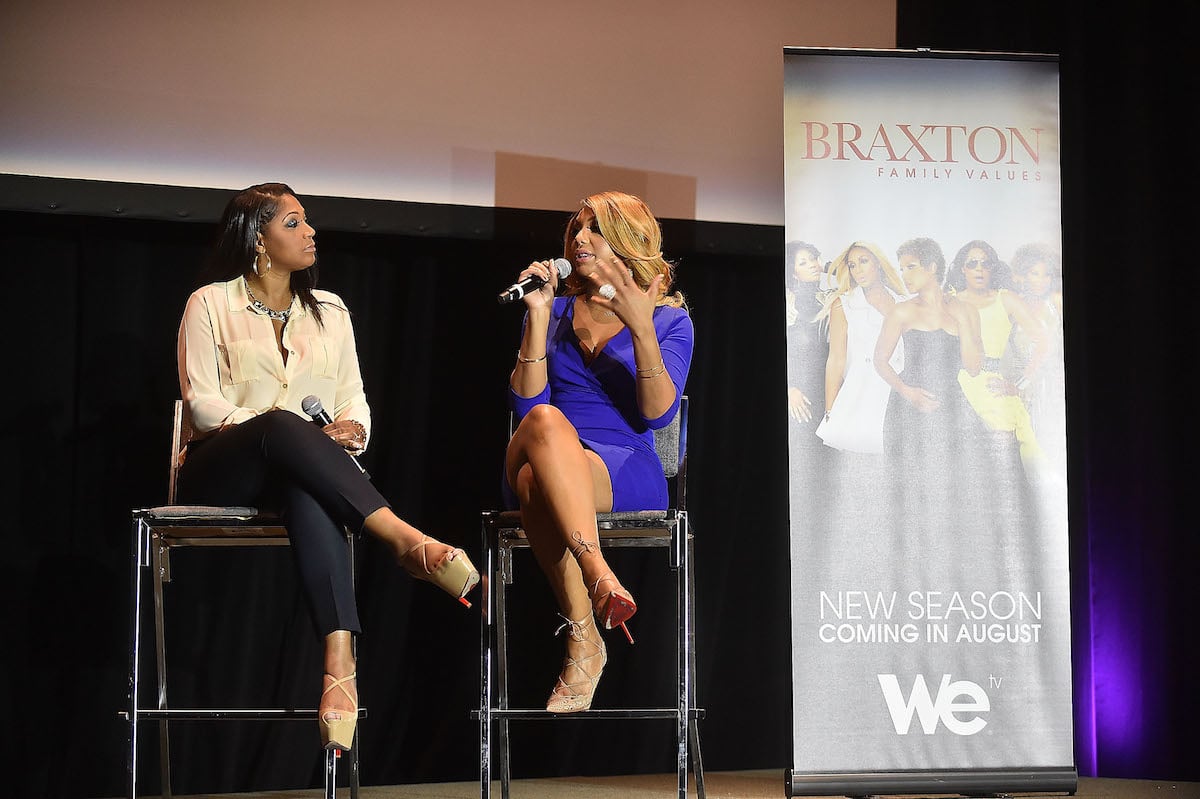 Tamar has accused the network and production of poorly editing the show to make her appear difficult to work with. But Tamar's sister Trina does not agree that producers are always to blame for what airs on the show.
Tamar Braxton blames producers of 'Braxton Family Values' for orchestrating drama between her family and accuses them of bad editing
Tamar has been vocal about her frustrations with BFV producers long before she and We TV cut ties this summer. In a June 2020 interview with Nick Cannon on his morning radio show, Tamar said she is no longer a fan of the reality series, blaming editing for her family drama.
I don't feel like you get anything positive from it – a lot of arguing and fighting and shenanigans and it's not what my parents raised and designed for our family. And I think what it's turned into, what you see on television is definitely not something I want to stand by…if you're not gonna tell the real story…the ups and downs but also the resolve…if you can show the chaos, the resolve, and the success then you have a true American Black family story.

Tamar Braxton on Nick Cannon Mornings
Related: Toni Braxton Reveals If 'Braxton Family Values' Is Returning Now That We TV and Tamar Braxton Cut Ties
She later Tweeted that her family is severely underpaid, making 75% less than the Kardashians despite their show being No. 1 on We TV and the longest-running reality series featuring an African American family.
Tamar also said the show exploits her family's pain, including the current season exploring her family's reaction to her July 2020 attempted suicide. She believes the show and the drama associated is the root of her current estrangement from her once close-knit family.
Furthermore, she accuses producers of editing her to appear to be the problem child of the cast, which she says is an inaccurate depiction.
Trina Braxton says producers of reality shows can't air what the cast does not film
While her baby sister is upset with producers and blames production for her representation, Trina shares a differing opinion from Tamar. In an exclusive interview with The Jasmine Brand, Trina says producers can only edit what its cast provides them with.
"People can't use what you don't give them," she says. "And the thing is you can have a moment of perpetuity where it's like 'oh they keep making me look this way', or 'they keep making me look that way.' No. If you don't give them that every week, or every time the cameras come on, then they're not going to be able to show you in that light."
Related: Tamar Braxton Blasts We TV After Network Announces Braxton Will Be Released From Her Contract
Furthermore, Trina uses her own shortcomings and embarrassing moments as an example.
"The first two seasons I'll even say of the 'Braxton Family Values', they wouldn't be able to say 'oh Trina drinks too much' if I didn't have a cup in my hand every time you saw us filming," she says, referring to her infamous mugshot from a DUI in season 1 and the probation and community service she was charged with as a result.
Braxton Family Values airs every Thursday on We TV at 9 pm EST.