'Breaking Bad' Star Aaron Paul Once Appeared on 'The Price Is Right' After Drinking '6 Cans of Red Bull' Screaming 'You're the Man, Bob'
Before he was Jesse Pinkman on Breaking Bad, Aaron Paul was a contestant on The Price Is Right. Known then as Aaron Sturtevant from Emmett, Idaho, the star once made former host Bob Barker chuckle with his antics. The appearance left Paul "depressed for many, many months." Luckily, he made a comeback alongside Bryan Cranston in the award-winning AMC series 14 years later, even if the pain of losing the Showcase Showdown remains.
Aaron Paul appeared in dozens of projects before 'Breaking Bad'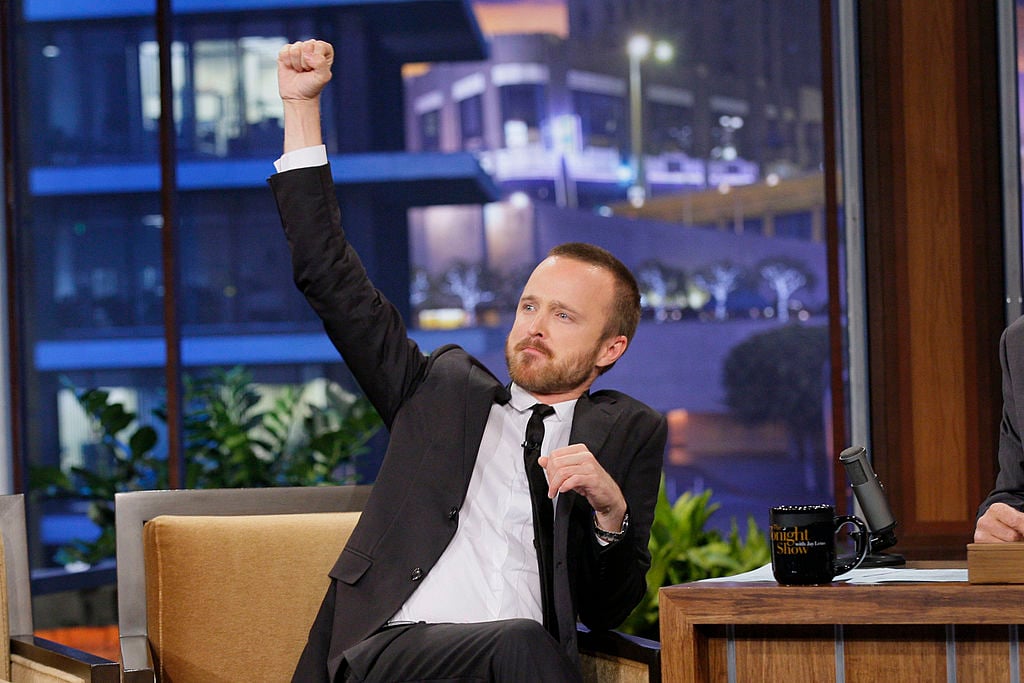 RELATED: 'Breaking Bad': The Heartbreaking Reason the Owners of Walter White's House Are Sick of the Fandom
Paul is most known for playing a meth-slinging bad boy with a big heart on Breaking Bad, but before getting his big break, the star had a lot of really minor roles. His first TV spot was Chad on Beverly Hills, 90210 followed by frequent but small parts on various other shows like Melrose Place, Suddenly Susan, 3rd Rock From the Sun, and many more.
According to it IMDb, some of his roles overlap in obscurity as he's played "Frat boy," "Stoner," "Student," and "Teen #1." And, if he felt familiar long before Breaking Bad premiered, it's because Paul is the face of many commercials, including Clearasil, Corn Pops, Tombstone, Coca-Cola, Juicy Fruit, and 1-800-COLLECT.
Those credits are impressive but they have nothing on Paul's real-life stint on The Price Is Right.
Paul's time on 'The Price is Right' revealed how many energy drinks he consumed
RELATED: 'Breaking Bad' Star Aaron Paul Felt 'Disconnected' at the Premiere of 'Better Call Saul': It's Just Downhill for Me From Here'
It's been many years since Paul's appearance on the game show but the memory still stings. The Breaking Bad star revealed in multiple interviews — including this one via Build Series — it's "incredibly embarrassing" but "one of my finest performances."
He explained he was wearing a "full-on costume which included "a CBS sticker on my back like a walking billboard for their network." Upon hearing his name called, Paul screamed, "You're the man, Bob! You're my idol!" Paul revealed he wanted to "give them as much energy as possible," adding it happened on the cusp of Red Bull's debut.
"I'm standing in line at 4:30 in the morning to make sure I get into this damn place," he said. He filled a "Big-Gulp" full of six cans of Red Bull from the 7-11 — which he now knows is "very dangerous."
"I look like I'm on drugs," he said. "I cannot sit still."
He bid $1200 on a desk that was much higher. This led Paul to the stage where he continued exclaiming his love for Barker. When the announcer revealed the next prize up for grabs was a new car, Paul fell to the floor in disbelief. He was one number shy of winning that car but moved on to spin-the-wheel where he advanced again.
Things took a turn in the Showcase Showdown when Paul overbid the package by $132.
"I was depressed for many, many, many months," Paul said. He added that his friends stayed for the second taping with one of them winning the Showcase Showdown. That friend took Paul along.
The star had a redemption round years later and still didn't win
RELATED: 'Breaking Bad' Star Aaron Paul Once Asked His Grandma to Close Her Eyes During This 'Intense' Scene
The Late Late Show With James Corden host James Corden swooped in to give Paul a second chance at winning in 2017. In a robbery spoof, the two "broke in" to the Price Is Right studios. For his redemption, Paul is the only real person in the audience when he's called down by Corden.
Paul played for a rowing machine. He bid $700, landing him up on stage again, where he recalled losing his first time around. He spun the wheel and hit the 100 right on the head just as new host Drew Carey ran out to interrupt. The two convinced him to host as Paul competed against Corden in the Showcase Showdown.
Paul bid $26,000 "and not a dollar more," which was an over-bid once again proving he should probably stick to acting — not bidding on miscellaneous items (ever again).