'Breaking Bad': Why Aaron Paul Cut Jesse Pinkman's Hair After Gale's Murder
Breaking Bad is a series chock full of symbolism, and that extends to the smallest details in the AMC show. Even something as simple as Jesse Pinkman's (Aaron Paul) hairstyle can have an added layer of meaning, giving viewers more to think about upon second or third rewatch. In fact, the actor discussed why Jesse might have shaved his head following Gale's (David Costabile) murder in the season 3 finale, "Full Measure," and his comments show that he put a lot of thought into his character's new look.
Aaron Paul suggested Jesse Pinkman shave his head to 'start fresh'
RELATED: 'Breaking Bad': How Method Acting Nearly Destroyed Aaron Paul: 'I Would Dream as Jesse Pinkman'
During an interview with Vanity Fair, Aaron Paul was asked if characters going bald or shaving their heads on Breaking Bad represented their desensitization to violence. The question cited Mike Ehrmantraut (Jonathan Banks) and Hank Schrader (Dean Norris) as two examples of bald characters who have seen their share of suffering before the series even opens. It also pointed out that both Jesse and Walter White (Bryan Cranston) shave their heads as the show continues, all while becoming more wrapped up in the ruthless world they've immersed themselves in.
Paul admitted the reasoning behind the theory was "profound," but he went on to share his own interpretation of Jesse's hairstyle change in season 4. It turns out the actor was the one to suggest the new look, and he viewed it as an indication of his character shedding his identity and starting over.
"When Jesse lost his hair, that was actually an idea from me," Paul explained. "When I read that script, it was after he killed Gale. And in reality, whenever we go through something traumatic in our lives, such as a serious break-up or a death in the family or something very traumatic, you tend to sort of shed some hair, different hairstyles, start fresh, start new."
He's right that Jesse is far from the only person to embrace a new hairstyle following a major life event, and his words confirm that Gale's death impacted the character's decisions.
Aaron Paul asked Vince Gilligan to work Jesse's new hairstyle into this scene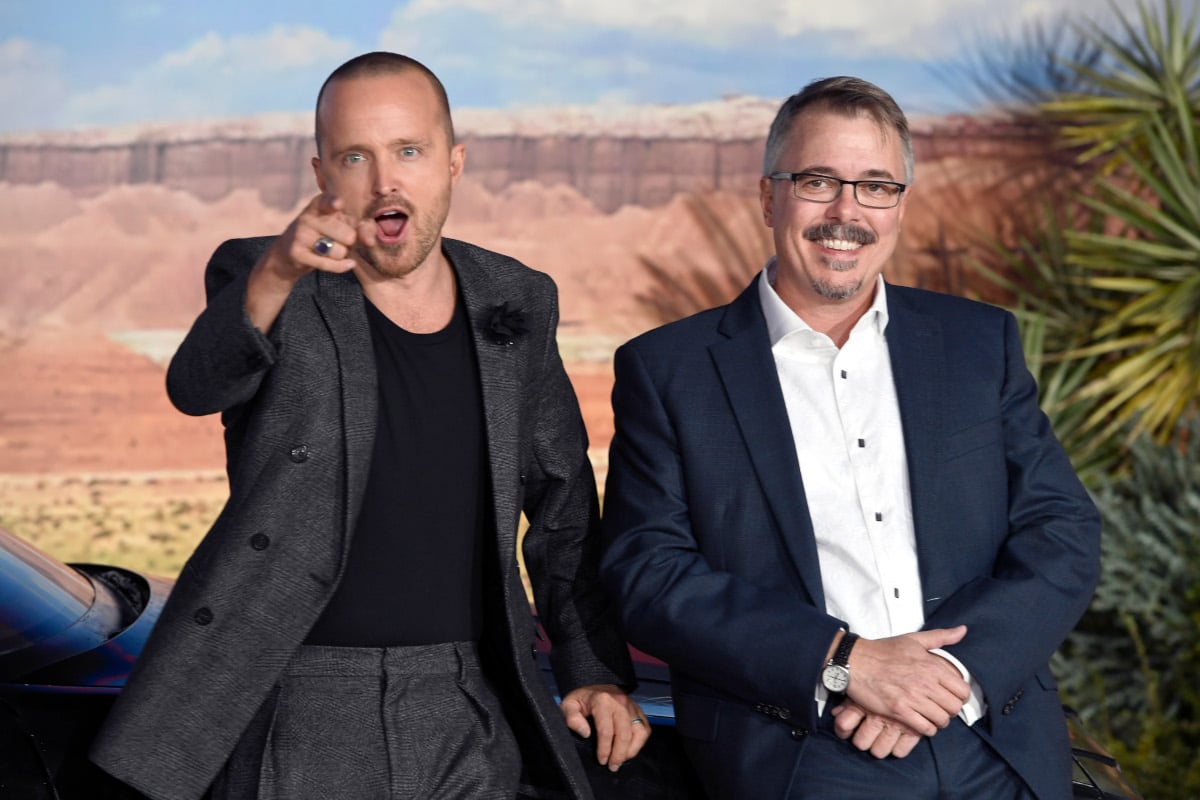 After coming up with the idea to have Jesse shave his head after season 3, Paul ran the idea by Breaking Bad creator Vince Gilligan. It meshed well with a scene already planned for season 4, during which Jesse shaves one of his friend's heads — a prime opportunity for him to give himself a new look as well.
"There is a scene where Jesse is shaving a guy's head, and I mentioned to Vince, what if, when you see him, Jesse just already has a shaved head?" the actor said. "So, you just assume he shaved his head just before this guy."
It seems Gilligan agreed with Paul's proposal since Jesse sports a shaved head well into season 5. To build on this interpretation further, both Jesse and Walt also grow their hair long again once they're out of the meth business. It could be a coincidence, but it could also indicate they've entered another new stage. After all, Breaking Bad isn't a series that depends on happenstance to drive its plot forward — and Paul's comments prove how much thought everyone on set put into each and every detail of the show.