'Breaking Bad' Star Aaron Paul Felt 'Disconnected' at the Premiere of 'Better Call Saul': It's Just Downhill for Me From Here'
Aaron Paul has been a working actor for years but it was his role as Jesse Pinkman in Breaking Bad that put him on the map. From 2008-2013, Paul played opposite Bryan Cranston as the meth-cooking sidekick whom Walter 'Heisenberg' White rescued in the series finale. In the same universe, Better Call Saul tells the story of how "Slippin" Jimmy McGill (Bob Odenkirk) became shifty attorney Saul Goodman in Breaking Bad. While cameos by any of the former could happen, Paul once admitted how he really felt at the premiere of Saul.
Aaron Paul had a rough time paying rent before 'Breaking Bad'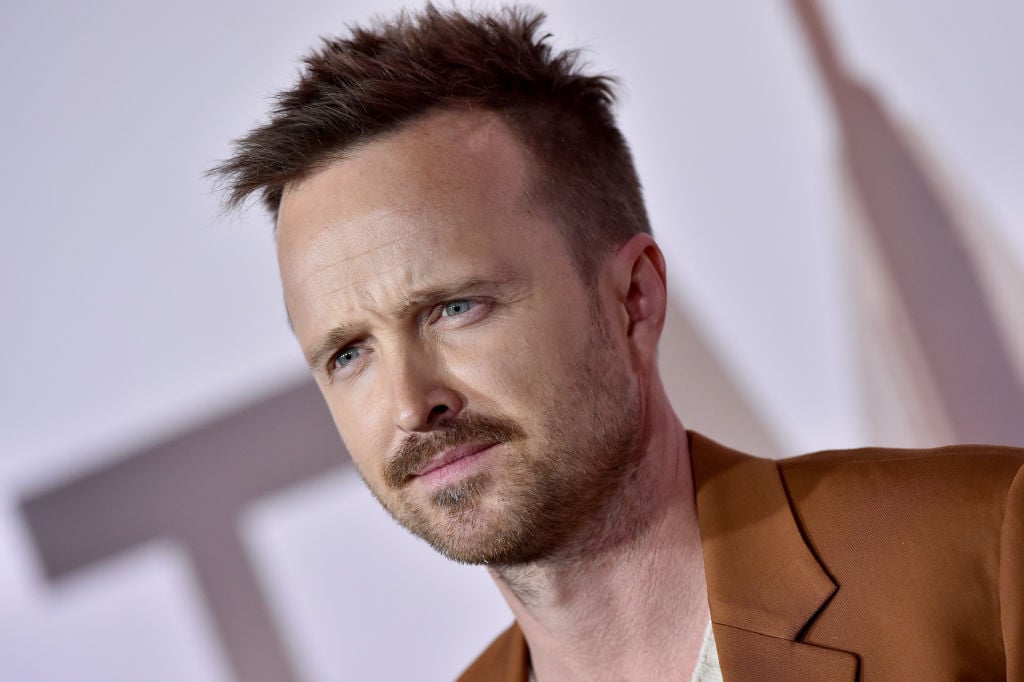 RELATED: 'Breaking Bad' Star Aaron Paul Said It Took 2 Days to Film This Iconic Scene: 'It Was Just so Messy'
Paul may have grown up performing in church plays, but it was his work ethic that got him to Hollywood by the age of 17. As the child of a Southern Baptist minister, Paul saved his money from a young age to pursue his dream of acting. The roles, however, were nothing like his Breaking Bad gig.
"I know I did Vanilla Coke; there might have been a Pepsi," Paul told The Guardian in 2019.
The star worked in over 50 ad spots, making enough money to pay the bills. Still, he wanted more. Eventually, he landed credits in shows like NYPD Blue, The X-Files, and ER. His first recurring role in HBO's Big Love was the most steady paycheck, but also a lot of condensed work.
"They'd squeeze all my scenes into a day, so I was making about $600 an episode," he said.
"I was panicking. Before this show, I was at the lowest point in my career. I'd been working pretty steadily and I'd have dry spells, I'd get a random commercial that would help me pay rent for a few months," he told Esquire. "When Breaking Bad came to me, I'd kind of run out of money. So to then see the strike coming, it was like, Oh god, what am I gonna do? It was a crazy time."
By the time Paul reached that breaking point, he'd been in six pilots that never took off and struggled to pay his bills. Luckily, Breaking Bad came through. His character wasn't supposed to survive the first season but thanks to his chemistry with Cranston, writers kept him on.
"When the first three series landed on Netflix, my life changed," he said.
By its end in 2013, Breaking Bad had a slew of awards and the Better Call Saul spin-off on the way.
Paul felt 'disconnected' and 'sad' at the 'Better Call Saul' premiere
RELATED: 'Breaking Bad': Aaron Paul Put His Own Spin on Series Finale
Two years after the Breaking Bad finale, Better Call Saul debuted. Paul admitted he had mixed feelings at the start.
"I went to the premiere of Better Call Saul, and I remember kind of sneaking around the red carpet, not wanting to be noticed because obviously, this was about the new show," he said. "I remember being surrounded by my Breaking Bad family, but feeling a little bit disconnected and a little sad that I was not moving on with them, to be a part of this."
He continued: "It was a little strange, to have this new cast of characters; they were all so sweet and kind, and I was so excited for them. That show has just taken on a form of its own, and that's what I think was so smart. I was always saying, "It's just downhill for me from here," because Breaking Bad was such a phenomenon. Anything else being multiple steps lower doesn't mean it's bad, it's just not as good. I was totally OK with that."
Those feelings of nostalgia came from what Paul referred to as a "next to perfect" Breaking Bad ending.
"Brian and I read it together at his place in New Mexico. When he read the screen direction 'end of series' we just sat in silence for 30 seconds," he said adding that the show was a "game-changer."
"A lot of people will always see me as Jesse, and I take that as a compliment," he said.
Even Breaking Bad showrunner Vince Gilligan had reservations with Saul.
"But most of the intimidation came from just the idea of taking a very beloved – and thank goodness for that – TV series and spinning it off, keeping that world alive," he said in the same Esquire interview. "We thought, 'Are we going to wind up harming people's memories of the original series, of the 'mothership' so to speak'? That was the really intimidating part. There were a great many sleepless nights for us all as the premiere of Season One approached."
What is Paul doing now?
RELATED: 'Breaking Bad' Star Aaron Paul Once Asked His Grandma to Close Her Eyes During This 'Intense' Scene
Despite the movie sequel to Breaking Bad — El Camino — Paul had recurring roles on The Path, Truth Be Told, and Westworld, Paul will likely always be known as Jesse Pinkman.
"There are roles I jumped on to after Breaking Bad, just to try to move the needle in one direction or another," he told The Guardian. "I get sent a lot of leading-man stuff and it doesn't excite me. My heart is in gritty, independent filmmaking."
Without the Hollywood scene, Paul teamed up with Cranston to develop Dos Hombres Mezcal which is "a unique blend of the finest Espadin agave, hand-selected from the hillsides of a small village in Oaxaca, Mexico," according to the website.
That said, the married father of one finished filming Dual alongside Marvel star Karen Gillan. It's unclear what else he has up his sleeve. Fans will forever wish for more Jesse Pinkman but Paul understands.
"I lived and breathed every moment of his life that we saw, and then some," he said. "This is the role of a lifetime."