'Breaking Bad': The Best and Worst Episodes of Season 3, According to IMDb
'Breaking Bad' Season 3 kicks off Gus Fring's partnership with Walter and Jesse in earnest, leading to some of the most suspenseful installments of the AMC series.
Breaking Bad made waves with its first two seasons on AMC, drawing viewers in with its story of a chemistry teacher turned drug boss all thanks to an unexpected cancer diagnosis. And Walter White (Bryan Cranston) truly begins to embrace his role as Heisenberg in the later seasons, after he and Jesse (Aaron Paul) have begun working under Gus Fring (Giancarlo Esposito). That partnership begins in earnest in Breaking Bad Season 3, which produced some of the show's highest-rated episodes to date.
'Breaking Bad' Season 3 kicks off Walter and Jesse's partnership with Gustavo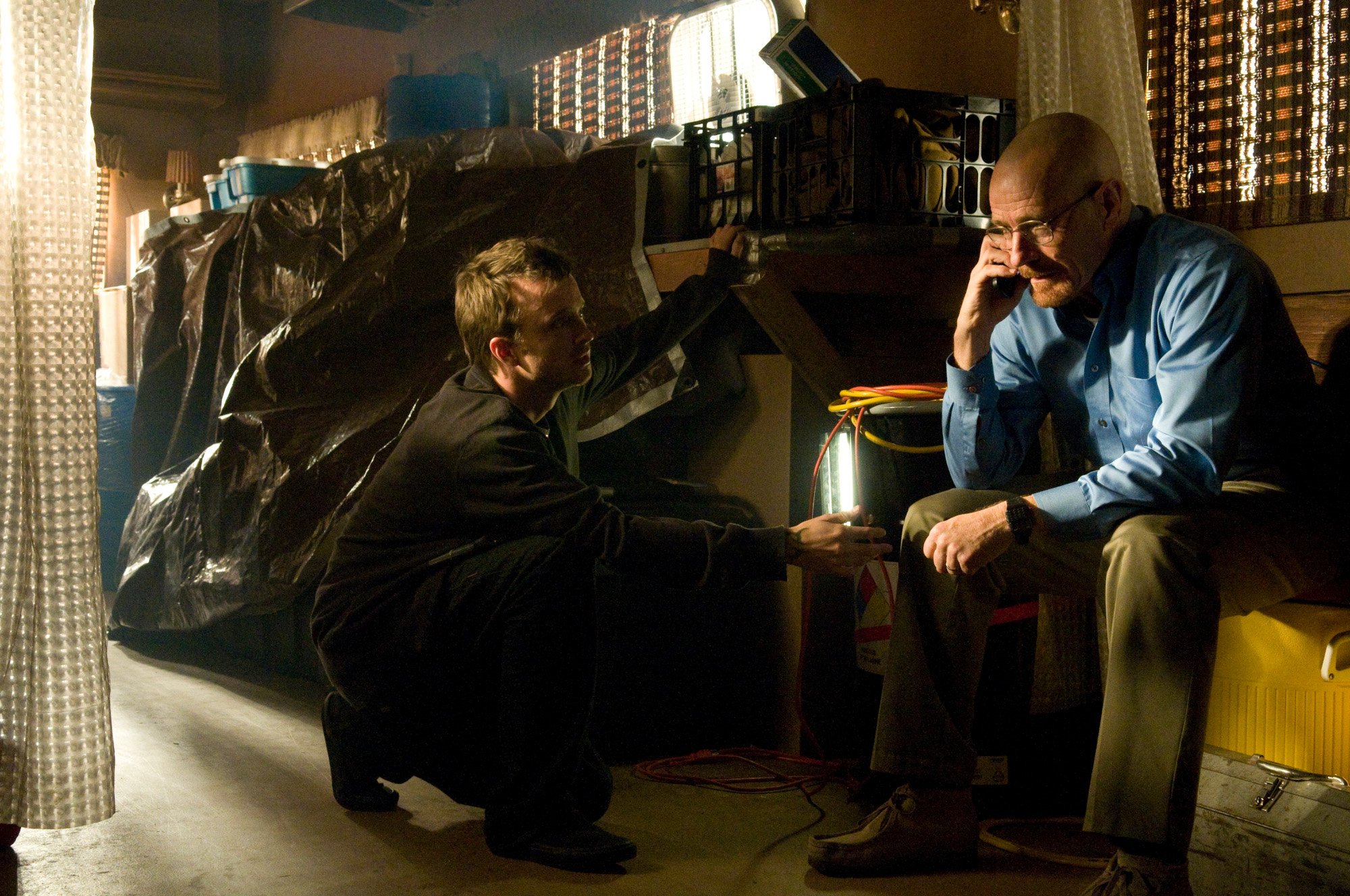 Although Gus first appears at the end of Breaking Bad Season 2, his partnership with Walter and Jesse begins in earnest during the third outing. And when Gus enters the picture, things become far more complicated for the meth-making duo. Esposito's character is known for his ruthless nature, and that doesn't mesh well with Walter and Jesse's chaotic situation.
Add in the aftermath of Hank's showdown with the Salamanca twins and the fallout of Walt and Skyler's (Anna Gunn) split, and the third season proves a dramatic and suspenseful outing for Breaking Bad. It can also be viewed as the turning point of the series, when things start getting much darker for the main characters. Perhaps that's why so many of its episodes were well-received.
'Full Measure' is one of 'Breaking Bad's highest-rated episodes
Several episodes of Breaking Bad Season 3 received above a 9-star rating, but the highest-rated installment of the season is "Full Measures." The season finale snagged 9.7 stars on IMDb, and it's not hard to see why. With Gus prepared to kill Walter and Jesse, the two need to make a difficult decision there's no turning back from: whether or not they should kill the only other person who knows their meth recipe, Gale Boetticher (David Costabile).
With their own lives at stake, the answer becomes a resounding yes. Jesse's forced to get his hands dirty, and the performances from every actor involved are top-notch. That's one of many pieces of praise "Full Measures" received in reviews. One fan also pointed to the twists and turns and darkening plot as reasons for a perfect IMDb rating:
"I was on edge the whole time not knowing what to expect. Things just seem to get darker and darker in this show and this is the best one yet. The interplay between the characters is spot on, the twists and turns come endlessly, even the most menacing of characters are likable and frightening at the same time."
This finale also leaves plenty of questions up in the air heading into Breaking Bad Season 4. It's suspenseful to watch and to finish — far more so than the season's worst-reviewed installment.
Season 3's worst episode focuses on a fly in the lab
While "Full Measures" stands out as the strongest episode of Breaking Bad Season 3, the lowest-rated installment is also obvious at first glance. The tenth episode of the season, "Fly" received a 7.9-star rating on IMDb, the only one to dip below 8 stars. It sees Walter and Jesse attempting to get things under control after a fly contaminates their meth lab. And while it's a humorous installment that holds a deeper meaning, not every viewer appreciated it.
Some reviewers called "Fly" a "filler episode" of Breaking Bad, and others wondered at its "bizarre" storyline. One IMDb reviewer even questioned the positive responses it received, criticizing the writing and the premise:
"This has to be easily the worst episode of Breaking Bad. Diehard fans will protest that it added value but in reality it was an absolute waste of time. An example of bad writing, a lack of creativity, and plain stupidity."
Of course, as the viewer suggests, many fans still loved "Fly," some even calling it the best addition to the series. Clearly, this installment is a divisive one — which arguably just makes it more intriguing.