'Breaking Bad' Creator Initially Intended to Kill off 2 Main Characters in Season 1:'That's What Ballsy Shows Do'
The Breaking Bad series finale concluded in 2013 with the alleged demise of Walter White (Bryan Cranston). While Cranston has his own theories about Walt's death, two other characters were originally written off in season 1. Showrunner Vince Gilligan revealed that the 2007-2008 writers' strike affected the way the show was originally written. Luckily, writers managed to salvage season 1 without drastic measures.
A writer's strike put 'Breaking Bad' on hold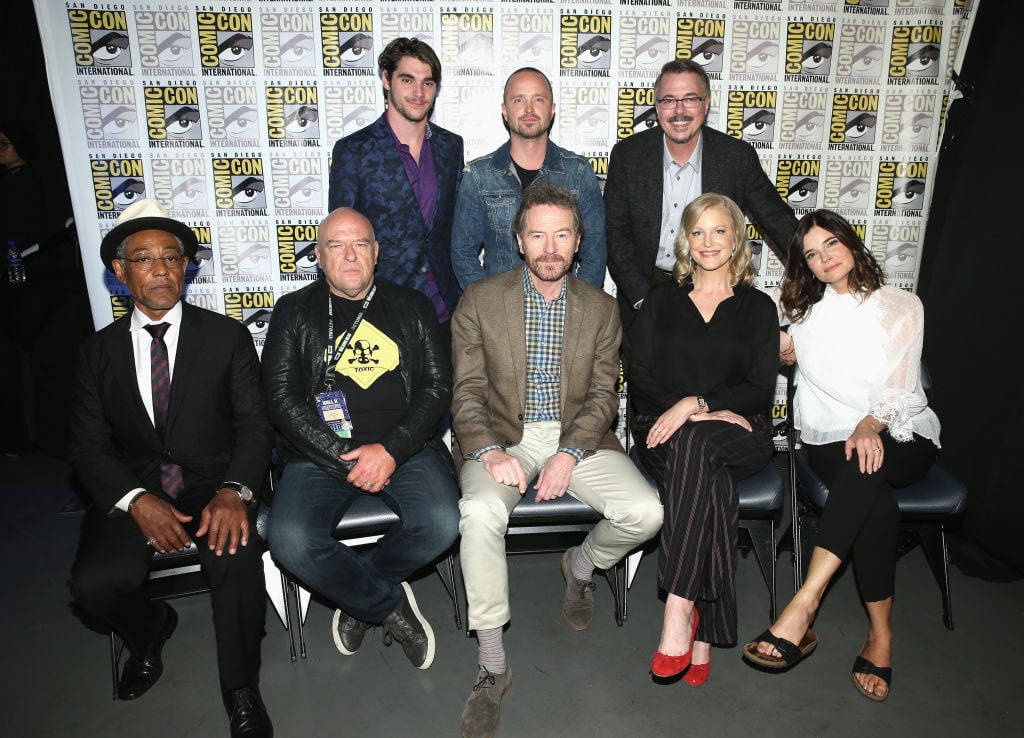 RELATED: 'Breaking Bad' Star Aaron Paul Said It Took 2 Days to Film This Iconic Scene: 'It Was Just so Messy'
When the Writers Guild of America went on a four-month strike in 2007, many shows took a hit — including Breaking Bad. The series had only just begun when the strike eliminated two episodes from the original nine-episode first season.
As a new show, those two episodes could've changed the entire landscape of the series.
"We're not just doing those two episodes coming into season two," Gilligan told Creative Screenwriting (per AV Club). "We threw those out completely and we're starting somewhere else. We're building more slowly than we otherwise would have built."
Those choices they threw out include the death of two major characters.
The show almost took a different direction
RELATED: 'Breaking Bad' Star Dean Norris Said He Didn't Read the Scripts So He Could Avoid Spoilers — 'I Wanted to Enjoy the Show'
In the original plan, Jesse Pinkman (Aaron Paul) was set for his demise before the season 1 finale. The two episodes cut would've shown Walter rising up the kingpin ranks a lot faster. Instead, the strike meant Gilligan and crew had to carve out a slower-paced story — and one that included Paul.
"The strike was an incredibly stressful time," co-executive producer Melissa Bernstein told Esquire in 2018. "Because we were not an established show, we had a relatively short order and we were on a new network, our existence felt very fragile."
Gilligan wanted to leave new viewers wanting more.
"Before the strike, being the freshly minted showrunner that I was, I was ready to throw the kitchen sink at the finale," he said. "We were shooting these episodes completely in a vacuum, and so out of some blend of showmanship and fear and desperation, I figured the finale ought to just be so slam-bang that people would want to come back for Season Two."
Here's who almost didn't make it to season 2
That "slam-bang" meant sacrificing Paul and another character.
"I was going to kill off the character of Hank at the end of that first season, having originally planned to kill Jesse and changed my tune on that pretty quickly because I realized how great [Aaron] Paul was," he said. "Of course, Dean Norris was just as great, but I figured I ought to sacrifice one of the main characters at the end of Season One, because that's what the ballsy shows do! But the whole shape of the show would have been so different from what you know now, and I think it would have been a much shorter, less rich experience."
We can thank the writers' strike for allowing Gilligan time to re-think the scope of the show. This worked out well for Paul who feared being out of work.
"I was panicking. Before this show, I was at the lowest point in my career," he said. "I'd been working pretty steadily and I'd have dry spells, I'd get a random commercial that would help me pay rent for a few months. When Breaking Bad came to me, I'd kind of run out of money. So to then see the strike coming, it was like, 'Oh god, what am I gonna do'? It was a crazy time."
If the original plan played out, a lot of the 'Breaking Bad' story would've been lost
RELATED: 'Breaking Bad': Why Jesse Pinkman Was Walter White's Biggest Problem From the Very Beginning
If things had gone a different way (without the strike), Breaking Bad wouldn't have become what it is today. The death of Hank and Jesse would've cut a lot of future threads from its storyline. The loss of Jesse would've eliminated Jane and her death. It would've cut Gale Boetticher and his dramatic exit (which affected Jesse). Mike might not have held the same role, and the Gus Fring thread wouldn't have had the same impact.
Without Hank super-sleuthing his way to the truth about Walt, the show would also lack urgency. That need-to-know journey in searching for the mysterious Heisenberg likely would've felt a little emptier.
One star couldn't imagine a show without Hank
Star Betsy Brandt (who played Marie) couldn't fathom the loss of Hank at any point.
There are a few scenes I still haven't watched: when Hank gets shot in Season Three, and his death in Season Five," she said. "I remember when we all got that script for 'Ozymandias'; the actors were all emailing each other, and I hadn't read it. I think I was the last one to read it, and I said, 'If I don't read it, does that mean it won't happen'? Like a child. It just broke my heart."
She continued: "I know Dean's gonna be fine, but it broke my heart that Hank wasn't going to be in that world, because, God, we really needed him. I could cry right now just thinking about Marie having to carry on without him."
It's a good thing Gilligan changed lanes so early. Otherwise, Breaking Bad fans probably wouldn't have had the same emotionally taxing — yet rewarding — experience.