'Breaking Bad': Fans and Critics Consider 'Ozymandias' the Single Greatest Episode in the History of Television
Not only is 'Breaking Bad' the greatest show of all time, but the third to last episode is considered the most perfect hour of television that ever was.
Fans and critics alike agree that Breaking Bad is one of the most exceptional television shows of all time. Over five seasons, we followed along as Walter White slowly descended into moral decay, going from a mild-mannered, nerdy high school chemistry teacher into a murderous drug kingpin hellbent on becoming the best in the business. His transformation was at once tragic and fascinating.
All 62 episodes of Breaking Bad combine to create a truly incredible story, but certain individual episodes receive more love — and more hate — than others. For example, "Fly" is extremely polarizing among fans, with some calling it brilliant and others insisting it's boring.
But one truth almost everyone agrees on? "Ozymandias" is the best episode in the series and quite possibly the greatest in the history of dramatic television.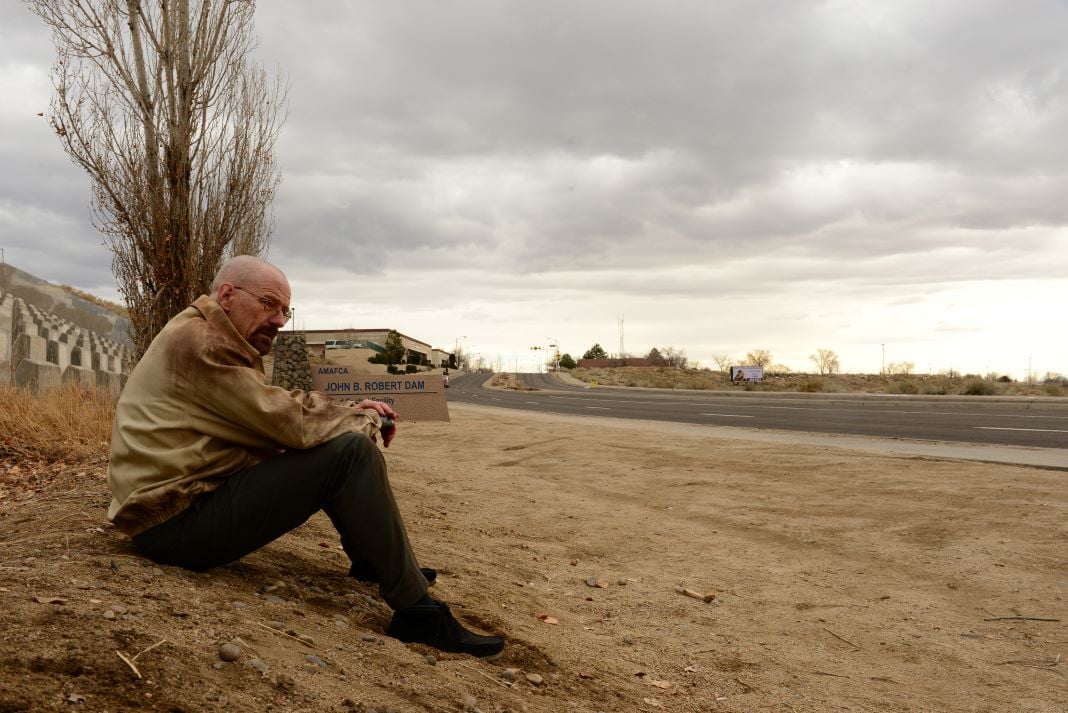 The episode is the beginning of the end for Walter White
The title of the episode calls to mind to the sonnet by the same name which was written by Percy Bysshe Shelley in 1818. The poem describes a man collapsing under the weight of his own hubris, which is exactly what will happen to Walter White.
"Ozymandias" is the third to last episode of Breaking Bad and premiered on Sept. 15, 2013. It was directed by Rian Johnson and written by Moira Walley-Beckett, who later won the Outstanding Writing for a Drama Series Emmy for her work. Bryan Cranston won the Emmy for Lead Actor and Anna Gunn also took home the top prize for Supporting Actress thanks to their work on the episode.
Walt returns to Tohajilee in 'Ozymandias'
The episode flashes back to Walt and Jesse cooking meth in the RV for the first time at the Tohajiilee Indian Reservation. Walt calls his pregnant wife, Skyler, and lies about why he'll be home late. The scene clearly illustrates how much more serious Walt's lies have become.
This scene contrasts with Walt's current situation after the shootout with Uncle Jack in the same desert. Hank has a bullet in his leg and Gomez is dead while Uncle Jack's gang has the upper hand. Walt begs for Hank's life and even offers Jack his $80 million, after which Hank delivers his iconic line to Walt.
"You want me to beg? You're the smartest guy I ever met, and you're too stupid to see — he made up his mind 10 minutes ago," he says before being shot by Uncle Jack.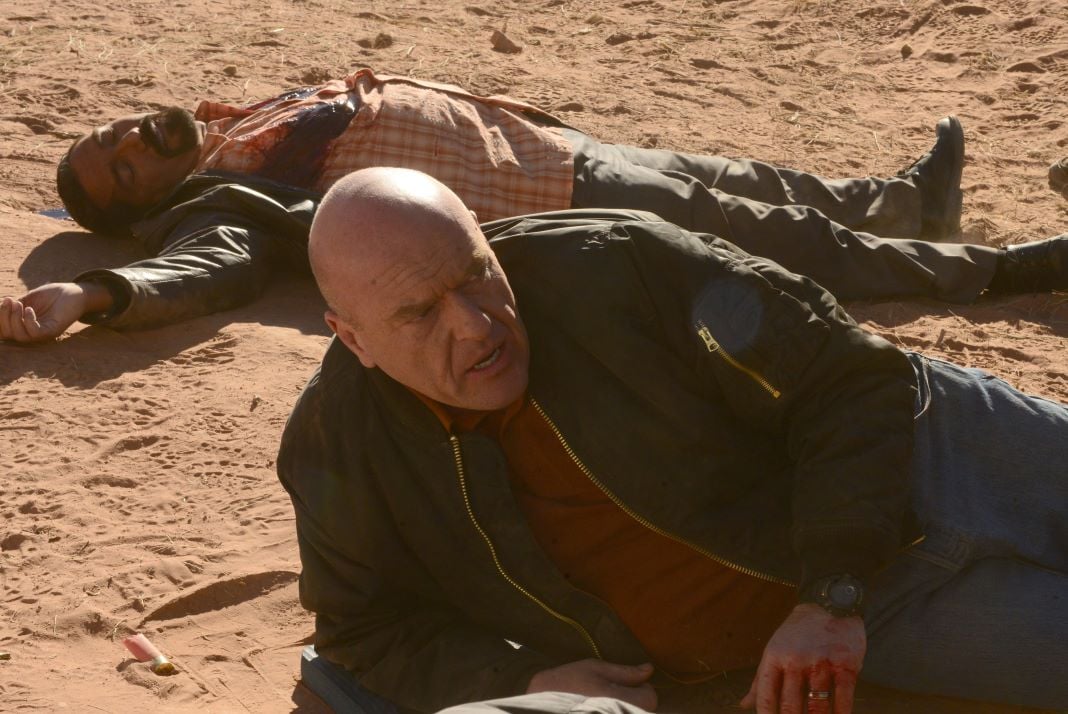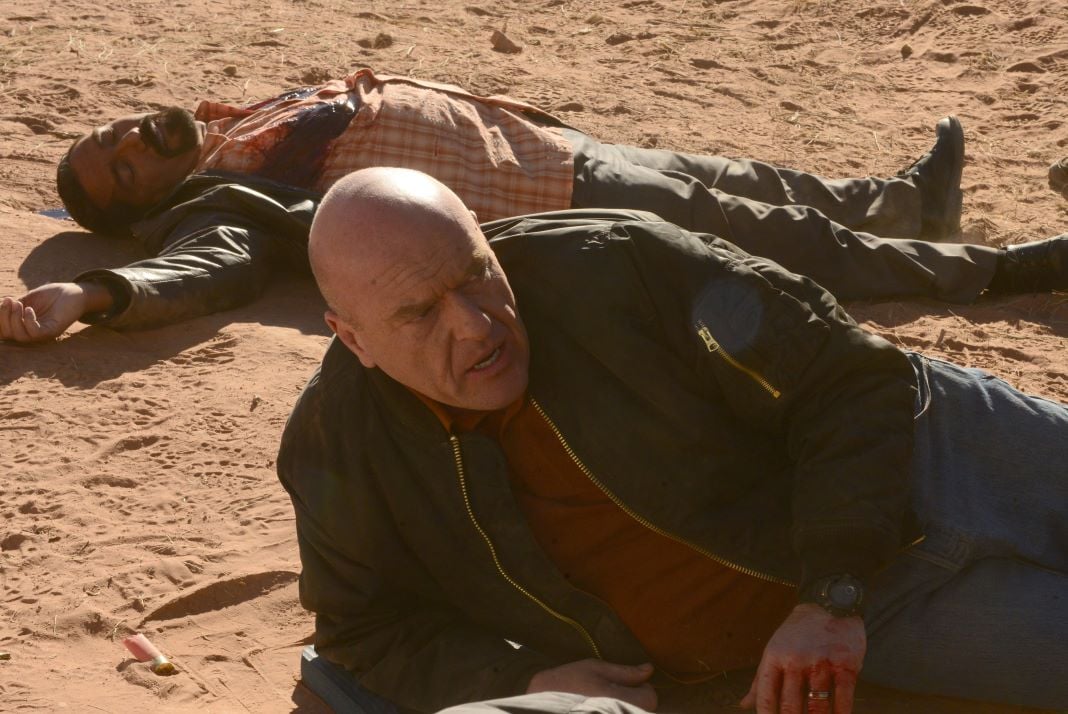 After Hank's murder, Walt rats out Jesse's hiding place to Uncle Jack and then spitefully admits to Jesse that he purposefully let Jane die. Jesse is taken prisoner by Jack and the white supremacist gang.
Things go from bad to worse for Walt
When Walt arrives back at his house, he starts packing and encourages Skyler and Walt Jr. to do the same. But they already know the depth of his secrets and refuse to go along with him. Skyler assumes Walt killed Hank and pulls a knife on him, cutting his hand. Walt Jr. calls the police and reports his father as an attacker against their family. Panicked, Walt grabs the baby Holly in her car seat and speeds off.
Walt calls his home and carefully helps clear Skyler's name with their conversation, making it clear that she had no idea what he was up to because he knows the phone line is tapped. He also relays that Hank is dead. After leaving the baby at a fire station, Walt disappears into the van that will transport him to his new life.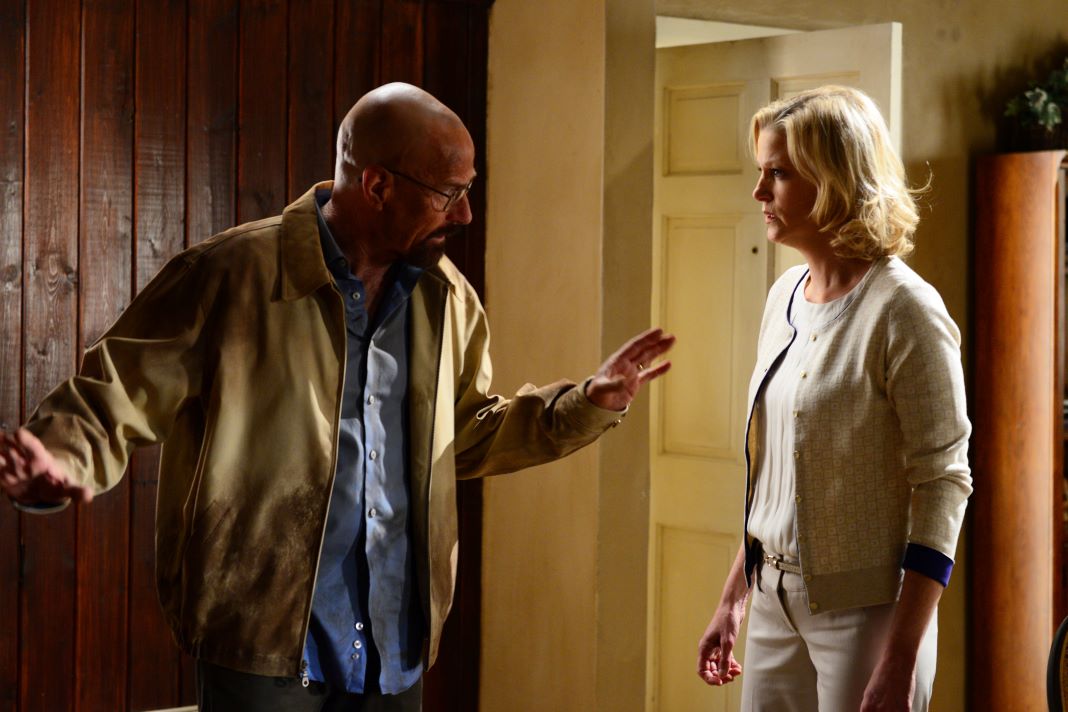 'Ozymandias' received critical acclaim
Critics were impressed by the dramatic feats accomplished in a single hour of television. IGN reviewer Seth Amitin gave the episode 10 out of 10 points, calling it the "most gut-wrenching, twisted, horrific, and well-planned" episode and "a capitalization on all of the built-up pieces that add up to a puzzle." TV.com called it, "terrific and awful to watch; a powerful piece of television that transcended fiction."
Reviewer Alan Sepinwall said, "If you were to ask me what is the best hour of dramatic television ever, I would say Breaking Bad's 'Ozymandias' and not think twice about it."
TV Guide chose "Ozymandias" as the best television episode of the 21st century in their 65th anniversary issue.