'Breaking Bad': How Much Time Passed Between the Pilot and the Series Finale?
For 62 episodes, AMC's Breaking Bad followed the transformation of a dying man who became a drug kingpin. Walter White's (Bryan Cranston) journey began on the day Walt was diagnosed with terminal lung cancer. It just so happens it's also a milestone birthday for the high school chemistry teacher. That said, how much time passed from that pivitol day and the series finale?
Creator Vince Gilligan called 'Breaking Bad' a 'fish-out-of-water' story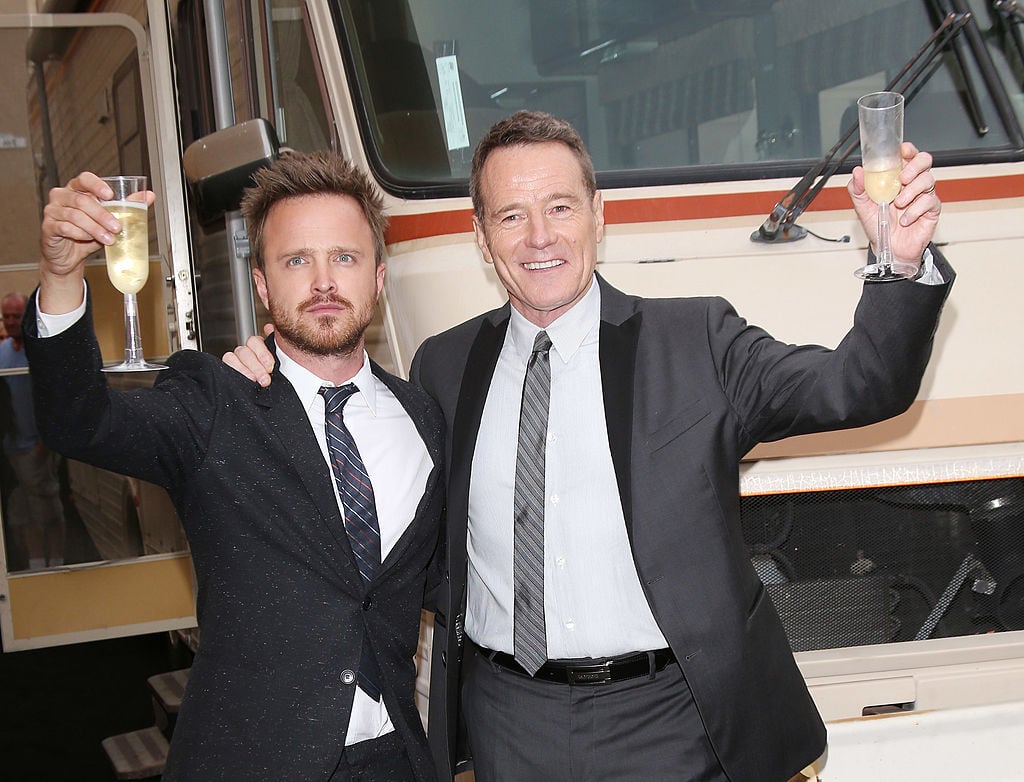 In 2008, Breaking Bad burst onto the scene with a tale as old as time: a dying man in the midst of a midlife crisis kills two druglords and becomes a druglord in his own right. The AMC series has been deemed by many as one of the greatest shows of all-time. To get a title like that means the content resonated with viewers in some way or another.
In a previous interview with NPR, creator Vince Gilligan said Walter White (Cranston) is "the heart of the show" in a "fish-out-of-water story." He compared "every man" Walter White's journey with that of The Sopranos main character Tony Soprano, who was born into a life of crime.
"Walter White is a man, on the other hand, who makes this active decision, who makes the decision to become a criminal, to become a villain," he said. "And as one might expect when someone embarks upon a whole new way of thinking, a whole new way of behaving, there are stutter steps."
He continued: "And there are mistakes made. And a lot of those early episodes in particular involve Walt bringing his old world and the way he would make decisions and the way he would come to conclusions in a scientific fashion, you know, from his old life — bringing those ways of thinking and those ways of behaving into this new life."
With all of that said, some might be confused as to how much time passed between the pilot episode and the series finale.
Here's the 'Breaking Bad' timeline in a nutshell
In the pilot episode of Breaking Bad, Walt is celebrating his 50th birthday just as he received his terminal cancer diagnosis. Other episodes revealed his birthday to be September 7, 1958 to give a little context. If it seems as though a lot happens in five seasons, it's because a lot does happen, which confuses the basic timeline for viewers.
From Walt's 50th birthday to the end of season 4 when Walt has fully become his cruel alter-ego Heisenberg, only a little more than a year of real time has passed. The crystal meth dealer and his partner Jesse Pinkman (Aaron Paul) manage to get into all kinds of trouble together and separately, but it's not until Season 5, episode 4 that Walt is seen celebrating his 51st birthday.
Though he'd been on top of the world and making enemies faster than he could "cook," the episode "Fifty-One" began the end of Heisenberg's reign. His wife Skyler (Anna Gunn), son Walt Jr./Flynn (RJ Mitte) and daughter Holly had gone against him (and rightfully so). Then, his cancer returned with a vengeance, his brother-in-law Hank Schrader (Dean Norris) was killed, and a neo-Nazi gang had kidnapped Jesse.
By the time Walt came out of hiding to set Jesse free in a massive gun battle, his apparent death is shown on September 7, 2010, which is his 52nd birthday. Therefore, between seasons one and five, there's only a two-year difference and, ironically, matches the original time given to live when diagnosed with cancer.
Some fans have an issue with Walter and Skyler White's age difference
Now that the timeline is straight, fans have another issue with the series. With Walt celebrating his 50th birthday in the pilot, some noticed there's an age difference between he and Skyler.
"First, was there any reason for the gaping age difference between Walt and Skyler? I remember when Walt turned 50, Skyler was talking about how she wasn't looking forward to 40," one Redditor posted.
"I'm rewatching the show and there's this line in the pilot where Skyler says 'I'm sure as hell not looking forward to 40' and it kinda bugged me. If she had Flynn in 1992 then she must have been 24, 25 at the absolute oldest? another wrote.
A few noted the age difference is likely around 11-12 years. According to those who pointed out the two met when Walt was already working in a lab and had already gone through schooling and then some. Whatever the age gap, Walt was determined to do things his way, which is why the series ranks supreme.