'Breaking Bad' Star Aaron Paul Once Asked His Grandma to Close Her Eyes During This 'Intense' Scene
AMC's Breaking Bad is intended for adult audiences only. Violence, drugs, and profanity are laced throughout all five seasons of the series. Its popularity has only grown since the show ended in 2013 with new fans seeking out the shenanigans of Walter White (Bryan Cranston) and Jesse Pinkman (Aaron Paul).
Some scenes, however, might even be too graphic for some adults. Such is the case with Paul's grandmother.
Aaron Paul had a sheltered childhood before 'Breaking Bad'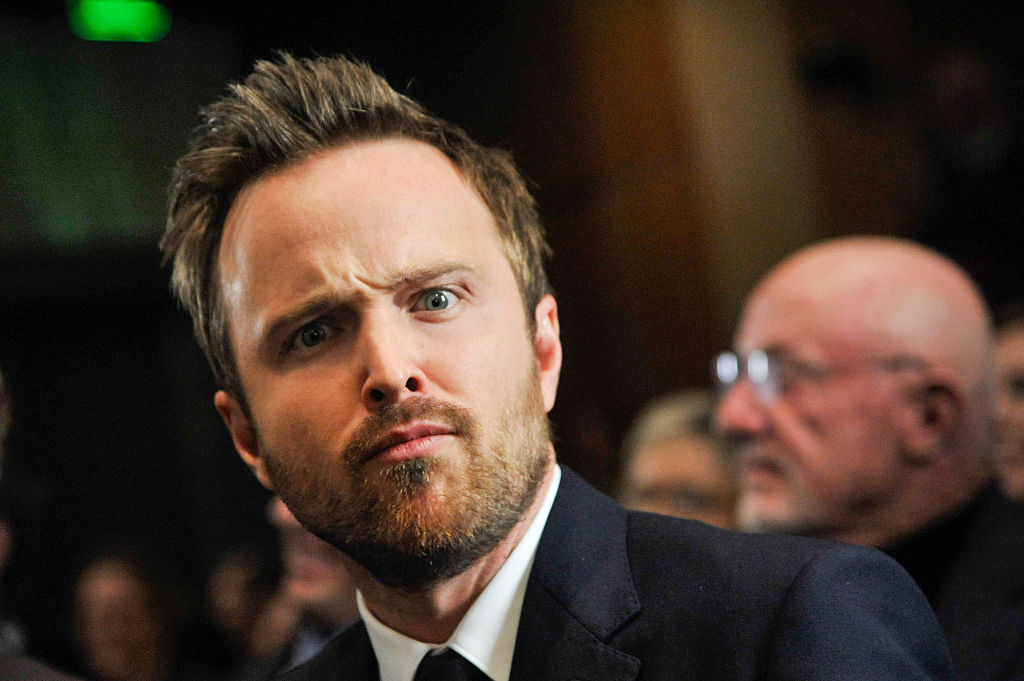 RELATED: 'Breaking Bad': Aaron Paul Put His Own Spin on Series Finale
Long before Paul became Walter's protégé/problem on the small screen, he grew up as Aaron Paul Sturtevant as the son of a minister in Idaho with three siblings. His sister Danielle Hart said they had a nice childhood — with restrictions.
"We weren't able to go to movies, we weren't able to go dances, church three times a week — that kind of thing," she said via Boise State Public Radio in 2013. "So just bringing Hollywood into my parents' lives, it's kind of opened them up to a different world. They're extremely proud of everything [Aaron's] done."
She said being on Breaking Bad changed their lives adding [Paul] had a "hard time accepting the admiration" at first, but he's since become more comfortable.
As for preparation for the role, Paul went places he hadn't before.
"He visited people that were on drugs and was kind of right there," she said. "He saw people shooting up. And I think that made him a stronger person. He's able to see the world in a different way because of it."
In the time since the show ended, Paul met his future wife Lauren Parsekian, married, and welcomed their daughter Story Annabelle. While fame was an adjustment for all, it's Paul's grandma he wanted to protect most.
Paul asked his grandma to 'close' her eyes before this scene
RELATED: 'Breaking Bad': 2 Major Clues Foreshadow Jane's Overdose Death Before It Happens
Much of Breaking Bad has language and/or gore, but Paul told Entertainment Tonight in 2018 it was an entirely different scene he didn't want his grandma to witness.
"One of the most intense things that I had to go through as an actor with this character, was watching Andrea [Emily Rios] die, or waking up next to Jane [Krysten Ritter] and trying to revive her," he said. "I remember watching that episode with my whole family in Idaho — my grandmother was there."
He continued: "It opens up, and you just hear the sounds of the bedsprings going off and you hear some grunting. And there's laughter in the room, and they're like 'Oh no, Grandma, close your eyes,' because they thought, 'Oh, there's going to be a sex scene'. And then it cuts to one of the most tragic things you could see."
Grandma may have been protected but the stars of the show were the ones really affected. In People's Couch Surfing, Ritter explained the scene hadn't hit her leading up to "action."
"Then you're doing it, and you're in this death makeup. They built a cast for my chest so that Aaron Paul can really be pounding on my chest [in the next scene]," she said. "And then Bryan [Cranston], after the take, you just see him sitting quietly in the corner. It was intense, and I will never forget it."
Paul wrote a heartbreaking tribute to his grandma
RELATED: 'Breaking Bad': Aaron Paul Earned $150,000 Per Episode, Way Less Than Bryan Cranston
In March 2016, Paul posted a tribute on Instagram to his grandmother.
"It's amazing what your heart does when it is jolted. When news floods in and panic takes over. Emotions run wild. The beautiful woman I am looking at is my grandmother (my mom's mom) and she is turning 94 today. She is easily the strongest woman I have ever met," he wrote. "Example, she got kicked by a bull once and broke her hip (which she had to replace) and never complained about any sort of pain. The other day she was walking to let her dog out and next thing she knew she was on the ground. Her back splintered in 6 places."
He continued: "Right before this photo was taken she had her daughter Darla (my mom) call each of her grandchildren so she could say goodbye. She said that it was time for her to sleep and go see grandpa. She would always tell us 'I love you all the same. No favorites'. After she said goodbye to me I packed a bag and went straight to the airport. She is now recovering back at home telling jokes and resting a lot."
He finished by saying she's a " beautiful fighter," and reminded fans to call their grandparents. If that's not the most Pinkman thing ever, we don't know what is.