'Breaking Bad' Star Bryan Cranston Remembers Making Jerry Seinfeld Laugh on the Iconic Sitcom
Remember when Heisenberg was a dentist?
Long before he broke bad, Bryan Cranston was a hard-working Hollywood actor who landed a recurring gig as the gang's dentist on Seinfeld, one of the most popular comedies of all time. The Breaking Bad star told a funny anecdote about his time there during an episode of Talking Bad with Chris Hardwick as a response to a reader question.
The 64-year-old actor recalled once making Jerry Seinfeld laugh so hard that it took them an hour to complete a simple scene. And apparently making one of the comedic greats laugh like that was no easy feat.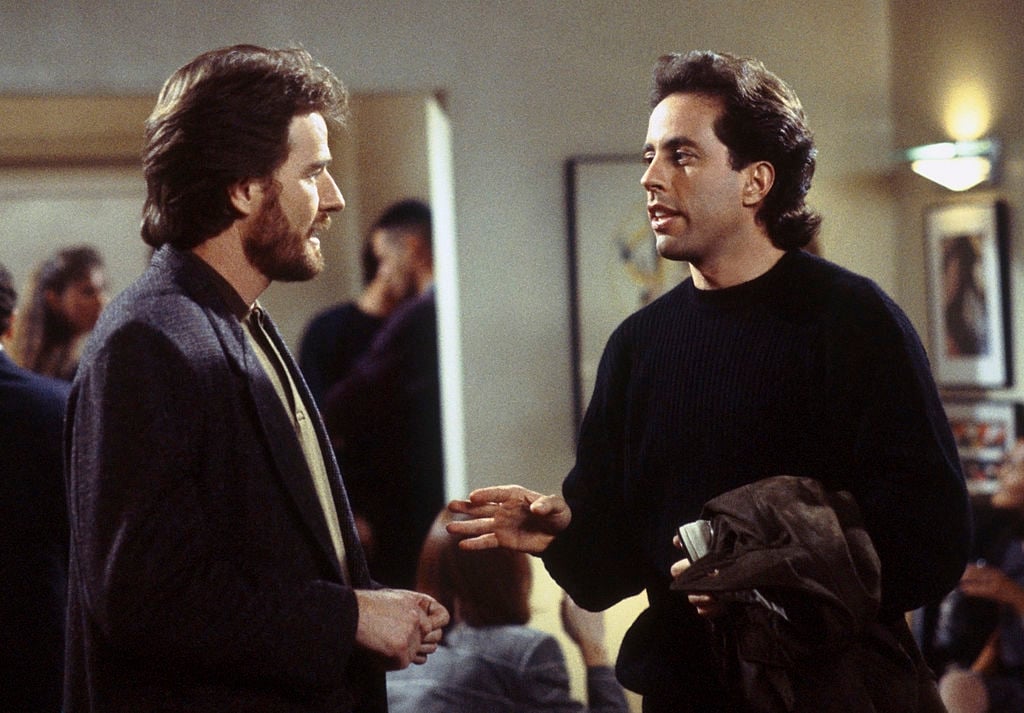 Bryan Cranston played 'dentist to the stars' Tim Whatley
He didn't have a huge part on Seinfeld, but Cranston did provide a few laughs as a dentist on the show. In episode 105, "The Jimmy," Jerry is afraid the dentist might be secretly molesting him because he can't remember if his shirt was tucked or untucked when he arrived. But the funniest part of that episode is courtesy of an unnamed employee on set.
As Cranston explained to Hardwick, he was sitting alone on the set after rehearsing with Jerry when he got a bit of unexpected advice.
"I hear a voice saying, 'Hey, you know what would be funny?' and I look out and, on a ladder adjusting a light, is a guy," Cranston recalled. "And he goes, 'It would be funny if you first took a hit of the laughing gas before you gave it to him.'"
Cranston ran with the joke and Jerry Seinfeld couldn't stop laughing
Without telling anyone his plan, Cranston pulled off the idea straight-faced while filming the scene for real and it was met with rave reviews.
"Jerry falls over laughing," Cranston said of his reaction to the bit. "Just dies. It was hilarious. And Larry David… he said, 'Jerry, stop laughing. Let's do it again.'"
But the comedian was so tickled by the scene that they had to keep doing it over and over because Jerry could not stop cracking up. "We were there for an hour," Cranston said with a laugh.
Cranston also revealed that he gave the random crew member credit for the idea when he kept getting complimented on it.
That wasn't the only hilarious scene with Cranston as the dentist
Though that was probably his funniest surprise scene on Seinfeld, it's not the only time Cranston made Jerry — and the audience — laugh. All his appearances were memorable, including the time he reacted to Jerry arriving at his pre-Thanksgiving party, or the time he converted to Judaism and asked his assistant for a "schtickle of fluoride."
And who could forget the time he kissed Elaine, who had thought he was hot all along? In the episode, she forgives him for re-gifting a label maker because she's so attracted to him. And, interestingly enough, Elaine also had fling with another Breaking Bad actor, too. Bob Odenkirk appears in "The Abstinence" as Elaine's would-be doctor boyfriend.
It's not surprising, though, that these two talented actors would show off their comedic talents in one of the most beloved sitcoms ever made.