'Breaking Bad': Vince Gilligan Ignored Science Expert's Advice That Heisenberg's Pure Meth Should Be White, Not Blue
The world of Breaking Bad is many things but "realistic" isn't one of them.
AMC's hit drama is still captivating fans even years after the series finale thanks to epic storytelling, memorable characters, and intricate storylines. It also helps that the spinoff prequel, Better Call Saul, is currently garnering so much attention.
Breaking Bad is highly regarded due to the care showrunner Vince Gilligan plus the writing team put into each episode. There was a lot of time spent including subtle references and symbolism to reward perceptive fans. However, just because the writers cared about the details, it didn't necessarily mean every detail was accurate.
For example: Heisenberg's famous Blue Sky meth should really be white.
'Breaking Bad' took their science references seriously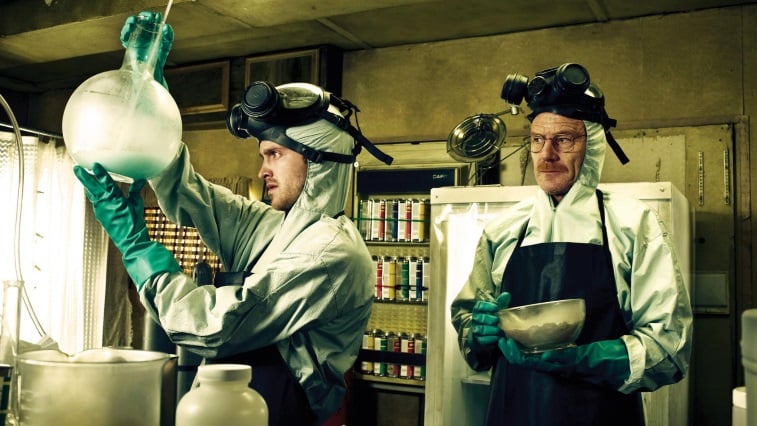 Like so many other science-based shows, Breaking Bad employed an expert to help make sure they got the intricate chemistry details correct. Gilligan also involved the DEA so he could be sure to give viewers an accurate portrayal of meth labs without inadvertently inspiring fans to cook up a batch of their own.
Dr. Donna Nelson spoke with Showbiz Cheat Sheet about her time as an adviser on the show. She was impressed with Gilligan's dedication to getting the science absolutely right.
"The thing that I think made Breaking Bad stand out is that…Vince just loves science. And I think, judging from some of the comments he made, he was a science groupie when he was a kid," Nelson said. "That's what made him very interested and want to have the science content accurate."
Vince Gilligan took some liberties by making Heisenberg's meth blue
Even though the Breaking Bad showrunner believed in accuracy, he still needed to make memorable television. That meant ignoring a few suggestions from Dr. Nelson. The most significant of these was when Gilligan asked the chemistry professor if pure meth could ever be blue.
"One of the things that I learned early on is that they had to think about getting picked up next season. They weren't thinking about making a science documentary," Dr. Nelson told Showbiz Cheat Sheet.
"For example, on one of my set visits, Vince came to me and said, 'What do you think about making the meth blue?' And I said, 'I wouldn't do it.'"
She continued: "He said, 'Well, wouldn't there be some reason if it was pure that it might be blue? You know, a little bit blue.' And I said, 'No, because meth is white.' And he said, 'Well, what if it's pure?' And I said, 'Then it'll be white.' And he said, 'What if it's really, really, really pure?' And I said, 'Then it'll be really, really, really white'"
The blue meth becomes a key element on 'Breaking Bad'
Most of Breaking Bad is scientifically accurate while remaining logically unlikely. However, the blue meth was added for a bit of cinematic flair, and to help distinguish Heisenberg's superior product from other street meth.
The color blue also becomes symbolic throughout the series, mostly because of the near-mythical, shockingly pure meth that Walt is able to create. Only true science experts like Dr. Nelson know the truth — Walter White's meth should really be white, not blue.