'Breaking Bad': Why Walter White's Infamous 'Tighty Whities' Almost Didn't Make the Pilot Episode
Bryan Cranston almost didn't wear his famous 'tighty whitey' underwear on 'Breaking Bad'. Here's how the change happened and what it meant for the evolution of the character.
One of the most memorable images in TV history is that of Breaking Bad's Walter White (Bryan Cranston) standing in the dessert wearing nothing but shoes, a green button-up shirt, and "tighty-whitey" underwear as he points his gun. That look would become the precipice of what the AMC series set out to be. It's ironic to think that the scene in which fans remember most about the show almost eliminated those famous britches.
'Breaking Bad' star Bryan Cranston on Walter White's wardrobe transformation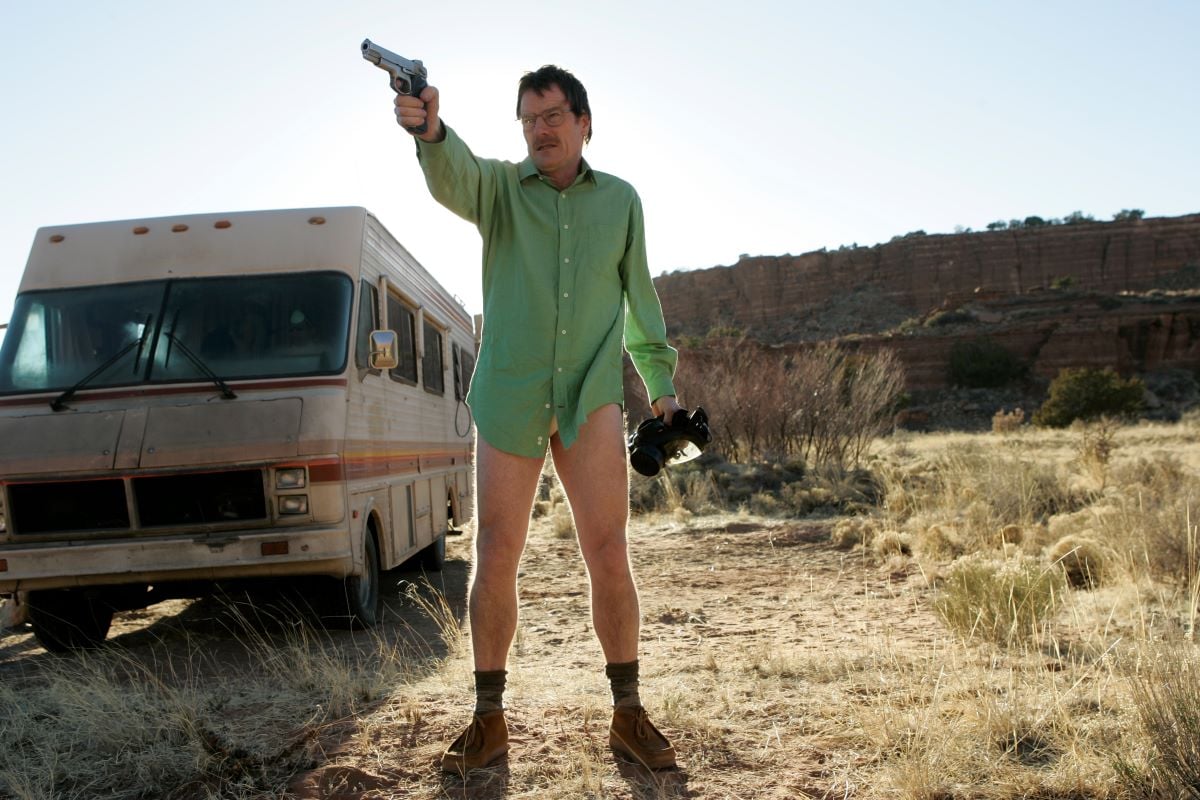 To imagine a cancer-stricken Walter White wearing anything but off-brand clothing is unfathomable. Breaking Bad highlighted an everyday man who morphed into a drug kingpin in its five-season run. In Cranston's book, A Life in Parts, he explained why Walt looked the way he did.
"When wardrobe asks me questions — 'What about this jacket? These sunglasses? This car?' — I know all the answers. Hand me a Ralph Lauren shirt? No. No labels. This guy is Kmart all the way. Target is a treat. So let's get that sensibility," he wrote.
"Most costume designers want to work with nice materials. They want their actors to look good. I imagine there are a lot of actors who want to look sharp, not knowing or realizing that's not who their character is. But it's ridiculous to have a middle-class character walking around in Louis Vuitton. Fortunately, our costume designer, Kathleen, was right with me on that," he added.
As for the physical, Cranston wanted Walt to represent a middle-class character in all the right ways saying he'd shave his head or be naked, if required.
"I sank into Walt, dressed badly, and gained weight," he said. "Every aspect of Walt was an expression of the fact that he'd given up. The chinos, the Members Only jacket, the Wallabees, the pathetic hair, and mustache."
All of these things helped create a more believable character which is why it's hard to imagine a pilot episode without the truest essence of Walter White — in his underwear.
Cranston said 'tighty whities' are 'the most pathetic thing' Walt could wear in 'Breaking Bad'
As with the aforementioned wardrobe choices, Cranston also wrote that his choice of underwear fit into all of that — even as the character evolved over time.
"As the series progressed and Walt gained his powers, we went into other underwear and darker clothes in general. But at the outset, tighty-whities was it," he said. "Though I knew the contours of Walt's journey, good to bad, Mr. Chips to Scarface, I never dreamed how riveting, how majestically compelling the show would be as it unfolded over the next six seasons, how it would change — everything."
The star said he never 'dreamed how hooked people would get on the show," but since they have, the tighty whities are making the rounds of Breaking Bad conversations again. There was a time when showrunner Vince Gilligan thought about switching it up due to the freezing temperatures while shooting.
"I wimped out," Gilligan said via GQ. "I took him aside and said, 'Would you be more comfortable in sweatpants? Or boxers?' He said, 'Yeah, I'd be more comfortable. What's your point?' 'So you're okay with the tighty-whities?' 'Well, what's the most pathetic thing I could be wearing here?' I said, 'Tighty-whities.' And he said, 'Well, what else do we need to talk about?'"
Cranston weighed in saying, "I genuinely could not care less how I look." This is exactly why he's so good at what he does.
'Breaking Bad' isn't the only place Cranston wore 'tighty whities'
One thing two of Cranston's more prominent roles have in common is the underwear. As Hal on Malcolm in the Middle, Cranston often paraded around in tighty whities telling IFC (per Vulture) "The tighty whitey reigns supreme. It still lives on."
However, he noted the distinct difference in why each character wears them.
"With Walt it's an I-don't-care-thing. An I'm-too-depressed-to-think-beyond-that-thing. He has given up."
"For Hal, it was that he was just a big boy, so the tighty-whities seemed to make sense," he said in a 2016 interview with 60 Minutes. "For Walt, the tighty-whities also made sense because they were pathetic."
Pathetic or not, the choice is likely why those images are forever-ingrained into the minds of Breaking Bad fans who rooted for Walt when he least deserved it.