'Breaking Bad': Why Dean Norris Loved Hank's Death Scene
The fifth and final season of Breaking Bad contained one of the most devastating episodes of the series. "Ozymandias" depicted the final scene with star Dean Norris. His character Hank Schraeder was involved in a shootout that left his partner dead and his meth king brother-in-law Walter White (Bryan Cranston) pleading for his release. Ultimately, Hank's death remains a pinnacle moment for Breaking Bad fans even though Norris himself once said he "loved" the death scene.
Dean Norris knew of his 'Breaking Bad' death 2 years in advance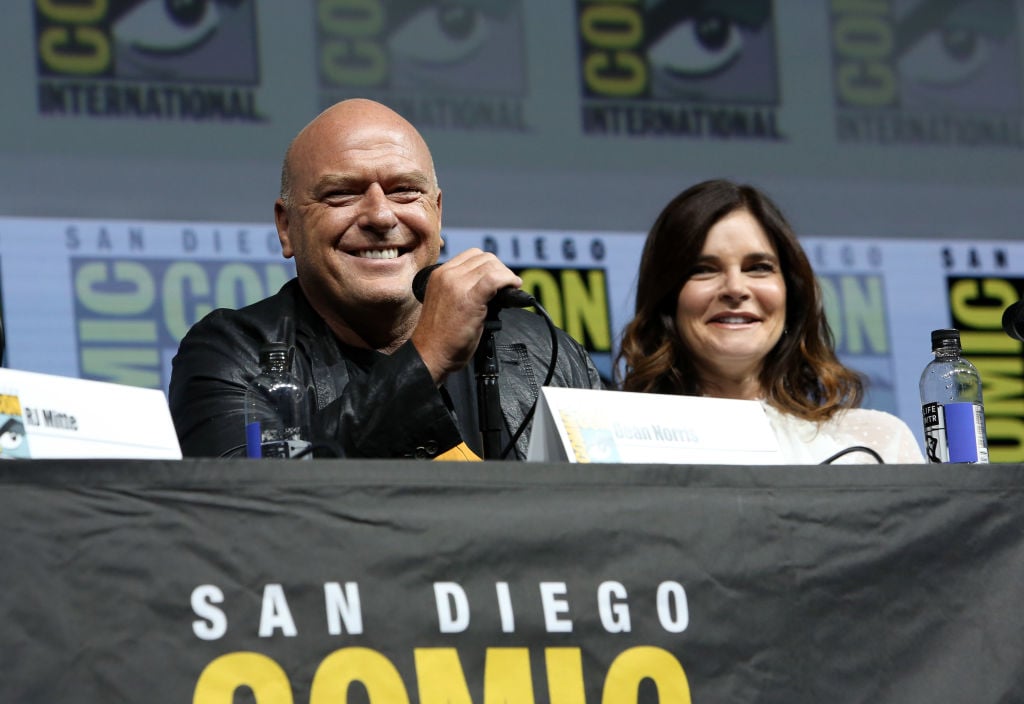 RELATED: 'Breaking Bad': Why Walter White's Infamous 'Tighty Whities' Almost Didn't Make the Pilot Episode
Not everyone knows when they're going to die — unless you're Norris. In a 2017 interview via TV Line, Norris revealed that Breaking Bad series creator Vince Gilligan gave [Norris] a heads-up as to when Hank would die.
"Vince told me that about two years ahead because we knew we had the last two seasons," he said. "He kind of took me aside and said, 'This is how it's gonna happen.' I think he almost said the lines, literally, two years ahead of time."
The scene itself was shot with just a few takes due to a "limited amount of daylight every single day," episode director Rian Johnson previously told Vulture. "So on top of being very emotional, those scenes were also really jam-packed and rushed. And if you watch Dean when he's on the ground in those shots, you'll see him squinting, and if you look, you can see dust blowing, and it doesn't really communicate how horrible a dust storm was happening."
Weather aside, Norris said he loved the scene, but for a different reason altogether.
Norris loved his death scene for a pretty realistic reason
RELATED: 'Breaking Bad': Here's What the 'Meth' Was Really Made of, According to Bryan Cranston

As the DEA agent on a quest to uncover Walt's corruption, the neo-Nazi shootout brought Hank's true grit to the surface. Even as Walt's begged for Hank's life, Hank didn't. Instead, he looked leader Jack in the eye and said "go f— yourself," before taking a deadly bullet.
"Yeah, man, I loved it," he told TV Line. This goes back to the conversation he had with Gilligan two years prior where Norris was not only told about the death but that Hank would go out with his dignity. "And I was like, 'Great!'" he added.
In that same Vulture interview, Johnson said Norris was "wildly prepared" for the scene.
"He knew where he was gonna be with this, and the amount of dignity and complexity he gave those moments, he showed up with that. That was just another thing I felt really privileged to watch happen," he said.
The 'Breaking Bad' star channeled real-life feelings
RELATED: 'Breaking Bad' and 'Better Call Saul's Real-Life Reformed Gang Member Served Time Before Superstardom: 'I Had to Change'
The scene didn't take long, Norris said in the TV Line interview. "We shot the essential part of that in one shot, in one take. We had three cameras going: one to the bad guys, one to Walt, and then I said, 'Can I just have one little camera, just a moment to myself?' They had all three going at the same time."
However, when thinking about what went through his mind during those scenes, Norris revealed to The Hollywood Reporter it became a humanizing moment.
"That I was ending the show, that I was saying goodbye to Bryan Cranston. It all actually fed back into the loop of the scene because Hank was also saying goodbye to Walt," he said, adding they did the scene in one take.
"Usually, you'd do a couple more. But I talked to director Rian Johnson and I said, 'There's one kind of face he will put up with Walt and another for bad guys, but either way, he knows he's going to die,'" he explained. "Rian said, 'OK, that's the way you die on TV. Let's move on!' I got done in half a day."
Maybe Norris had a great time filming "Ozymandias" but the rest of us are forever scarred. RIP Hank.