'Breaking Bad': Why the Show Used Signs for Mayonnaise Commercials While Working
When Breaking Bad burst onto the TV scene in 2008, no one knew how big it'd become in the years since its series finale in 2013. Many networks passed on the hit show before it eventually landed on AMC. Excitement for Walter White (Bryan Cranston) and Jesse Pinkman (Aaron Paul) took a season to catch up. Once it did, Breaking Bad became a cultural phenomenon. This is exactly why execs had to put fake signs up to divert attention while shooting.
After it sold, 'Breaking Bad' was originally set to film in California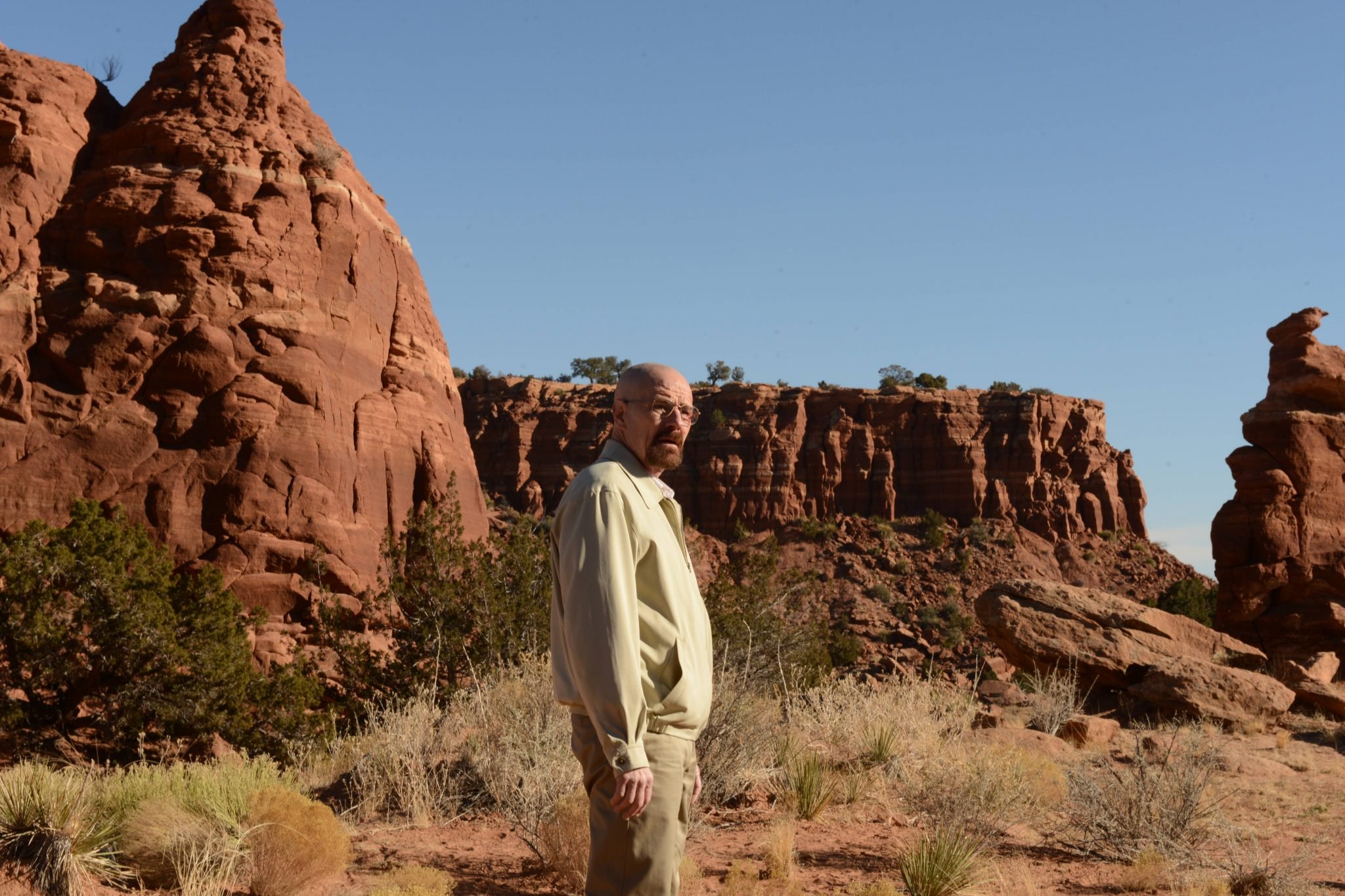 RELATED: 'Breaking Bad': Why Walter White's Infamous 'Tighty Whities' Almost Didn't Make the Pilot Episode
It's hard to believe it now, but there was a time when plenty of major networks gave Breaking Bad a hard pass. The show was pitched by creator Vince Gilligan and Sony Pictures to Showtime, TNT, HBO and FX, according to Mental Floss. In 2011, Gilligan said the HBO meeting was the "worst" he'd ever had.
"The woman we [were] pitching to could not have been less interested — not even in my story, but about whether I actually lived or died," he said."
FX bought the show but didn't love the script but AMC swooped in. The real buzz began when Netflix stepped in, changing the way people watch TV forever. The "Netflix Effect" is what forayed Breaking Bad to the level it remains today.
The original film location was supposed to take place in Riverside County, California, which is in the Southern California area. Things changed when the studio learned they couldn't earn a rebate in that state so they transferred to Albuquerque, New Mexico to save money — 25 percent more. The rebate credited back not only allowed for a bigger budget but helped the city become a hot destination as its own Breaking Bad character.
"Albuquerque was absolutely an important character and I just adore those people and all those who worked with and the cooperation from the Mayor's office and the film department and just the great people in New Mexico. I look forward to getting back there and visiting again and saying hello and having the chilis," Cranston previously told Route Magazine.
The popularity of the show and the town are exactly why the studio opted for new signage where they filmed.
'Breaking Bad' eventually became so popular they had to make fake signs to throw fans off
RELATED: 'Breaking Bad' Star Aaron Paul Once Asked His Grandma to Close Her Eyes During This 'Intense' Scene
When Breaking Bad first began, cast and crew didn't have to worry so much about who stumbled upon their location. But, as the series took on a life of its own, they took extra precautions to throw fans off the trail.
"When we first started the directional signs that tell the actors and crew where to park their cars to go to work on location, they just said Breaking Bad with an arrow," Cranston said. "I knew that we were starting to get recognized when all those signs started to be stolen."
He continued: "Then they just used BrBa and those were stolen, and I thought, 'Oh, we're becoming a hit.' After that, they would tell us what the road signs were going to be and they would change them up like, 'mayonnaise commercial this way,' so that we could figure out where to park our cars."
The legacy of the show continues in the city of Albequerque
RELATED: 'Breaking Bad' Creator Initially Intended to Kill off 2 Main Characters in Season 1:'That's What Ballsy Shows Do'
Thanks to the success of the show, the Albuquerque tourism industry saw a boost in traffic. Now the city offers tours of Breaking Bad locations such as Hank and Marie's house and a themed candy store with sweets made by the real props department hired to make Walt and Jesse's "blue meth."
"Breaking Bad became such a phenomenon that it helped in other areas such as tourism,"Nick Maniatis, director of the New Mexico State Film Office told New York Times in2013. "You wouldn't think that would be the case for a show about meth. But it was shot so beautifully. They did such a great job showing different areas of our state."
The biggest attraction is that of Walt's house which garnered a statement by Gilligan for fans to stop throwing pizzas on Francis and Louis Padilla's roof (as Walt did in the show).
"Every single day, without exaggeration, every day, there have been people who would come with pizzas and they would throw pizzas on the roof, then take a picture of themselves in the foreground with the pizza on the roof, but they wouldn't retrieve the pizza and ants, and roaches, and birds, and rats would come. It was really, really terrible, and it's just unfortunate that they had to endure that," Cranston said.
Maybe if they'd put a "Mayonnaise Commercial" sign out front, dedicated viewers would move.