Who Is Bri Stauss on 'The Bachelor: Listen to Your Heart'?
Who is Bris Stauss from 'The Bachelor: Listen to Your Heart' cast in 2020, including her Instagram, age, and details about her ex.
The Bachelor: Listen to Your Heart stole the show when the latest addition to the ABC reality franchise premiered on April 13. The new series features multiple musicians hoping to find their perfect match while simultaneously promoting their careers. Thus far, multiple couples have started to form. But no one holds a candle to Bri Stauss and Chris Watson's blossoming relationship. And naturally, viewers are itching to find out more about the two contestants. So who is Bri from The Bachelor: Listen to Your Heart? The 28-year-old pop singer keeps things low-key on Instagram, but she still seems excited about her journey ahead.
Who is Bri Stauss from 'The Bachelor: Listen to Your Heart' cast?
According to Bri's Bachelor profile, the Listen to Your Heart cast member is from Provo, Utah, and has been focusing on her music career for the last five years. Bri has released a few singles, which can be found on Spotify or the singer's website. She was also involved in a viral Disney parody of Taylor Swift's "Shake It Off." The video dropped in 2015 and has since garnered 62 million views.
Meanwhile, Bri's love life has been heavily featured on Listen to Your Heart. In her intro video from the series premiere, viewers learned Bri was previously engaged. 
"About a year and a half ago I was engaged. But I think he got scared," Bri said. "So I made the decision to give the ring back. That crushed me. It was hard for me to get back into dating. But I do feel ready to meet my future husband. And hopefully, it's a guy that plays guitar."
Then during their one-on-one date in the second week, Bri opened up about her split. She explained her ex-fiancé dumped her when she found the perfect wedding dress. "He literally called me that second and was like, 'Don't buy it,'" Bri said. "I think some people can be so cruel. And for him to do that to me that way, he didn't love me. I would never do that to someone I love."
Nevertheless, it seems Bri is ready to start something new with Chris on The Bachelor: Listen to Your Heart. In the premiere, the couple wasn't given much screentime. However, it was clear they hit it off. Then by the second week, both Bri and Chris admitted they were falling in love with each other.
"I'm so willing to find out what love is with you — whatever that entails," Bri told Chris. "I think I might be falling in love with you. And that scares me. But I don't care." 
What is Bri Stauss' Instagram handle?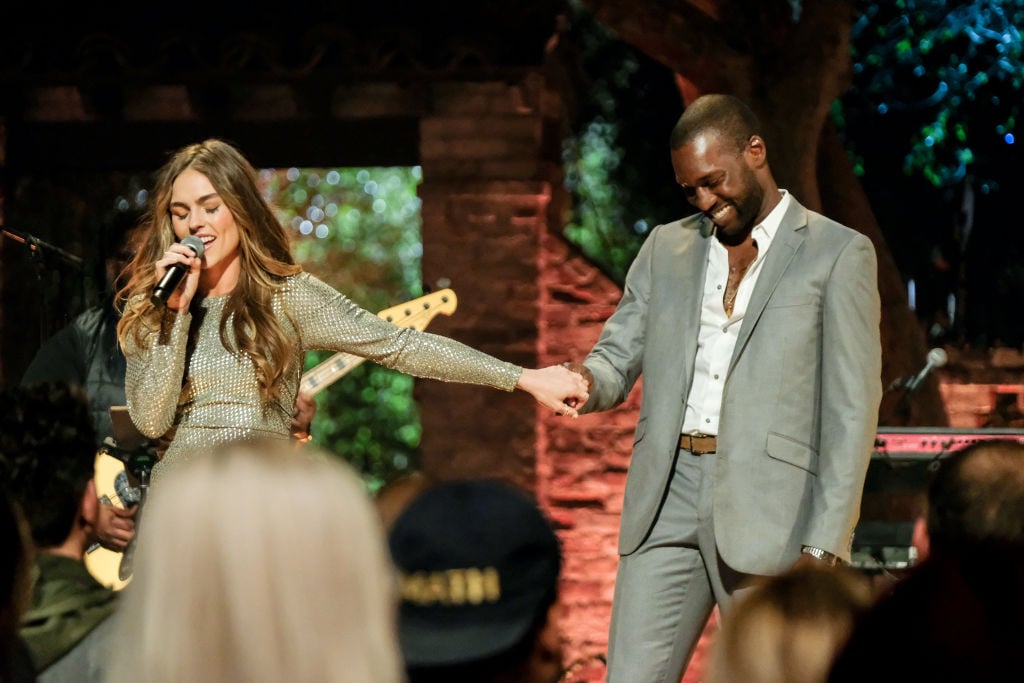 You can find Bri on Instagram with the handle @bristauss. Like most Bachelor Nation stars, her feed is filled with pics fit for any influencer on the social media platform. She also has a few posts highlighting her musical talents. But for the most part, Bri doesn't utilize Instagram as much as you might think.
Within the past few months, the ABC reality star hasn't posted much. She promoted Listen to Your Heart when the cast announcements were made and ahead of the premiere. Then on Feb. 18 — a few days after the show reportedly filmed its finale in Nashville — Bri re-introduced herself to her followers, hinting something big was on the horizon.
"Hiiii! Wow it's already February of 2020 and I realized I haven't posted this year yet. Just wanted to say hi and introduce myself," she wrote on Instagram. "My name is Bri, I was born and raised in Reno, Nevada. I'm a singer, songwriter, and model. My three favorite things in this world are music, family, and horses."
She continued: "This has already been the greatest year of my life and I can't wait to share so many things with you! Soon."
For now, The Bachelor: Listen to Your Heart fans will have to wait and see what happens between Bri and Chris. But whether or not the couple makes it through to the end, Bri's remarks on Instagram could indicate something good happens to the singer soon. So stay tuned. 
Read more: Where Was 'The Bachelor: Listen to Your Heart' Filmed? Fans Already Miss the Original Mansion