'Bridgerton': Charithra Chandran Says a Change From the Book Could Be Addressed in the Future
Bridgerton Season 2 had a few changes from the Julia Quinn books. But Charithra Chandran, who plays Edwina Sharma, revealed which change could be reversed in season 3.
[Warning: This article contains spoilers for the finale of Bridgerton Season 2.]
'Bridgerton' Season 2 changed Kate Sharma and Anthony Bridgerton's love story
RELATED: 'Bridgerton' Season 2 Spoilers: Do Anthony and Edwina Get Married?
Season 2 is based on the book, The Viscount Who Loved Me. The focus is on Kate Sharma (Simone Ashley) and Anthony Bridgerton (Jonathan Bailey) falling in love. The show followed that theme but changed a few things about how their relationship forms.
Edwina notices Kate and Anthony's connection in the book and subtly tries to get them together. In the show, Edwina is entirely unaware and is focused on marrying Anthony, making it a love triangle. However, it's clear Edwina and Anthony aren't a love match.
This made the season harder to wrap up for the sisters. But there's another change Chandran addressed.
Charithra Chandran hopes Edwina becomes closer to Eloise and Penelope in season 3
RELATED: 'Bridgerton' Season 2: How Old Are Kate and Edwina Sharma?
Chandran's character was changed in several ways from the book. The actor revealed her conversation about that with the show's creator.
"The one thing that I said to [creator] Chris Van Dusen before filming started was, 'I don't want Edwina to simply be a plot device for someone else's story or a vehicle for the story to progress. I want her to be her own person and to have her own plot and narrative,' she told Entertainment Weekly. "And I'm so grateful to Chris and the writers for giving me as rich a story as they ended up giving me."
But in the books, Edwina bonded with Eloise (Claudia Jessie) and Penelope (Nicola Coughlan), which didn't happen during the season. Chandran answered if she missed that story.
"For sure, just because I would have loved to spend more time with Nic and Clauds," she said. "I would have loved to have more scenes with them. Maybe in the future, who knows? But I get it, because there are so many stories that have to be filled. The writers have such a tough job."
Eloise and Penelope fall out at the end of season 2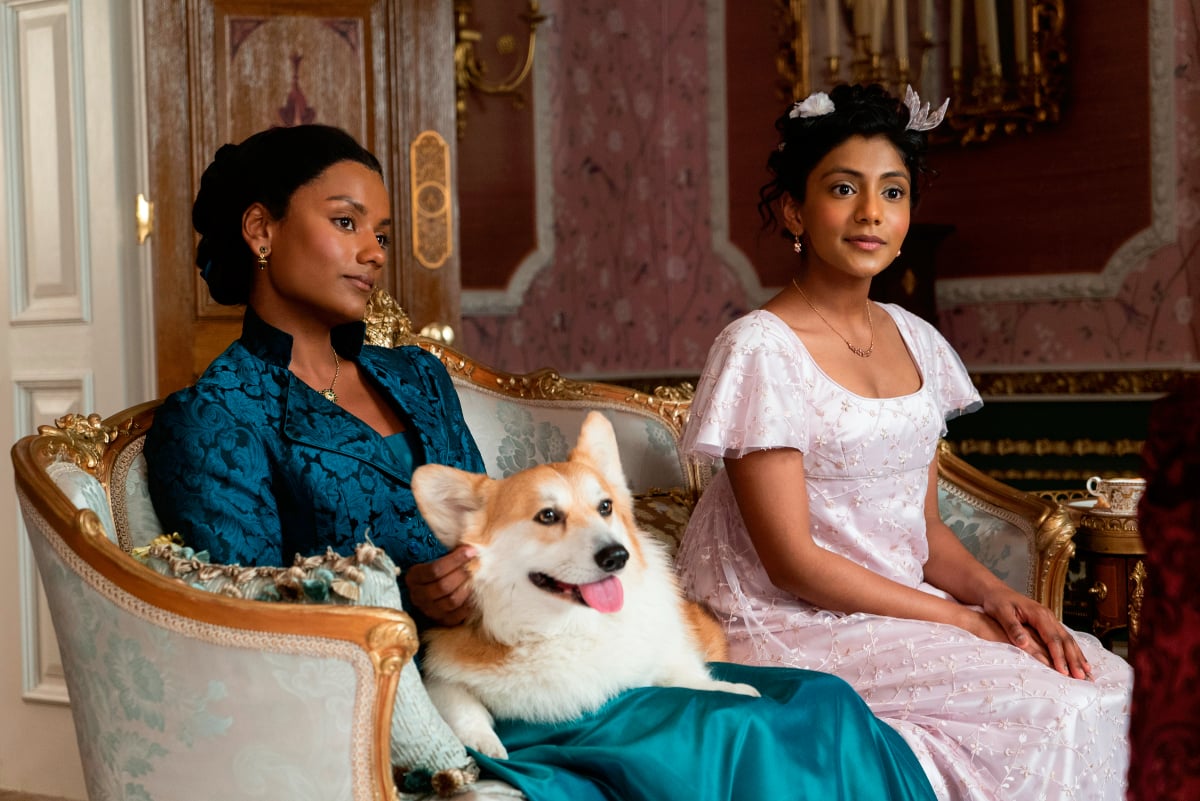 RELATED: ​​'Bridgerton': Edwina Sharma Is More Than Just a Pretty Face
Eloise and Penelope have been close since the very beginning. But season 2 ended with them going down a different path.
Penelope revealed Eloise has secretly been hanging out with Theo Sharpe (Calam Lynch) as Lady Whistledown. Eloise finally realized Penelope was behind the famous pamphlet from listening to her gossip at a party. She later confronted her about her betrayal.
Penelope claimed she gave up writing for Eloise. But Eloise said she never wanted to speak to her again. Fans will have to wait and see if Eloise will tell anyone else about Penelope's secret and if the former friends will reunite.