'Bridgerton': Does Eloise Bridgerton Find out Who Lady Whistledown Is in Season 2?
Bridgerton kicked off Lady Whistledown's popularity. Eloise Bridgerton (Claudia Jessie) became obsessed with finding out the real person behind the pen name in season 1. Was she successful in season 2? Here is everything you need to know.
[Warning: This article contains spoilers for the finale of Bridgerton Season 2.]
Eloise Bridgerton was on a mission in 'Bridgerton' season 1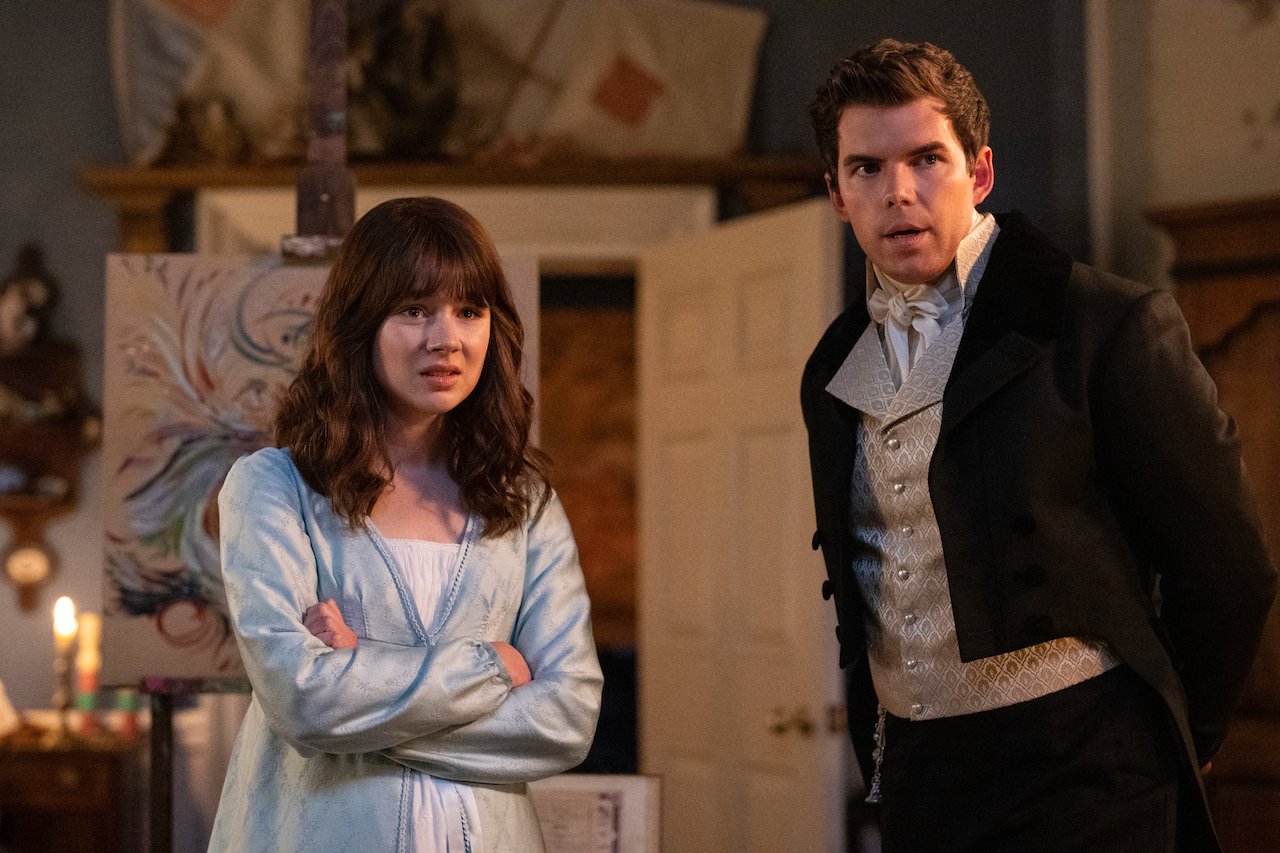 RELATED: 'Bridgerton' Season 2 Introduces New Alter Ego for Penelope
The first season showed Eloise wasn't interested in courting or going to balls. She enjoyed spending time with her friend Penelope Featherington (Nicola Coughlan) instead.
One thing that did interest Eloise was other people. She often gossiped with Penelope, but she also talked about wanting more in life than marriage. Eloise also admired Lady Whistledown for being a woman who writes. 
Benedict Bridgerton (Luke Thompson) suspected her of being the one behind the pamphlets, and she denied this. She became determined to meet her one day and pulled Penelope in on her mission. Eloise questioned people and made a list of suspects. She believed it was a person invited to all the events in society, but no one paid attention to her. Perhaps she is a widow. 
Eloise questioned Lady Danbury (Adjoa Andoh) with this in mind, and she denied it. Queen Charlotte (Golda Rosheuvel) overheard this and asked Eloise for everything she knew. The royal then asked her to discover the writer's identity. The season ended, revealing Penelope is the one who writes as Lady Whistledown. But she's successfully keeping that a secret.
Does Eloise Bridgerton discover Lady Whistledown is in season 2?
RELATED: 'Bridgerton': The Origins of Penelope and Colin's Love Story Could Be Explored in Season 2
Eloise is still focused on her mission in season 2, even though she makes her debut in society. This makes Penelope very nervous, and she changes her strategy of getting her writing to print. Eloise also dismisses how Lady Whistledown writes, which offends Penelope.
Eloise finally discovers her best friend's secret in "After the Rain." They are at a ball, and Penelope starts gossiping about the guests. Eloise realizes it's her from this and the fact Lady Whistledown revealed her secret meetings with Theo (Calam Lynch), something only Penelope knew about.
Eloise later confronts Penelope in private after finding her secret money under her floorboards. She said Penelope's words at the ball felt familiar as if written. Penelope eventually came clean and claimed she had revealed Eloise's secret to save her. She went on to say she gave up Lady Whistledown for Eloise, but this didn't smooth things over. The conversation ends with Eloise saying she wishes to never speak to Penelope again.
Will Lady Whistledown return in season 3?
RELATED: 'Bridgerton:' What the Books Reveal About Penelope Featherington aka Lady Whistledown's Netflix Future
Bridgerton is returning with season 3. Eloise and Penelope will most likely not be on good terms at the start of the season. Since Penelope's identity is exposed, Eloise might reveal this information to the queen.
It's also unclear if Penelope is truly done with Lady Whistledown for good. The Featheringtons needed money, and she was making it through writing. She also gets satisfaction from the popularity of the pamphlet. It looks like fans will have to wait for the next season to find out what happens next.