'Bridgerton': Jonathan Bailey Says Anthony's Relationship With His Mother Is 'Weird'
Jonathan Bailey returns to his role as Anthony in Bridgerton Season 2. This time around, Bailey steps into the spotlight as the season focuses on Anthony's quest to find a wife. Anthony is the oldest Bridgerton. Due to the death of his father, he took on quite a bit of responsibility at a young age. Antony's relationship with his mother changes when he is forced to become the Viscount at only 18 years old.
[Warning: This article contains spoilers for Bridgerton Season 2]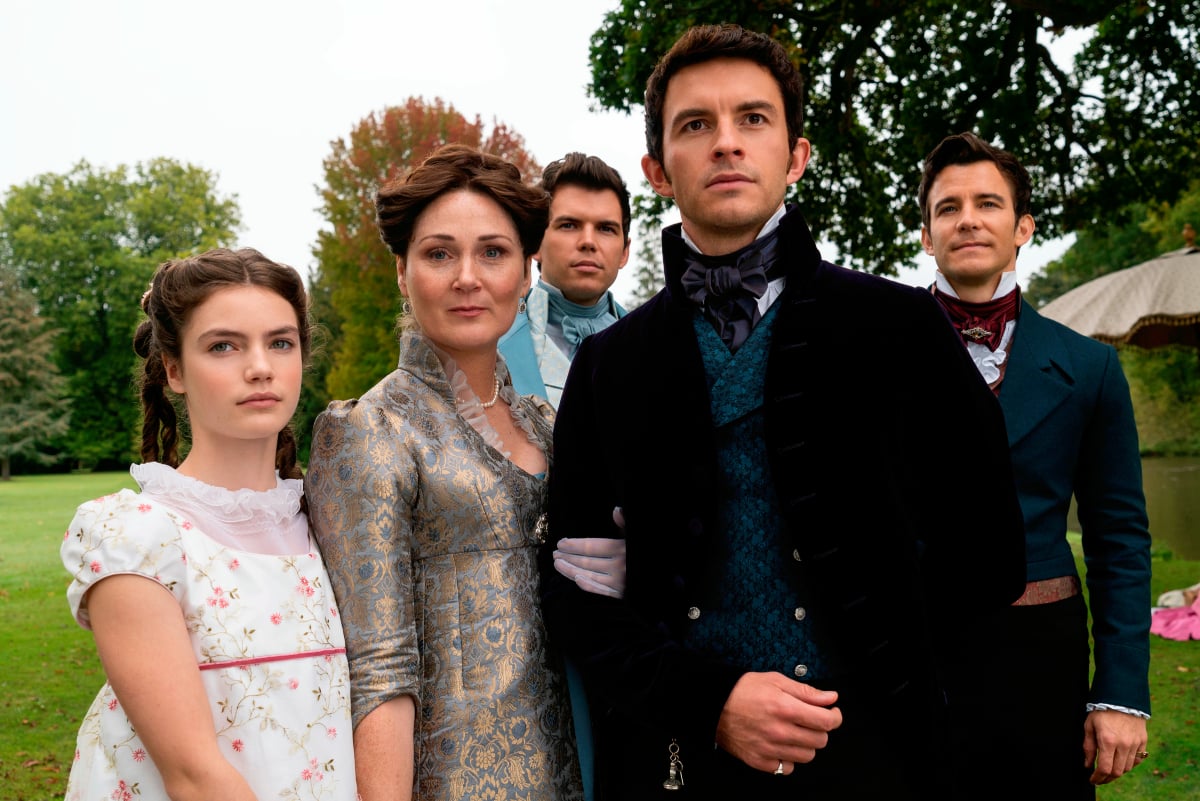 How did Edmund Bridgerton die?
Edmund Bridgerton died prior to the start of the show. Bridgerton Season 2 showed the tragic events that lead to his death in episode 3. Anthony and Edmund returned from hunting in the woods, and Edmund stopped to pick flowers for his wife. Suddenly a bee stung him and Edmund went into anaphylactic shock. In the Regency Era, nothing could be done. Edmund dies in moments, leaving his family shocked and baffled.
At only 18 years old, Anthony has to take over the role of Viscount. Although Anthony is still shocked and grieving, he is responsible for planning his father's funeral and notifying the town of his death. He is even questioned on what to do about his intensely grieving mother.
Jonathan Bailey discusses Anthony Bridgerton's relationship with his mother
Edmund's early death created a strange dynamic between Anthony and his mother Violet. Anthony is still very young, but as the Viscount, he is in charge of making decisions for the family, not his mother.
Violet has a difficult time when she goes into labor with Hyacinth. The doctors inform Anthony they may have to choose between saving Violet or the baby. However, the decision rests on Anthony's shoulders.
"He and his mother have such a codependent, weird relationship," Bridgerton actor Jonathan Bailey told Entertainment Weekly. "There's no boundaries. He's had to be a surrogate husband to her and surrogate father to his brothers and sisters."
There's also a sense of loneliness in Anthony's role as Viscount. None of his siblings can really understand the responsibility he had to undertake at such a young age.
"As an actor, I felt really isolated in doing some of the favorite scenes with the big Bridgerton family," Bailey continued. "You get the sense that there is no space for Anthony. They've all decided he's really hard work. He gets the sense that everyone else is freer."
Ruth Gemmell on the female characters in 'Bridgerton'
Although Ruth Gemmell's character Violet Bridgerton didn't have much power, she and Edmund clearly had a very loving relationship. "That society historically was very much a patriarchal society, and it is in these stories as well, but there is a feminist element to it, where the women speak their mind, scheme, have a say, all of that kind of stuff," Gemmell told Tatler.
The actor said of her character, "one of the reasons she's intent on having her children marry for love, apart from the fact that she married for love… she sees it as freeing for women: if you have a loving marriage, then there is respect, and with respect comes a certain amount of freedom."
All episodes of Bridgerton Season 2 are currently streaming on Netflix.
RELATED: 'Bridgerton': Edwina Sharma Is More Than Just a Pretty Face