'Bridgerton': Khloé Kardashian Inspired This Beloved Character
Netflix's most-watched original series Bridgerton has taken the world by storm. Based on the Bridgerton novels by Julia Quinn, the 19th- century set romance drama is absolutely captivating, earning fans from celebrities to everyday viewers. Season 1 of the acclaimed series chronicled Daphne (Phoebe Dynover), the eldest daughter of the Bridgerton family's quest to find a husband.
Though she initially partners with her older brother's friend, Simon, the Duke of Hastings (Regé-Jean Page), to avoid an unwanted suitor and find the best match, the pair inadvertently fall for one another.
Bridgerton has already been renewed through season 4, but we know that season 2 is set to chronicle Daphne's eldest brother, Lord Anthony Bridgerton's (Jonathan Bailey) love life. Though the series is based on Quinn's novels, fans are now discovering that one major character from the show is based directly on Khloé Kardashian.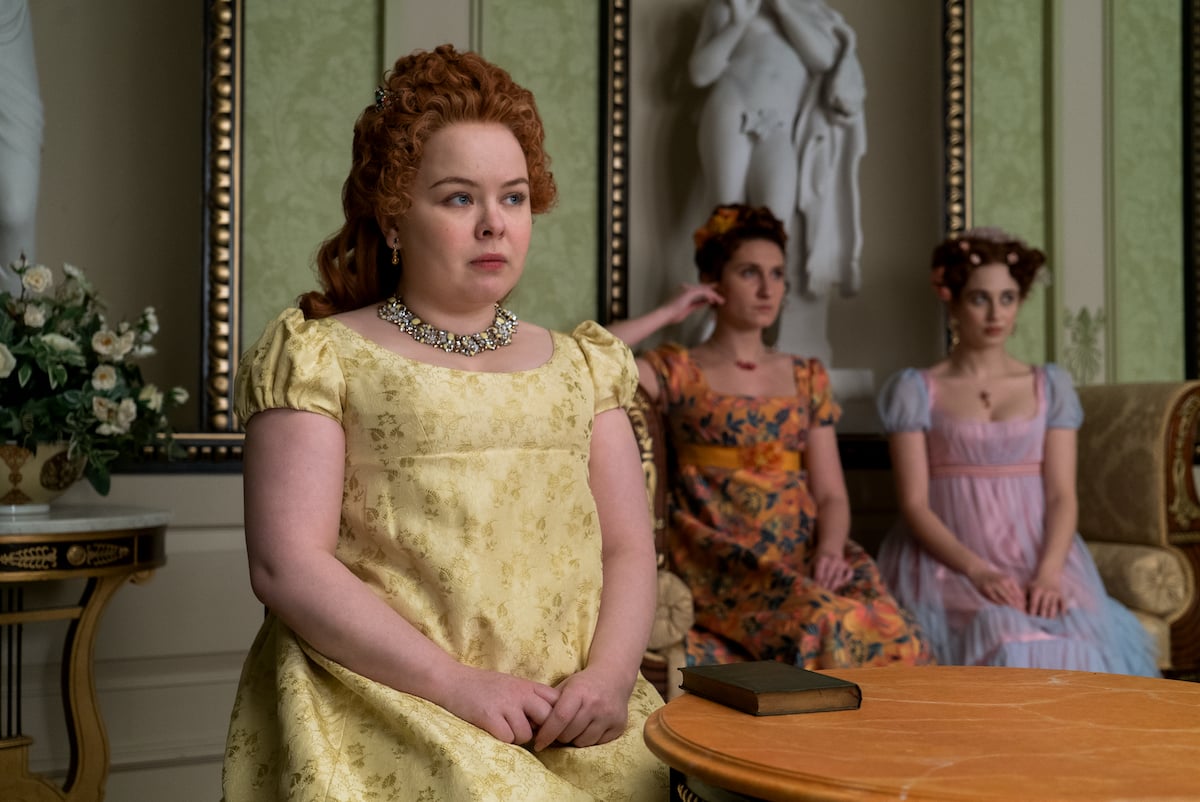 Kim Kardashian West is obsessed with 'Bridgerton'
While many of us were swept away by Simone and Daphne last year when Bridgerton debuted on Christmas Day, Kardashian West was a bit late to the party. However, that doesn't mean her obsession is any less real.
On March 28, the KKW Beauty founder revealed that she was finally watching the series after being pushed to do so by some friends. She chronicled her binge-watching experience on her Instagram Stories, and she was absolutely enchanted.
"I'm not ok!!!!" she said after sharing a clip of Simone and Daphne. In another photo of the pair, she said, "What is happening?!?! I'm not crying!" In yet another Instagram story, she wrote, "I can't quit you @bridgertonnetflix."
RELATED: Kim Kardashian West Is Finally Watching 'Bridgerton' and She's 'Not OK'
The Featheringtons in 'Bridgerton' were inspired by the Kardashians
Nicola Coughlan, who portrays Penelope Featherington on the series, caught wind of the Skims founder's obsession with the show and decided to drop another major gem on Kardashian West.
"As the world's number one @bridgerton Stan does @KimKardashian know that the Kardashians were a massive inspiration for the Featheringtons and we talked about them all the time during our fittings?" Coughlan tweeted. "Because I feel like she should know this."
Kardashian West absolutely could not handle the news. "WHAT?!?! I am freaking out!!!!!!" she responded. "This tweet was sent to me on my @bridgerton group chat! Can I please come to a fitting?!?! It would make my whole life!!!!!! I love you Lady W!!!"
Penelope Featherington was inspired by Khloé Kardashian
This isn't the first time the Derry Girls actor has hinted at her Bridgerton character's connection to the infamous reality family. "Penelope is old-school Khloé," she said in an interview with Glamour. "Remember Khloé used to say, 'I'm the redheaded stepchild, and I have to do everything for everyone.' I think that's Penelope. But then, you know, Khloé came back and is flying high. Prudence and Philipa are terrible to her. And then Lady Portia Featherington is a true Kris Jenner—the ultimate 'momager.' She's very ambitious for her girls."
Bridgerton production designer Will Hughes-Jones put it more plainly saying the Bridgertons are like the Kennedys while the Featheringtons are like the Kardashians.