'Bridgerton': Luke Thompson Reveals Hysterical BTS Details About That Benedict and Colin Spiked Tea Scene
Actor Luke Thompson portrays Benedict in Netflix's Bridgerton, and he had a pretty amusing scene in season 2. Colin offers Benedict a powdered drug for his tea, but Benedict ends up taking quite a lot of it. He is then a bit out of it during dinner with his family and the Sharmas and even later that evening while painting. Thompson shared some behind the scene details about this hilarious scene.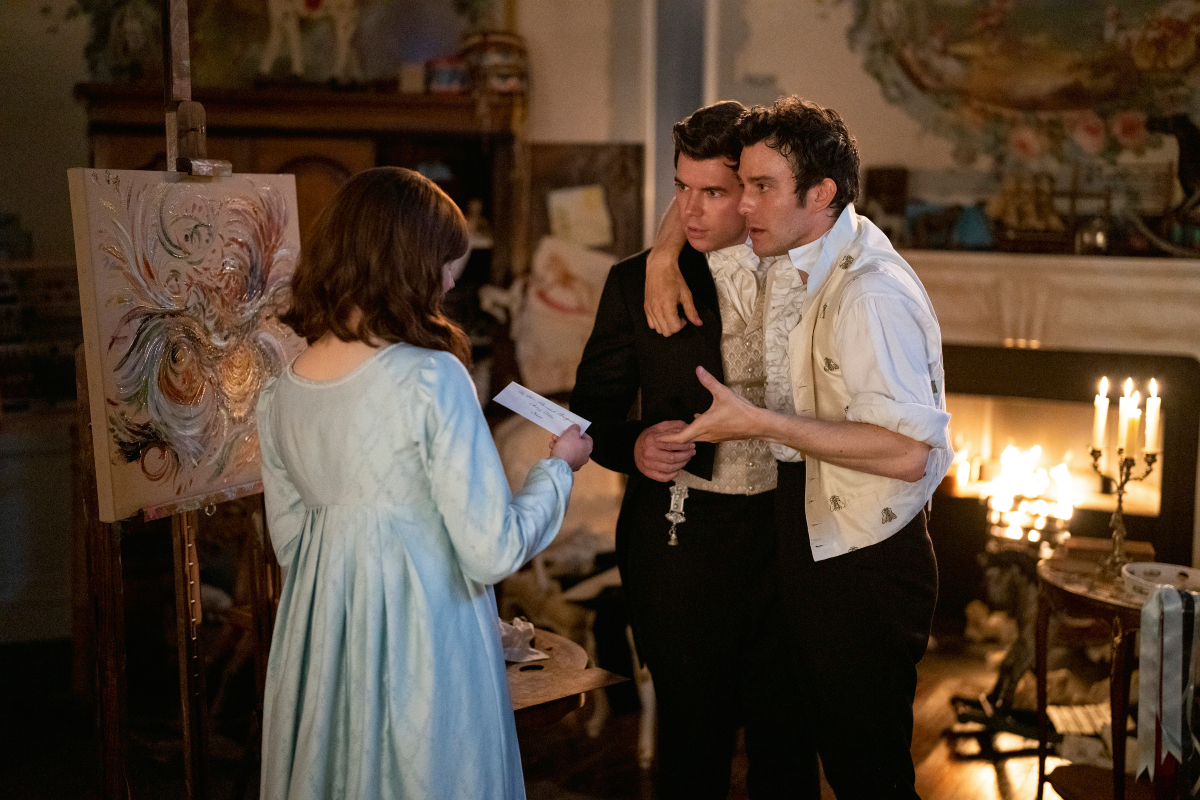 Benedict and Colin drink spiked tea in 'Bridgerton' Season 2
In Bridgerton Season 2 Episode 3, Benedict sits with Colin at tea. He is nervously waiting to find out if he has been accepted to art school. Colin sprinkles a small amount of powder in his tea. He tells Benedict that "worldly travelers use it as a way to open their minds and transcend ordinary anxieties" and advises that only a small amount is needed.
Benedict however dumps the entire bag into his own tea and drinks. Later Benedict sits next to Colin at dinner with their family and the Sharmas. Benedict stares around with wonder and remarks at how well lit the room is, while Colin tries to cover for his strange behavior. In the end, Benedict ends up spiling his wine glass all over the table and erupts in giggles.
Later in the episode, Colin finds Benedict painting with his bare hands. He hugs his brother, still clearly feeling the effects of the tea. Eloise then brings Benedict a piece of mail which turns out to be an acceptance letter from the Royal Academy. Benedict opens a window and shouts excitedly into the night
Luke Thompson breaks down these hilarious 'Bridgerton' scenes
In an interview with Entertainment Weekly, Luke Thompson shared some hilarious details about his spiked tea scene with Colin actor Luke Newton. "It's such a gorgeous moment. When I read it, I thought it's one of those moments that makes this show great in the sense that it's got a modern feel in that you feel like it's something that two brothers would do nowadays, but transposed into Regency."
"Actually, you think, 'Well, probably people in Regency were experimenting with drugs and all that stuff as well. Of course, that was going on,' so to have that moment that feels very now and very relatable. Two brothers being, "Oh, let's just get high for a bit' — I was just so attracted to the idea of exploring that."
In fact, rules against recreational drugs were practically nonexistent in the Regency Era. "The legal structures just weren't in place," says Lucas Richert, Ph.D., a historian of drugs and medicines at the University of Wisconsin—Madison School of Pharmacy, according to Women's Health. Richert told the outlet that many people did drugs back then if they could find the money.
Thompson also revealed that he and Newton had quite a good time creating this scene for Bridgerton. "In terms of actually filming the scene, me and Luke were probably having much more fun than anyone else, probably too much fun," he told Entertainment Weekly.
"The main notes we kept getting was rein it back, pull it back. Because there's something about maintaining yourself in that state for about eight, 10 hours. Obviously, you do get hysterical, which is literally what the drug seems to do, so it was a delightful moment in acting because you can be a bit free and silly."
What do Colin and Benedict put in their tea in 'Bridgerton' Season 2?
Although Bridgerton never reveals the name of the powdered substance, Women's Health writes that it was likely opium. The powder has a deep purple color, and Richert explains that the dye may have been extracted from topical plants, which would have made it pretty expensive. Obtaining and paying for the opium likely wouldn't have been a problem for the wealthy Bridgertons. Hopefully, Benedict doesn't make a habit out of using it.
RELATED: 'Bridgerton': Edwina Sharma Is More Than Just a Pretty Face