'Bridgerton': Nicola Coughlan Says Penelope's Love Story Will Be 'a Massive Challenge for Me'
Bridgerton takes turns focusing on different characters to tell their love stories. Penelope Featherington will eventually have her turn in the spotlight, but Nicola Coughlan already thinks it'll be challenging.
Penelope Featherington had her eyes on 1 man in 'Bridgerton'
RELATED: 'Bridgerton' Star Nicola Coughlan Teases a 'Dramatic' Season 2 Finale
Penelope is very close friends with Eloise Bridgerton (Claudia Jessie). That also means she Is close to Eloise's brother, Colin (Luke Newton). It's evident in season 1 that she has feelings for him by how she looks at him. But he's been very unaware of her feelings.
In season 1, Colin was courting Marina Thompson (Ruby Barker). Penelope made sure Colin didn't marry her by revealing she was secretly pregnant by someone else as Lady Whistledown. The season ended with Colin leaving London to travel.
Soon fans will see what's in store for Penelope in season 2. She'll want to write about the courting season without getting caught by the queen or Eloise, who has been determined to reveal the gossiper's identity.
Nicola Coughlan will be less comfortable showing Penelope's love story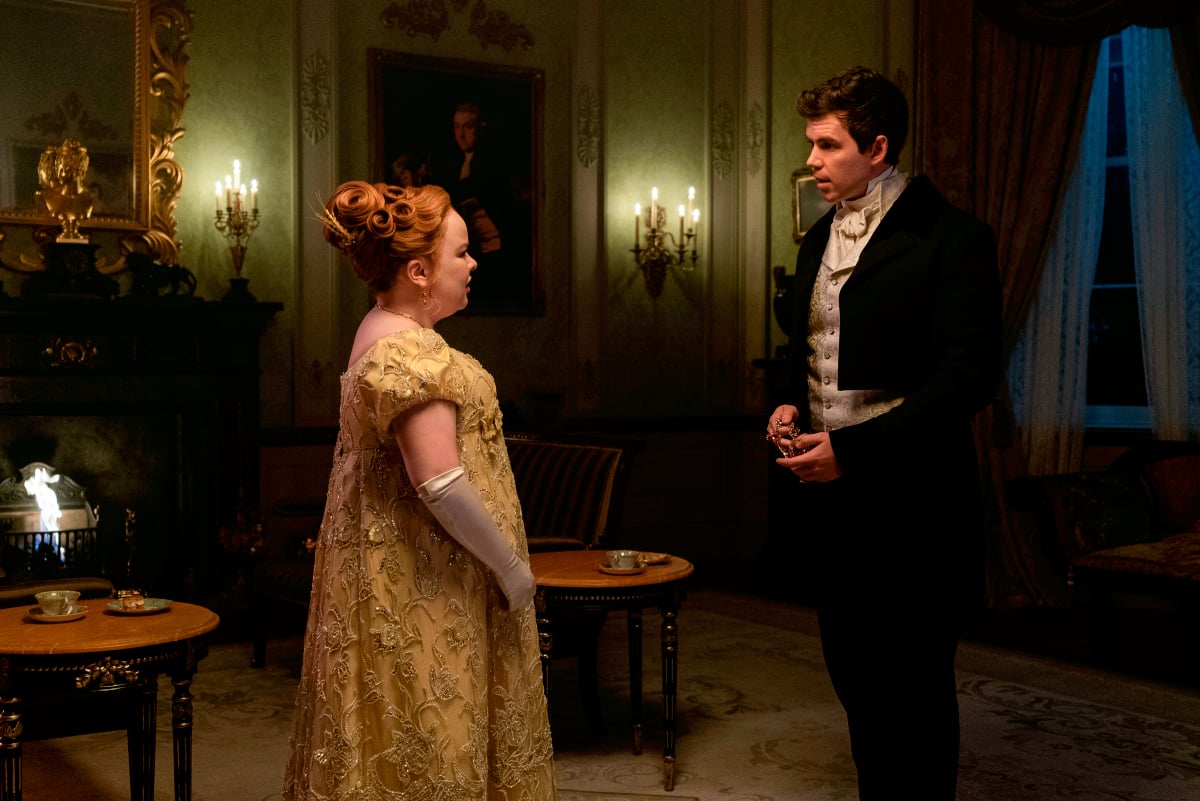 RELATED: 'Bridgerton': How Season 4 Could Combine Colin, Eloise, and Francesca's Storylines
Penelope usually stays in the background of the drama to write secretly as Lady Whistledown. Of course, part of her wishes she had her own love life, but it looks like Coughlan will be less comfortable with that story.
"I feel terrified," Coughlan admitted to The New York Times. "I'm probably more comfortable being awkward and funny, so it's going to be a massive challenge for me. Because it's not my comfort zone."
The actor did call herself a "Polin shipper" in an interview with TV Insider. She explained why she likes Colin over the other Bridgerton men.
"He's very self-assured. He's not dark and troubled like Anthony (Jonathan Bailey). He's not finding his art like Benedict (Luke Thompson). He's just a really fun, sweet guy," she explained. Coughlan also teased their characters have connected through writing since we've last seen them.
Penelope's love life comes into focus in the fourth book, Romancing Mister Bridgerton. The show has already been renewed through season 4, so it's possible this story will be included soon.
What happens in 'Romancing Mister Bridgerton'?
RELATED: 'Bridgerton:' What the Books Reveal About Penelope Featherington aka Lady Whistledown's Netflix Future
The book's synopsis claims Colin returns to London after his travels in the book. He finds many things have changed about his home since he's been gone. Colin's feelings for Penelope develop, but things get complicated once he finds out about her secret. This will truly be a slow-burn romance for the characters.
The third book is An Offer From a Gentleman: Bridgerton, and it focuses on Benedict Bridgerton's love story. So it's more likely that season 3 will be focused on that.