'Bridgerton': Polly Walker Reveals the Complete 'Disaster' That Went on Behind-the-Scenes
Though Bridgerton has been renewed for season 2, filming has not yet begun so fans are going to have to wait for more of the Bridgertons, Featheringtons, and people of the Ton. Even though fans won't see new episodes for a while, the cast has recently been revealing behind-the-scenes facts about season 1 to hold them over.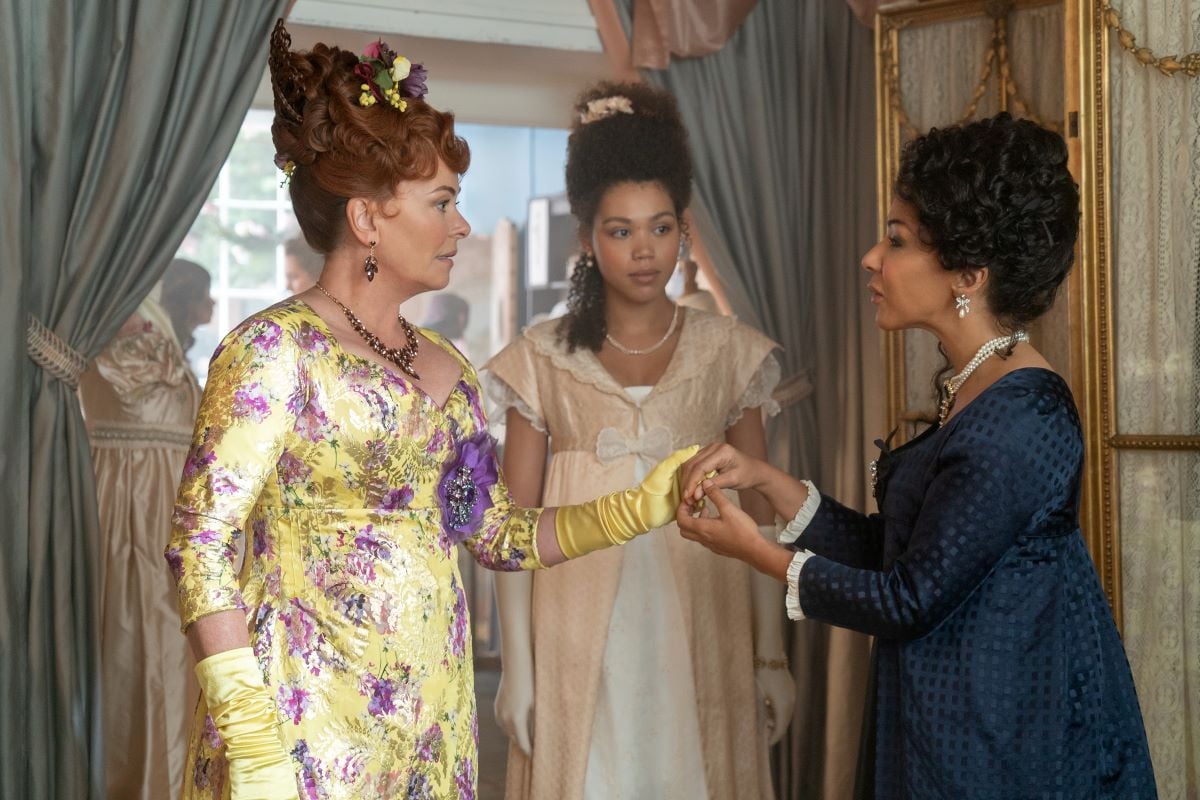 What happened in season 1 of 'Bridgerton'?
Season 1 opened at the start of the London social season. The Bridgertons were preparing to debut their oldest daughter Daphne onto the social scene and the Featheringtons were preparing to debut all three of their girls. While being introduced to the queen, Daphne was named the Diamond of the Season. This caused men to line up at her house to court her. Unfortunately, her oldest brother, Anthony, quickly scared them all away. In an attempt to attract male attention, Daphne struck a deal with the Duke of Hastings, Simon Basset. The two pretended to be courting so that Daphne would gain more suitors and Simon could avoid the women and mothers of the Ton.
What disaster happened behind the scenes?
Two of the biggest draws to Bridgerton are the elaborate costumes and recreation of Regency London.
"Every attention to detail was laid on," Polly Walker, who plays Lady Featherington, told People. "It was incredibly generous and lavish, and it felt sort of old Hollywood-esque. In that, I mean four-hour costume fittings and things like that. That's unheard of nowadays."
But the heavy costumes did make it a bit difficult to move around.
"There were massive, massive costumes, and headdresses and everything like that," Walker said. "And we only had so much time to get in [the carriage] for the shot. I can't remember who went in first, but they got their dress caught and they fell flat inside the carriage. And then it was one by one, and we were basically all on top of each other.
"Then the carriage went off, and we were all just sort of lying on top of each other on the floor. So you would never have known it, but it was a complete disaster inside that carriage."
What's going to happen in season 2 of 'Bridgerton'?
Season 1 ended on a cliffhanger for the Featheringtons, who will now have a new owner of their home.
"There's so many places it could go," Walker said of season 2. "I have no idea of what will happen, but I would imagine […] it's going to explore the new guy that comes in to take over the estate."
While fans don't know much about season 2, there have been a few clues about the upcoming season. The show's creator, Chris Van Dusen, revealed that the next season will focus on the next book in Julia Quinn's series, "The Viscount Who Loved Me."
"I feel like the first season was primarily about Daphne and her love story with Simon," he told Collider. "But, this being a family of eight children and there being eight books, I would love to be able to focus and really tell stories and love stories for all the Bridgerton siblings. For each character, for sure."