'Bridgerton': Polly Walker Reveals What the Future Might Hold for the Featheringtons
Season 1 of 'Bridgerton' left the Featheringtons in a very precarious situation. Now, Polly Walker is giving her thoughts on what might happen to the family in season 2.
If you haven't already heard the news, Bridgerton has officially been renewed for season 2. Netflix's newest period piece became so popular that over 80 million households worldwide streamed the series. Now, that season 2 is officially in the works, fans have been wondering what the season will hold for the characters. Recently, Polly Walker, who plays Lady Portia Featherington gave her take on the Featheringtons' future.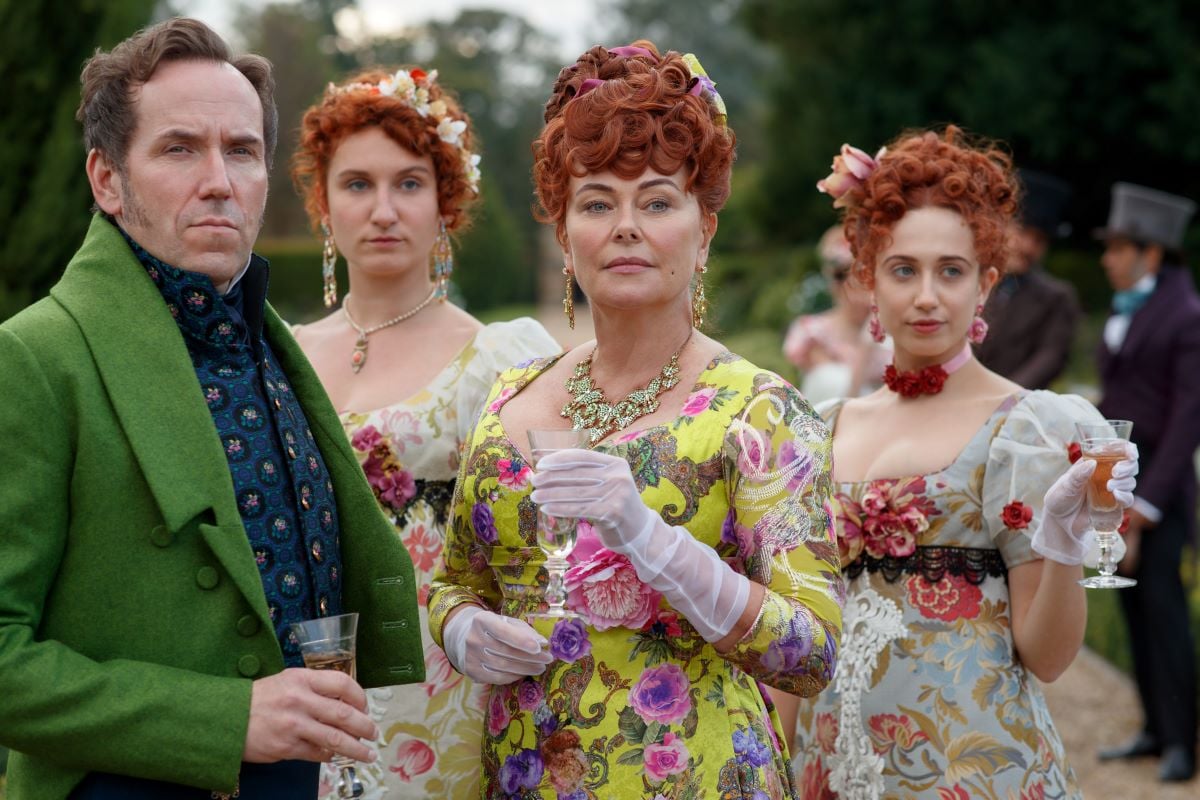 What happened to the Featheringtons in season 1 of 'Bridgerton'?
From the beginning, the Featheringtons were set up as a stark contrast to the Bridgertons. Lady Featherington, obsessed with finding her daughters proper matches, worked tirelessly throughout the season to raise her daughters' social standing. However, only one suitor came to see any of them throughout the season. Their distant cousin, Marina Thompson, on the other hand, had suitors lined up out the door to date her. In order to coax Marina into accepting a marriage invitation, Lady Featherington forged a letter from Marina's lover, telling her that he no longer wanted anything to do with her.
Throughout the season, Lady Featherington made it clear that she would do almost anything to retain her good standing, like hiding a baby and trying to trick Colin Bridgerton into marrying a pregnant Marina. But when her husband was killed, her future was completely up in the air and out of her hands.
What does Polly Walker think of Lady Featherington?
Polly is used to doing period pieces as she was formerly most well-known for her role in Emma. So, she understands the plight of women from the time and empathizes with them.
"She's existing and operating in a society that's totally patriarchal," Walker told People of her character. "It was difficult for women to get where they needed to get without the help of a good marriage or a man. And without that, they have no status." 
There are some qualities about Lady Featherington that Walker even likes.
"She is controversial and colorful and wears her heart on her sleeve, and has a lot of fun, and all that," she said. "I admire that.
"I think she's a survivor and she is doing what she can for her daughters — and for herself, of course," she continued. "I mean, she's not Mother Teresa."
What could be next for the Featheringtons?
At the end of season 1, Lord Featherington has just been killed and the Featheringtons appear to be out of money due to his massive gambling debts. Before the season ends, Lady Featherington gets a letter telling her that another man is about to inherit their home. In a sense, the future of the Featheringtons is completely unknown.
"There's so many places it could go," Walker told the outlet. "I have no idea of what will happen, but I would imagine […] it's going to explore the new guy that comes in to take over the estate."
Other Bridgerton stars have made similar statements about being in the dark regarding details of season 2. While the series is set to follow an eight novel series by author Julia Quinn, there are certain details of the storyline that might not be able to be gleaned from reading the novels.