'Bridgerton': Regé-Jean Page Admits He Forgot to Warn His Family About Those 'Raunchy' Sex Scenes
Shonda Rhimes' new Netflix show Bridgerton has caused quite the stir since it debuted on Christmas Day. Fans can't stop talking about the Regency era period drama and its stars Regé-Jean Page (Simon Bassett, Duke of Hastings) and Phoebe Dynevor (Daphne Bridgerton).
Despite being set in the 19th century, Bridgerton is full of fun, mystery, romance, and whimsy. There's also plenty of raunchy sex scenes. This was an important detail that Page forgot to warn his family about.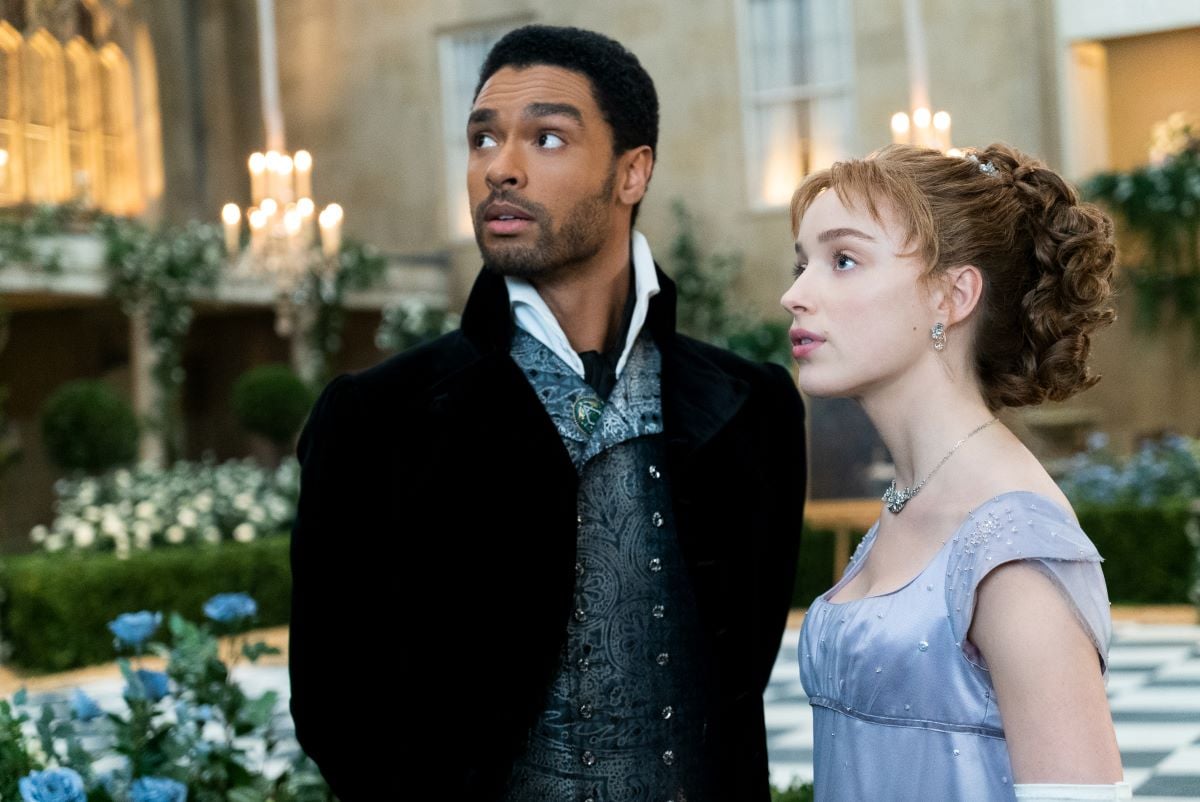 The 'Bridgerton' stars developed their on-screen chemistry through dance rehearsals
The on-screen chemistry between Page and Dynevor is obvious to anyone who has seen the first season of Bridgerton. To help develop that chemistry, Page says dance rehearsals were an important factor.
"Dance rehearsals were huge for that because dance is such a huge way that people express themselves, particularly in this period when everything is so repressed," Page told Who What Wear. "The only place that you get to directly interact with people are sanctioned, and the only place you get this sanctioned time to flirt and say all the things that you can't say out loud is in the dances."
Page also pointed out that the chemistry between the Duke of Hastings and Daphne Bridgerton was already on the page. Both in the books and in the scripts. He said that the actors' job is to "channel that and get out of its way."
Regé-Jean Page reveals what he thinks is the most intimate part of 'Bridgerton'
Page explained that the dance rehearsals with Dynevor allowed them to get more comfortable with each other before filming. He says that they spent a lot of time at each other's places and "messing with dance stuff" because he believes those moments are "the most intimate part" of the Netflix series.
"Even though it's a very sexy show, the most intimate scenes, I think, are very much when they are dancing together. So we spent a lot of time with that and that naturally brought us a little closer," Page revealed.
The on-screen chemistry between the two has fans shipping the actors hard in real life. But, the truth is that it's all just acting.
Dynevor recently told You magazine that she would love to say that something was going on between her and Page. But, their relationship has "always been strictly professional."
Dynevor explained that there was a lot of pressure on her and Page to get their roles right, and their relationship is all about the work.
"I'm glad for that, actually," Dynevor admitted. "It would be very complicated if it went further."
Regé-Jean Page forgot to tell his family about those 'raunchy' sex scenes
While Page was hard at work developing that chemistry with Dynevor, he forgot to warn his family about what they would be getting themselves into when watching his new series. Those NSFW scenes were quite a shock for many of Page's family members, and they told him all about it.
During a recent appearance on The Graham Norton Show, the 31-year-old actor said that his family group chat uses emojis to warn each other about scenes to avoid.
"We've got a family WhatsApp group, so there's a couple flashing red light emojis and there's the odd peach emoji — certain people have threatened to rate my peach," he joked.
However, some of Page's cousins missed the memo. After watching Bridgerton, they sent Page "a very stern message" in his Instagram DMs. Page's cousins told him that "there really needs to be a cousin warning."
Page's cousin told him that they had to make "so many tactical cups of tea." But, when they came back from the kitchen, the NSFW scene was "still going."
Season 1 of Bridgerton is available on Netflix.