'Bridgerton' Season 2 Cast Guide
Few shows took the world by storm as quickly as Bridgerton. The steamy Netflix drama hit the streaming service last Christmas, and fans have been clamoring for Season 2 details since immediately binging the show's first season (probably in one sitting).
And though Netflix and Shondaland have yet to release many photos since filming for Season 2 of Bridgerton began, we still have a few details we can obsess over in the meantime — including which cast members are returning and who's joining.
Who's returning to 'Bridgerton' from Season 1?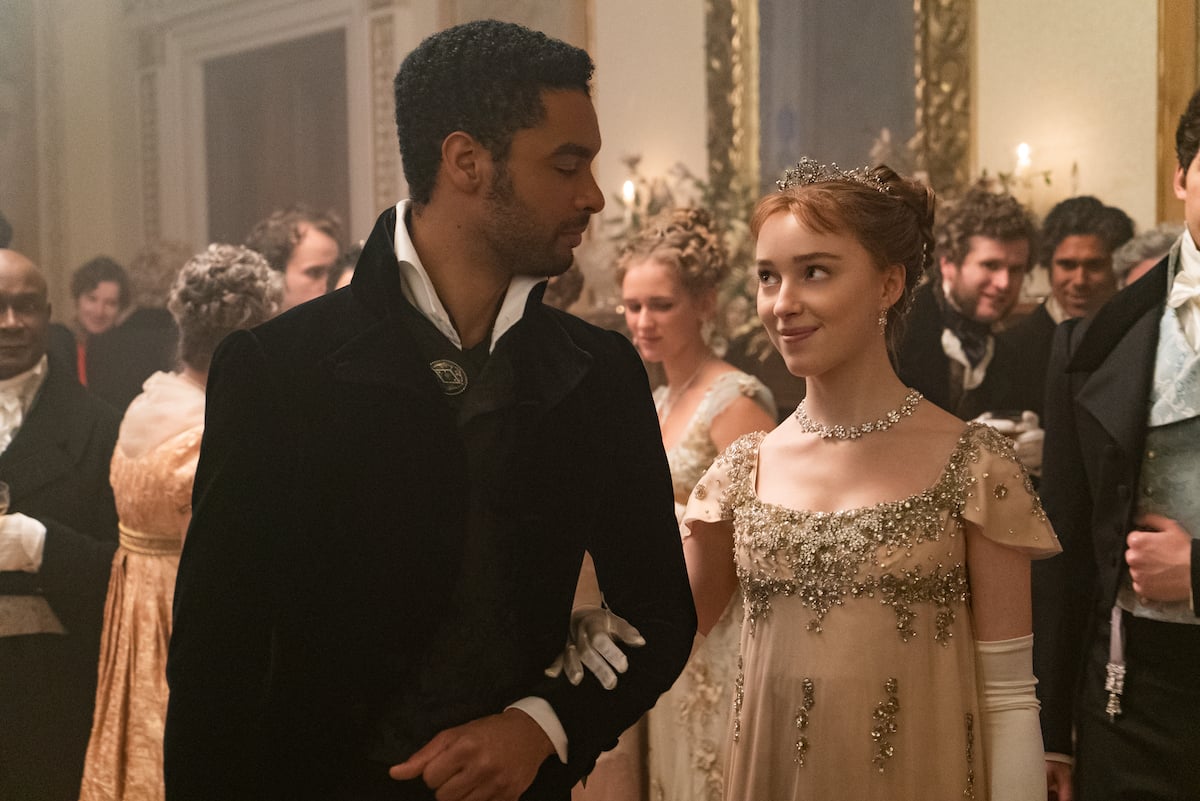 Season 1 of Bridgerton followed the wealthiest families' attempts to secure their oldest daughters' betrothals throughout London's courting season.
The popular period drama's first season saw the eldest Bridgerton daughter, Daphne (Phoebe Dynevor), fall in love and marry the Duke of Hastings (Regé-Jean Page).
Subsequent seasons will focus on each Bridgerton sibling's journey to find love.
Season 2 of Bridgerton will follow the eldest Bridgerton sibling, Anthony, Viscount Bridgerton (played by Jonathan Bailey), Decider reports.
We can also expect to see brothers Benedict (Luke Thompson) and Colin (Luke Newton), sister Eloise (Claudia Jessie), and matriarch Violet (Ruth Gemmell).
Other town members expected to return are the Featheringtons — especially Penelope (Nicola Coughlan) and her Lady Whistledown storyline — and Queen Charlotte (Golda Rosheuvel).
Who's joining the cast for Season 2 of 'Bridgerton'?
Because of the focus on the Viscount for Bridgerton Season 2, expect to meet several eligible debutantes as he makes his way through London's courting season in search of a suitable wife. To make matters simple (in theory), Anthony has seemingly decided to marry out of duty, not love. Falling in love with Siena (Sabrina Bartlett), an opera singer too far below his social status to marry, broke his heart in Season 1.
We'll also meet the Sharma family, including sisters Kate (Simone Ashley) and Edwina (Charithra Chandran), as well as matriarch Mary (Shelley Conn). It's thought that Anthony will have his eye set on Edwina, this season's most eligible debutante. But older sister Kate will be hard-pressed to see that the Viscount is worthy of her younger sister's affection.
Also joining the Bridgerton cast will be Theo Sharpe (Calam Lynch), a printer's apprentice with an unknown storyline, though he's suspected to be related to Penelope's Lady Whistledown plot.
Another new character is Jack (Rupert Young). But all we about him so far is that he's a member of the town.
We can't wait to see what's happens with these new characters.
What about the Duke of Hastings' Regé-Jean Page?
Finally, fans have been dying to know whether the Duke of Hastings will reappear in Bridgerton's second season. The end of Season 1 neatly wrapped up breakout star Regé-Jean Page's storyline as he happily started his family with Daphne.
Though we expect to see Daphne again as she helps her brother find a wife, the Duke will likely be absent. Page declined to rejoin the cast for Season 2 to take on a couple of more significant film roles.
Page and Bridgerton showrunner Shonda Rhimes have touched on the subject of the Duke appearing in Season 2 cameos, but we can gather little from their statements. They want to keep fans surprised with what's to come. And who can blame them?
RELATED: 'Bridgerton' Fans Need to Watch This New Mini-Series