'Bridgerton' Season 2: Cast Instagrams, Relationship Status, Age, and Everything in Between
The cast of Bridgerton Season 2 enthralled fans with multiple storylines from a love triangle, the secret around Penelope and Lady Whistledown, and more. The second season maintained the main cast from the first season with the inclusion of Simone Ashley and Charithra Chandran. Here is everything to know about the cast, like Instagrams, their ages, and more.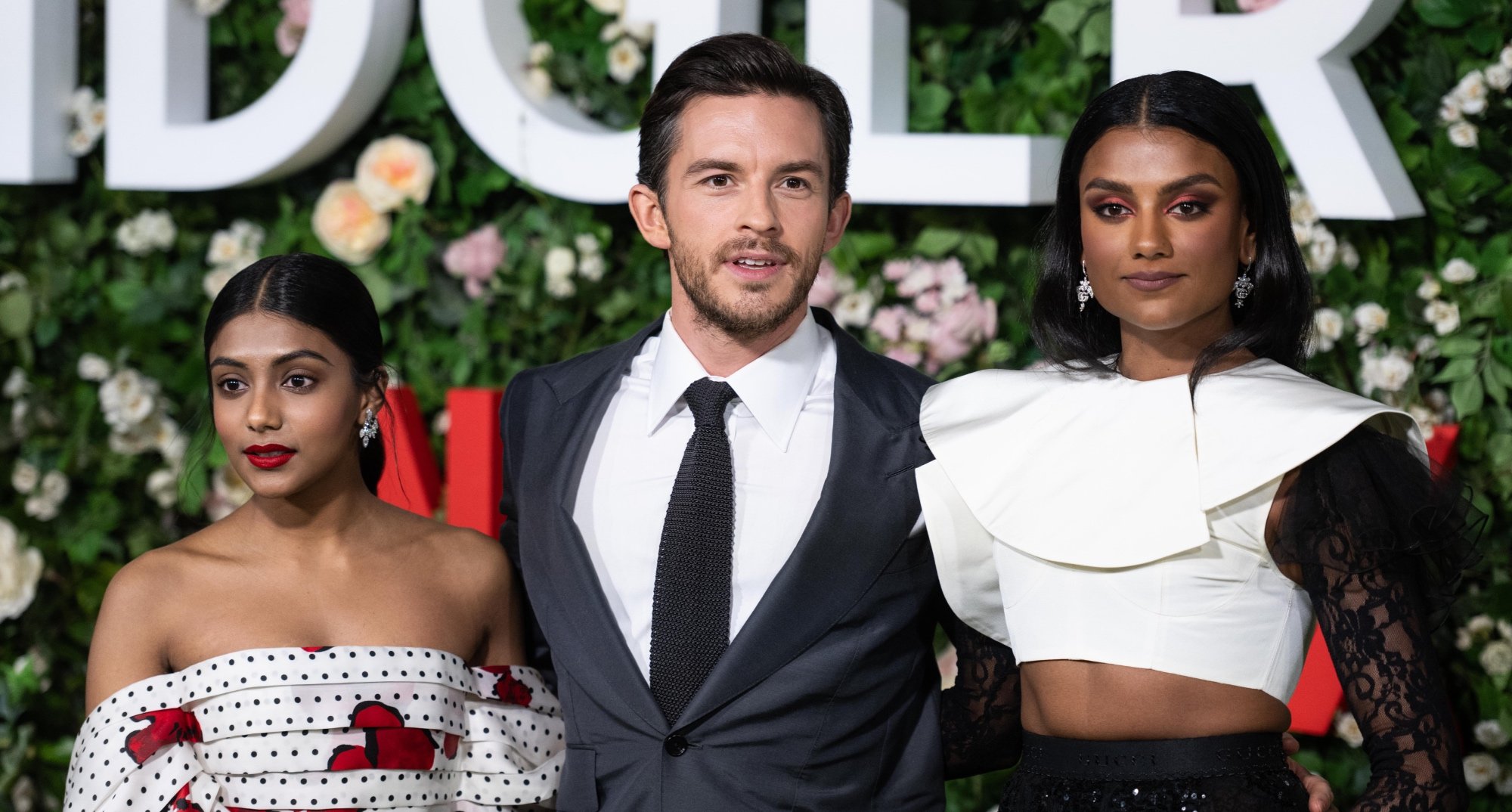 Calam Lynch plays the role of Theo in 'Bridgerton' Season 2
Who would have thought fans would see Eloise Bridgerton spark a small crush in the Bridgerton? Actor Calam Lynch joined the cast of Bridgerton Season 2 as Theo Sharpe. His character works at the printing press Lady Whistledown uses. He sparks Eloise's curiosity and involvement in politics.
Fans can follow Lynch on his Instagram account @calamlynch. The 27-year-old actor was born in Warwickshire, England, to actor parents Niamh Cusack and Finbar Lynch. He became known for his roles in BBC One's miniseries Mrs. Wilson and Disney+'s Black Beauty. The actor is believed to be currently single.
Polly Walker is Lady Featherington in the 'Bridgerton' world
RELATED: 'Bridgerton' Season 2: Why Lord Sheffield Looks Familiar to 'Buffy' Fans
Fans learned in Bridgerton Season 2 not to mess with Lady Featherington. Actor Polly Walker has played the role since the first season. In season two, Lady Featherington deals with the new heir of the estate and does whatever is necessary to secure her daughter's future.
The actor can be followed on Instagram at @officialpollywalker. Walker has had a notable career, nominated for a Golden Globe for her role in Rome. She also starred in BBC's crime series Prisoners' Wives. The 55-year-old actor got married to former actor Laurence Penry-Jones in 2008. They have two children together.
Ruth Gemmell continues her role as Lady Bridgerton in 'Bridgerton' Season 2
RELATED: 'Bridgerton' Season 2: Ruth Gemmell Teases She Wants to See a Romance for Violet Bridgerton
Ruth Gemmell embodies the sophistication, etiquette, and kind heart of Lady Bridgerton. Always the voice of reason, Violet Bridgerton tries to force Anthony to see the truth about love. She knows how the death of Edmund Bridgerton affected her son.
Sadly, Gemmell does not have an Instagram account for fans to follow. The 54-year-old actor is well-loved as the Bridgerton matriarch, and it is her first major leading role. She has appeared in series such as Law & Order: UK, EastEnders, Utopia, and Home Fires. Fans may not know she was married to Thor: Ragnarok actor Ray Stevenson. They divorced in 2005.
Golda Rosheuvel stars in the main cast of 'Bridgerton' as Queen Charlotte
RELATED: 'Bridgerton' Star Golda Rosheuvel Didn't Originally Audition for the Role of Queen Charlotte
Actor Golda Rosheuvel is the talk of the town as Netflix announced her character would get a spinoff series. Rosheuvel resonated with fans as Queen Charlotte and her love for gossip in the ton. In Bridgerton Season 2, fans learn a bit more about her backstory.
The 52-year-old actor has gained fame for her Netflix role but also appeared in EastEnders and had a recurring role in Coronation Street. Fans may not have noticed the actor also appeared in Dune. Fans can follow her Instagram @goldarosheuvel. Rosheuvel is open about being gay, and her partner is playwright Shireen Mula.
Adjoa Andoh is the cunning Lady Danbury
RELATED: 'Bridgerton' Spinoff Will Reveal How an Integrated Ton Came to Be With Queen Charlotte
Fans have immense respect for Lady Danbury's character, her wit, her intelligence, and her ability to see the truth. Actor Adjoa Andoh joined the main cast of Bridgerton and returned to her role as Lady Danbury in Bridgerton Season 2. This time her character helps Kate Sharma see the errors of her way.
Andoh has an official Instagram accoount @adjoa.andoh. The 59-year-old actor has had a fruitful career taking the stage for the Royal Shakespeare Company, the National Theatre, the Royal Court Theatre, and the Almeida Theatre. She is well known for her role as Francine Jones in Doctor Who. The actor made her Hollywood debut in Invictus.
She is married to lecturer Howard Cunnell and has three children.
Shelley Conn joind the cast of 'Bridgerton' Season 2 as Mary Sharma
RELATED: 'Bridgerton' Season 2: Why the Actor Who Played Edmund Bridgerton Looks Familiar
The ton has some new guests. Mary Sharma and her daughters arrive at the ton from India, but Mary has a history in London. Actor Shelley Conn plays the role, and fans fell in love with her kindness and need for her daughters to marry for love.
Conn is recognized for various roles in her career. In 2011, she was picked by Steven Spielberg to lead the series, Terra Nova. She starred as DI Vanessa Harmon in Liar. Fana can follow her unofficial Instagram account @theshelleyconn. Conn married her longtime boyfriend, actor Jonathan Kerrigan in 2011. She gave birth to her son in 2012. Conn is 45-years-old.
Luke Newton plays Colin in the 'Bridgerton' series
RELATED: 'Bridgerton' Season 2: Do Kate and Anthony Get Married by the End of the Season?
Luke Newton returned to his main cast role as Colin Bridgerton in Bridgerton Season 2. This time around, he is world traveled but can still not see Penelope's feelings for him. The 29-year-old actor was well known as Ben Evans on the Disney Channel series The Lodge.
Fans can follow the actor on his Instagram account @lukenewtonuk. Newton has been in a relationship with Welsh actor Jade Davies for fans who are curious.
Luke Thompson might next the main cast member to get the romance spotlight in 'Bridgerton'
RELATED: 'Bridgerton': Luke Thompson Reveals Hysterical BTS Details About That Benedict and Colin Spiked Tea Scene
Fans fell hard for Luke Thompson as Benedict ins season two of Bridgerton. The more carefree sibling attends art schools and tries drugs but ultimately feels lost in life. Fans are still waiting for the news if his teased solo story will be the focal point of Bridgerton Season 3.
Thompson is 33-years-old and has appeared on the big screen, on stage, and TV. In 2014, he was the main lead in the series In the Club. He also had a role in the war movie Dunkirk. Sadly the Bridgerton actor has no social media accounts. For now, Thompson is also single.
Claudia Jesse plays the intelligent and rambunctious role of Eloise
RELATED: 'Bridgerton': What Time Period Does the Netflix Show Take Place?
Fans were divided over how to feel about Eloise in Bridgerton Season 2. Main cast member Claudia Jesse plays the character. It is Eloise's turn to be presented to possible suitors during the season. She instead finds herself deep into the mystery of Lady Whistledown.
Jesse is 32-years-old is known for many series from WPC 56, Vanity Fair, and Porters. In 2019, she also appeared in one episode of Doctor Who. The Bridgerton Season 2 cast member has no official social media. Jesse is currently dating, and her boyfriend's name is Joseph.
Nicola Coughlan is part of the main cast of 'Bridgerton' Season 2 as Penelope
RELATED: 'Bridgerton': Kate and Anthony Will Return for Season 3 but There's a 'Complication'
Penelope Featherington had a whirlwind story in Bridgerton Season 2. Played by actor Nicola Coughlan, Penelope deals with her feelings for Colin and Eloise's dedication to uncovering Lady Whistledown. Coughlan became known for her role as Clare Devlin in the British sitcom Derry Girls.
Fans of Bridgerton can follow the actor on her official Instagram account, @nicolacoughlan. The 35-year-old actor is rumored to be single at the moment.
Charithra Chandran joins the cast of 'Bridgerton' Season 2 as Edwina Sharma
RELATED: 'Bridgerton': Why Edwina Sharma Actor Charithra Chandran Looks Familiar
The diamond of the season is a newcomer to the ton Edwina Sharma. The 25-year-old actor Charithra Chandran plays the role. Fans saw as the young and beautiful Edwina charmed the ton and caught the eye of Anthony Bridgerton. By the end of the season, she finds her own voice about marriage.
Chandran is still relatively new to the industry, with Bridgerton Season 2 being her hit cast role. Before the period drama, fans will recall her for her main role in the 2021 series Alex Ryder as Sabina Pleasance. Fans can follow her on Instagram at @charithra17. Chandran is currently single.
Simone Ashley ramps up lust and romance in the ton as Kate Sharma
RELATED: 'Bridgerton' Season 2: Creator Explains Why Fans Didn't Get to See Kate and Anthony's Wedding
Simone Ashley joined the cast of Bridgerton Season 2 as the lead female character. She plays the role of Kate Sharma, who travels from India to London to find her sister Edwina a suitable husband. She never expected to find herself in a love triangle with Anthony that leads to more at the end of the season.
Ashley has confirmed her return to the series, but she starred as Olivia Hanan in Sex Education before her big role. Fans can follow the 27-year-old actor on her Instagram account @simoneasshley. Ashley is single.
Jonathan Bailey stole fans hearts as the lead in 'Bridgerton' Season 2
RELATED: 'Bridgerton' Season 2: Anthony Revealed an Easter Egg About Him and Kate's Future
Bridgerton Season 2 was about Jonathan Bailey swooning Kate and fans with his smoldering gazes as Anthony. The second season focused on Anthony looking for a wife in a loveless marriage. When he decides to court Edwina, he never expected Kate to be his demise and salvation.
Bailey is 33-years-old and plans to stay as part of the main cast for Bridgerton. While the actor made himself known on stage, he has starred in Broadchurch, Leonardo, and Crashing. Fans can follow the actor on Instagram at his comical handle @jbayleaf. Bailey is openly gay but is believed not to be in a relationship.
RELATED: 'Bridgerton': Here's What the Queen Is Sniffing Throughout the Show