'Bridgerton' Season 2: Creator Explains Why Fans Didn't Get to See Kate and Anthony's Wedding
The ton was looking foward to the biggest wedding of the year, overseen by the queen herself. While Edwina and Anthony do not get married, he confesses his love to Kate but fans never get to see the nuptials.
Netflix's Bridgerton Season 2 ended on a good note with Anthony opening his heart to love and finding his viscountess. But fans were unhappy over one important detail they did not get to see. Bridgerton Season 2 did not see a full-blown and elaborate wedding between Kate and Anthony. Instead, fans only got to see a fast forward of the already happily-married couple, and Chris Van Dusen explains why.
[Warning: This article contains spoilers for Bridgerton Season 2.]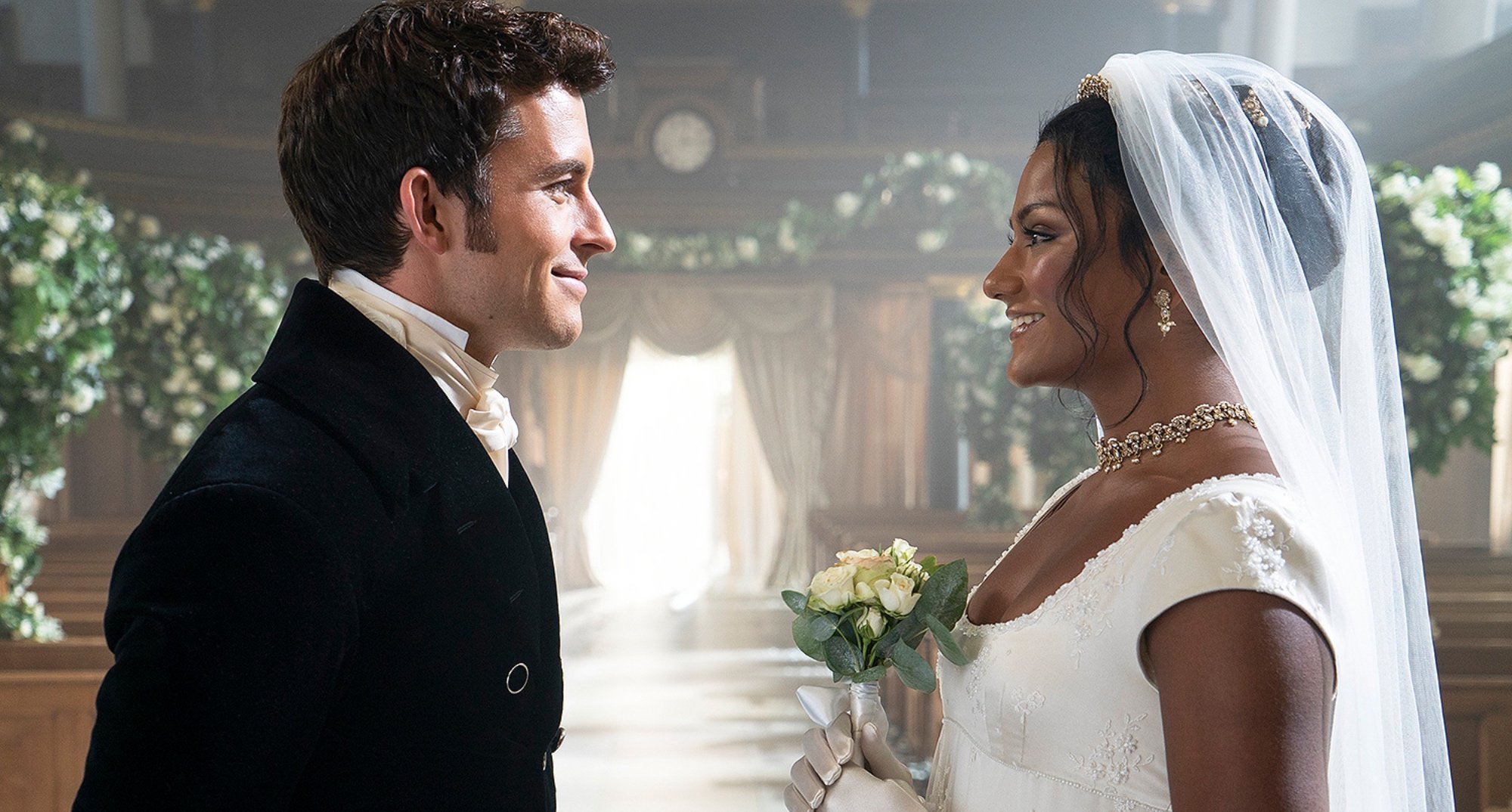 'Bridgerton' Season 2 only had part of a grand wedding ceremony
Halfway through the season, Anthony sticks to his plan to marry Edwina to uphold his family duty. While following his head, he refuses to follow his heart and his feelings for Kate. Despite knowing why Edwina had to marry nobility, Anthony stays on course.
The ton is well aware of how grandiose this wedding is as the queen herself oversaw it. On the day, Kate and Anthony are in shambles over their feelings. At the altar, he even imagines Kate as his bride instead of Edwina. When Kate's bangle from India comes undone and is picked up by Anthony, Edwina realizes the truth.
Heartbroken, Edwina runs away and, with wise words from the queen, pursues her own happiness and does not marry Anthony. After the scary events of Kate's head injury, she decides to forget the ton and follow her heart.
She and Anthony share a dance at the queen's ball. With the queen's approval, the ton accepts the couple. Anthony and Kate confess their love for each other in the garden. Bridgerton Season 2 ends with a fast forward six months later and no wedding. Kate and Anthony are husband and wife at the Bridgerton country estate with the family.
Chris Van Dusen says there is a reason why there wasn't a final wedding in 'Bridgerton' Season 2
The series's second season deviated from the first with fewer sex scenes and a more lust-filled romance. While fans can look surpassed it, they were not happy not getting to see a Kate and Anthony wedding in Bridgerton Season 2.
Cosmopolitan sourced a fan's Tweet saying, "I wish the ending of Bridgerton season 2 wasn't so rushed… Yes Kanthony confessed but there was no proposal! No putting Violet's ring on Kate's finger, no reaction of the Bridgertons/Sharmas to their engagement, no wedding or honeymoon… there was so much missed potential."
Talking to TVLine, Bridgerton's creator explained the decision not to film a wedding scene for Kate and Anthony. Dusen explains they thought a lot about how Edwina's ceremony would compare to Kate's. In the end, there was a bigger story.
"The Queen sponsored Edwina and Anthony's wedding, and she wasn't going to do it twice. There is also the Kate and Edwina bond. Her sisterly love story with Kate was just as important as the main love story between Anthony and Kate," said Dusen. Fans will have to imagine the wedding for themselves.
Will fans get to see more of Kate and Anthony in 'Bridgerton' Season 3?
Jonathan Bailey and Simone Ashley have revealed they will return for the following seasons of the series in some capacity. Ashley wants to see more of Kate and Anthony's story, which is just beginning. The actor explains there is room to see their family dynamic, future, and interactions with the other siblings as they find their own love stories.
But Ashely reveals fans will get to see more of their characters, but it will be complicated. Bridgerton Season 2 dropped an Easter Egg about how Kate and Anthony's story continues in the book series, but no wedding.
Unlike Daphne and Simon's marriage, Kate is now the lady of the house and the viscountess. It would be difficult to explain her and Anthony's absence in the following seasons.