'Bridgerton' Season 2: Do Penelope and Colin Explore a Possible Relationship?
Penelope's feelings for Colin were always one-sided as she one day hoped he would realize her love for him. In 'Bridgerton' Season 2, Colin develops a bigger bond with Penelope but is it enough for him to feel love.
While audiences may be focused on the love triangle between Kate and Edwina Sharma and Anthony Bridgerton in Bridgerton Season 2, there are more brewing romances. Since the first season, fans have been aware of Penelope Featherington's crush on Colin Bridgerton. In Bridgerton Season 2, a shift between Penelope and Colin teases adoration on both ends, but do they develop a courtship?
[Warning: The article contains spoiler information for Bridgerton Season 2.]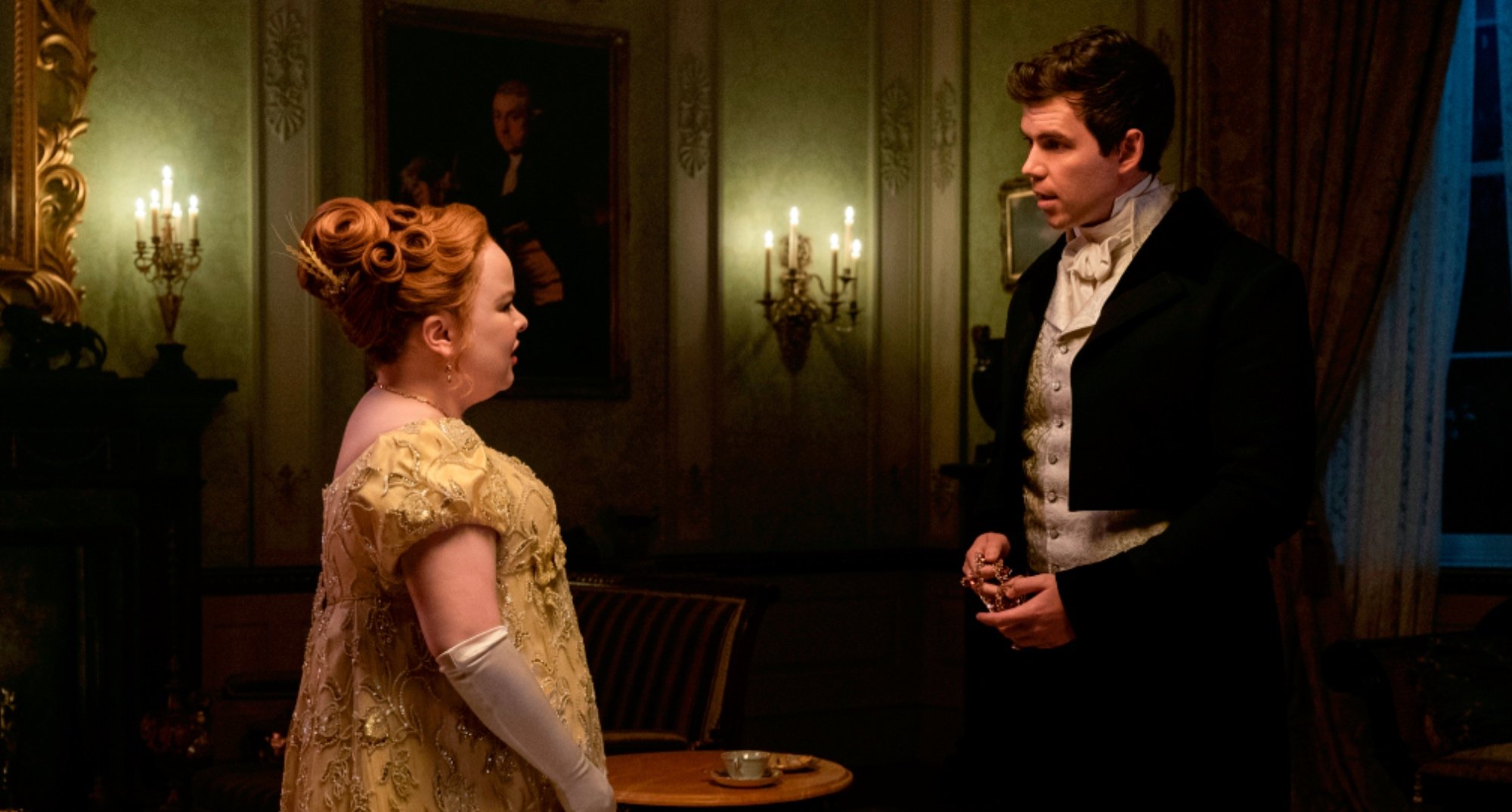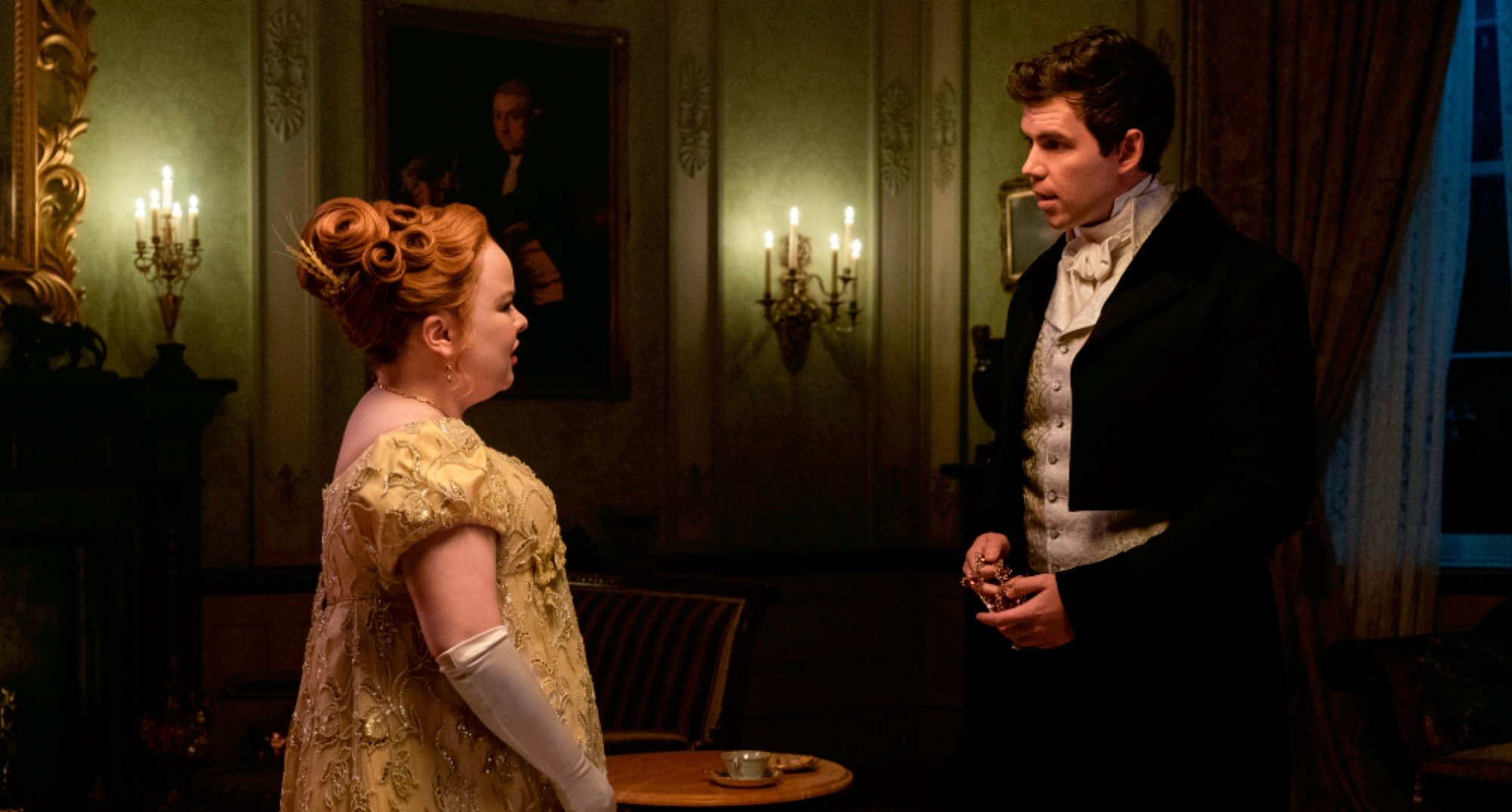 The history between Penelope and Colin is complicated in 'Bridgerton'
Being close friends with Eloise Bridgerton, Penelope has somewhat grown up with the family. It is no surprise she developed feelings for Colin. But Penelope's feelings were always one-sided, and Colin never seemed to notice her adoration for him. With a new courting season, Penelope still looked to Colin for a spark.
Penelope's crush on Colin goes wrong with the arrival of Marina Thompson. He becomes smitten with her when he sees her and begins to woo her for a possible courtship. Meanwhile, Penelope tries to protect Colin, well aware Marina is pregnant.
Marina sees Colin as her way put of marrying an old and horrible suitor and uses her charm. In the end, he proposes, but it crumbles when he learns of her pregnancy. Despite loving her, he breaks their relationship. In Bridgerton Season 2, audiences learn Colin has been away traveling the world.
Colin destroys Penelope's love for him in 'Bridgerton' Season 2
While Colin has been traveling the world, he has been writing letters to his family. The only person to continuously write him back was Penelope. When he returns, Colin looks at Penelope differently. Fans start to believe that maybe he has realized his feelings for her. He says he has sworn off women in episode two, and Penelope is only a friend.
At the Bridgerton country estate, Colin learns Marina lives close by and visits her to apologize. He sees she is doing well, and she gives him the cold truth. Colin can not hope for a relationship in his past with Marina. Instead, Marina tells him there is a certain someone who really cares for him.
There is a carefree and natural bond in all the interactions between Penelope and Colin in Bridgerton Season 2. Even at the queen's ball, Colin looks fondly at Penelope. But Penelope believing Colin might finally have feelings for her, was a lie.
After Eloise confronts Penelope, she goes searching the grounds for her. She hears Colin among a group of his friends laughing. She hides behind a pillar and eavesdrops when she hears her name. Colin's friend mentions how they looked on the dance floor and asks if Colin is courting her.
He answers, "Are you mad? I would never dream of courting Penelope Featherington. Not in your wildest fantasies, Fife." Penelope watches heartbroken before running off crying. Who knew even Colin had his treacherous way.
What is next for the two characters after the season?
Anyone would be heartbroken to hear what Penelope did when stricken with the brutal truth that Colin will never love her. After hearing Colin, Penelope is distraught, angry, and determined. She returns to her room and confidently picks up her feather to write a new scandalous edition of Lady Whistledown.
As for Colin, fans will have to wait and see how his actions will come to haunt him in Bridgerton Season 3. Also, id the book version comes to life. The last fans see him; he has no idea Penelope overheard him and is at the country estate spending a good time with his family and the new viscountess.
Bridgerton Season 2 is available on Netflix.