'Bridgerton' Season 2 Is Toning Down Steamy Sex for Lust
Anthony Bridgerton finds himself looking for a bride but lusting after Kate Sharma in 'Bridgerton' Season 2. Instead of sex, the series will focus more on the fiery tension between them and the other characters.
Netflix's most talked-about period drama, Bridgerton, made a name for itself thanks to a riveting storyline, tantalizing sex scenes, and love affairs. As Bridgerton Season 2 is ready to premiere on March 25, the series producers reveal the storyline will have less sex and more longing gazes, and palpable tension. The storyline will follow Anthony Bridgerton as he finds himself in a love triangle between two sisters.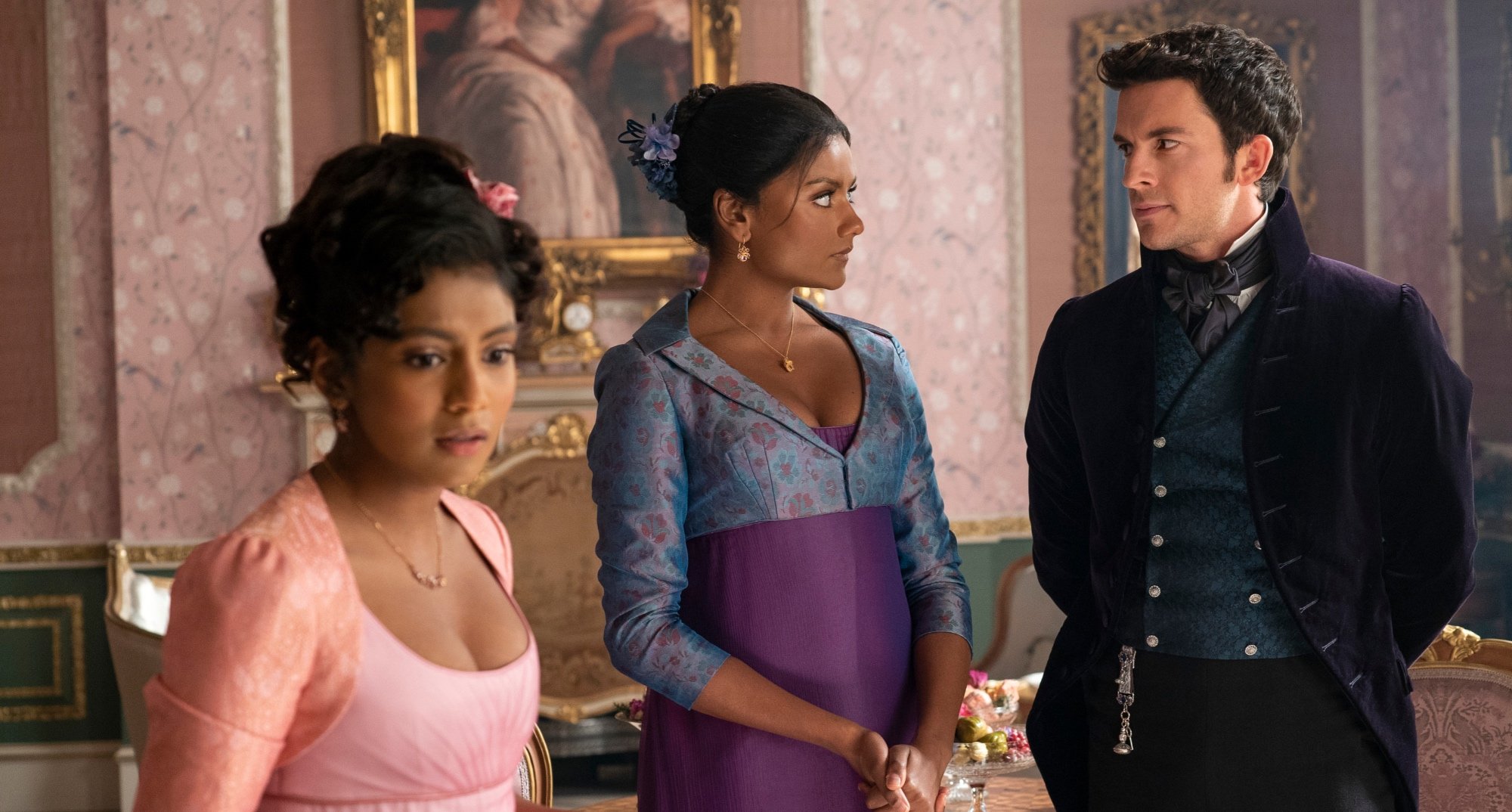 'Bridgerton' gained traction due to its display of raunchy sex scenes between main characters
The first season of the acclaimed series followed Daphne Bridgerton as she came of age to marry. She becomes the diamond of the ton and receives many suitors. But things go awry when her brother Anthony takes too much control, and Lady Whistledown's tabloid publication starts to slander her name. She makes a deal with the eligible Duke Simon Bassett. Together they fool everyone into believing they are in love but fall into their own trap.
Bridgerton not only gained fame for its story but its sex scenes. It is one of the more sexual period dramas audiences have seen and described as a racier Jane Austin. Fans recall Anthony's sexual rendevous with his lover Siena. There is also Daphne and Simon's sexual fervor after their marriage. Fans have seen their fair share of bums and naked torsos.
The Netflix series uses sexual appeal to their advantage to tell the story of what it means to lose your virtue in the ton when not married. As well as the difference in reaction regarding sex between men and women. While sex scenes became the series talked-about element, Bridgerton Season 2 will differ.
'Bridgerton' Season 2 producers say fans should not be disappointed over less sex scenes
According to The Telegraph, the producers have revealed how Bridgerton Season 2 will deviate from what fans came to expect from the first season. While actor Jonathan Bailey and his co-star Simone Ashley have discussed how sex scenes are filmed in the series, fans should not expect many of them.
The producers explain they have toned down the sex scenes instead of focusing on longing, tension, and fiery gazes. For Bridgerton Season 2, Anthony is determined to uphold his family duty and wed. He finds a suitor with Edwina (Charithra Chandran). He must get approval from her sister Kate (Ashely) to get to her. Kate is already onto his plan, but their constant squabbles lead to a feverish and unexpected love they cannot give in to.
Instead of sex scenes, The Telegraph explains the producers "declaring that longing looks can be just as seductive." In the season trailer, fans feel the tension between Kate and Anthony. Even when he emerges from the river soaked and his shirt see-through. Fans can see their yearning for each other and physical attraction.
Chris Van Dusen, the executive producer, explains, "There is so much sexiness in just the looks across a room, the hands grazing and fingers almost touching. You can really feel that build from episode to episode." Bailey also revealed the minimal sex scenes would carry on for the next seasons.
The Netflix series will air on March 25
Anthony Bridgerton is ready to wed, well, not really. The eldest Bridgerton must uphold his family duty and look for a suitable bride. The infamous playboy is not easily persuaded until he meets Kate and Edwina Sharma. Fans will be on the edge of their seats all eight episodes to see how Anthony deals with his newfound feelings.
Bridgerton Season 2 will air on Netflix on March 25. The series will be available to stream at 12:00 am PT / 3:00 am ET. The series has already been greenlighted for seasons three and four and will continue to adapt the original novels.