'Bridgerton' Season 2: Ruth Gemmell Teases She Wants to See a Romance for Violet Bridgerton
Fans learn how Edmund's death affected Violet Bridgerton in 'Bridgerton' Season 2. While the book series does not have the character find new love, actor Ruth Gemmell hopes otherwise in some small way.
The Bridgerton series is all about finding love. In Bridgerton Season 2, Anthony gets caught in a love triangle but is hellbent on a loveless marriage. Like any adoring family, the Bridgerton matriarch Violet Bridgerton tries to become his voice of reason. Fans learn about the traumatic past Violet had when her husband died. Bridgerton Season 2 actor Ruth Gemmell explains she would like her character to one day get a romance.
[Warning: This article contains spoilers for Bridgerton Season 2.]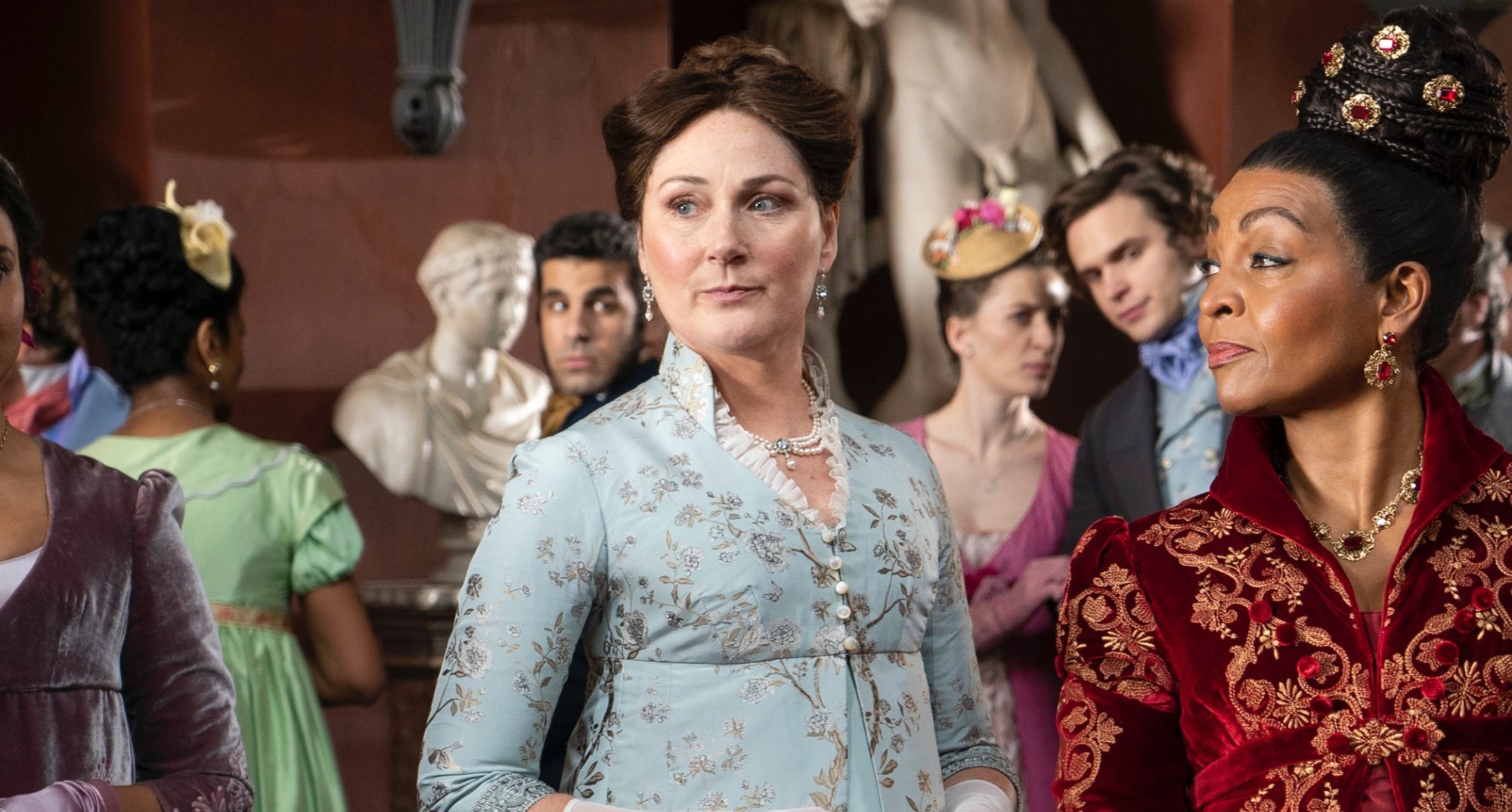 Violet Bridgerton was in disarray when Lord Bridgerton dies in 'Bridgerton' Season 2
In the first season, fans know Lord Bridgerton is no longer in the picture. The children still have fond memories of their father and mention him often. In Bridgerton Season 2, fans learn how Edmund Bridgerton died. In episode three, a young Anthony returns from hunting with his father in flashback scenes.
His father decides to pick lilies for his wife. An angry bee stings him, and Edmund goes into anaphylactic shock. Yelling for help, a pregnant Violet emerges, and Edmund dies in her arms.
After Edmund's death, Violet goes into a depressive state that Anthony must bear witness to. When she gives birth, fans see how Violet cannot cope with her loss. Anthony is shaken to his core over how much his father's death has affected his mother. This leads fans to realize why Anthony was so keen on a loveless marriage.
Ruth Gemmell hopes her character will one day find love after 'Bridgerton' Season 2
Fans get a fuller idea of why Anthony was so determined not to find love. Violet tells a young Anthony she has no reason to live without him in the season flashbacks. She explains he was the air she breathed. Anthony is there to witness how his mother hoped to die during childbirth to be with her husband.
Some time has passed since Edmund's death in the first and second seasons. According to Cosmopolitan, Violet never remarries in the book series. But Gemmell explains that she still hopes the shows will deviate from the source material to give her character a small hope of romance.
"I think it's in Benedict's story where there's a ball, Violet's hosting it. She's slightly exasperated by her children, and somebody asks her to dance, and she dances. What I liked about that is all the children didn't like it. Then you catch her eavesdropping on their conversation about: Who on earth is this bloke? I hope they do bring in a bit of that, because there is something lovely about that," said Gemmell.
The Bridgerton actor even admits she would love to see the matriarchs of the series look for their own love. This is referring to the small romance between Lady Featherington and Jack Featherington.
Ruth Gemmell will continue Violet Bridgerton's story in the spinoff series
Netflix announced a Bridgerton spinoff is underway, focusing on the uprising and backstory of Queen Charlotte. Part of the storyline plot includes Violet Bridgerton and Lady Danbury. Bridgerton Season 2 helped set the stage for the spinoff by giving small backstory details about the characters.
Major elements of the series are still hush-hush. "To be honest, we're right at the beginning of it, and I know very, very little. It is mainly about Queen Charlotte and the younger Queen Charlotte. And it involves Lady Danbury and my character Violet and their younger selves. I've been in the costume fittings, and that's all I can tell you," said Gemmell.
The actor does reveal her younger character in the series will roughly be 12-years-old at some point. Fans are hopeful to see how Violet came to meet her future husband, Edmund.