'Bridgerton' Season 2: Does [Spoiler] Die After Falling off Her Horse?
Bridgerton Season 2 has quite a few twists and turns in store. The new season focuses on Anthony Bridgerton's quest for a loveless marriage. A complicated situation arises when Anthony begins to court Edwina Sharma, but soon develops feelings for her older sister. Kate is skilled at horseback riding, but she suffers a fall at the end of episode 7. Does the elder Sharma sister survive her injuries?
[Warning: This article contains spoilers for Bridgerton Season 2]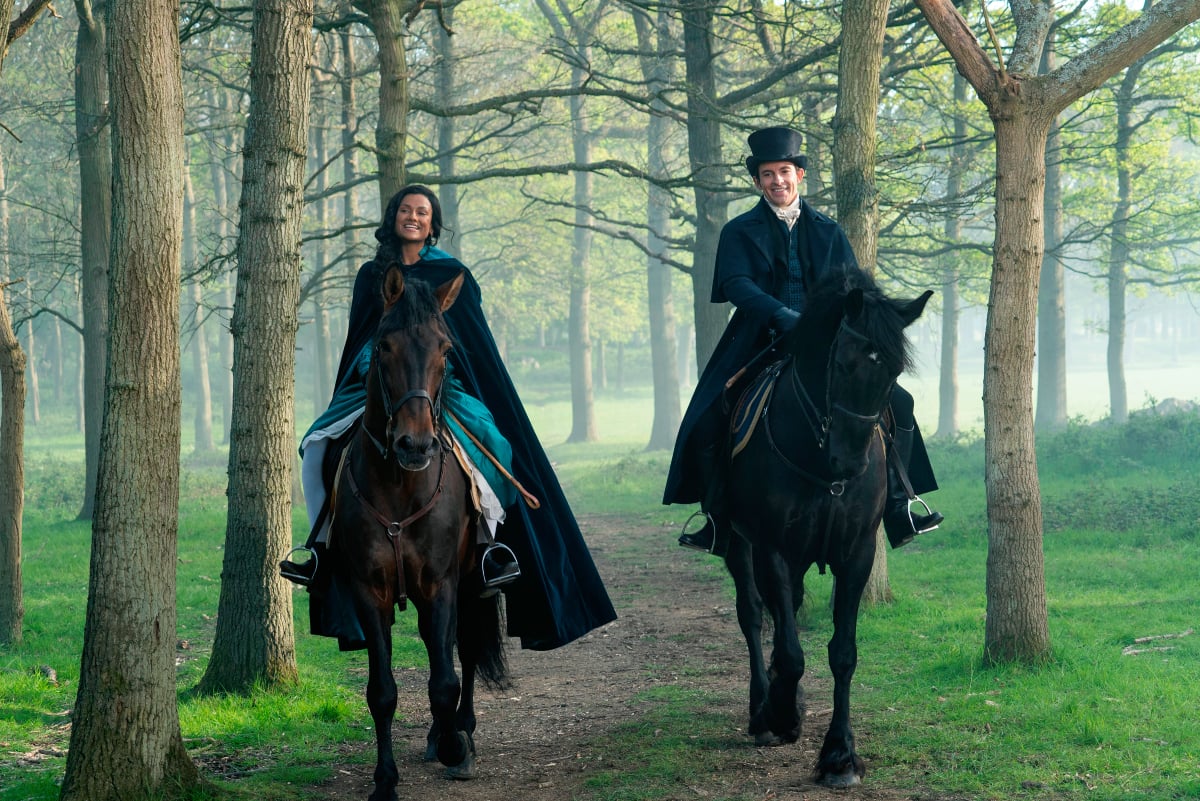 'Bridgerton' Season 2 introduces Kate Sharma
Anthony first meets Kate in episode 1 of Bridgerton Season 2. He spots her riding her horse quickly across the field and thinks that she is in trouble. Anthony is stunned to find that Kate often sneaks out to go horseback riding for fun. Actor Jonathan Bailey said of Kate to Entertainment Weekly, "She's outside of the rules."
"She's literally outside of society. She's got a lot to work out, and that's intriguing to him. He's [Anthony] probably never seen a woman ride astride before. She comes through and blows the debutantes of London out of the water."
Kate continues to show that she is a very unique woman throughout the season. She enjoys hunting and certainly isn't afraid of getting her dress dirty. She also begins the series without the goal of getting married, but things change when she meets Anthony.
Does Kate die in 'Bridgerton' Season 2?
Although Anthony begins to court Edwina, his eyes continue to wander to Kate. Edwina finally realizes the truth on her wedding day. She calls off the engagement and Anthony and Kate kiss for the first time alone in the church. The pair can't stay away from each other and they end up having sex outside the Bridgerton home at the end of episode 7.
Kate seems distressed by what she and Anthony did. The next morning she leaves the Bridgerton home to ride her horse, but a storm ensues. Anthony races to find Kate and sees her fall off her horse and hit her head. He rushes her back to the Bridgerton home and sends for a doctor.
Luckily, Kate survives the incident, though she is unconscious for about a week. Anthony is immensely relieved when she wakes up and proposes to her. Although she initially refuses, the pair end up together in the end.
Where to watch the new season of 'Bridgerton'
All episodes of Bridgerton Season 2 will be available for streaming on Netflix on March 25. When the series first dropped to the platform in 2020, no one could have anticipated what a global sensation it would become. According to BBC News, the show reached 82 million households during its first 28 days.
It remains to be seen whether season 2 will have as much success, but there's plenty of excitement surrounding its release. The season's central relationship won't be the same as season 1. Fans can expect less steamy sex scenes and more of a slow burn full of forbidden longing.
RELATED: 'Bridgerton': The Origins of Penelope and Colin's Love Story Could Be Explored in Season 2