'Bridgerton' Season 2: Who Is Jack Featherington? What You Need to Know
Jack Featherington arrives in London as a saving grace to the Featherington estate from mounting debt in 'Bridgerton' Season 2. The eligible bachelor has his own dark secrets under his sleeve that will prove a problem.
Netflix's Bridgerton Season 2 introduces many new characters to the ton. Besides Kate and Edwina Sharma, the Featheringtons are in for a new house guest. After the first season's events, the Featherington women need a new man to handle the estate. Bridgerton Season 2 introduces Jack Featherington (Rupert Young), the heir to the estate with his own hidden dirty deeds.
[Warning: The article contains spoiler information for Bridgerton Season 2.]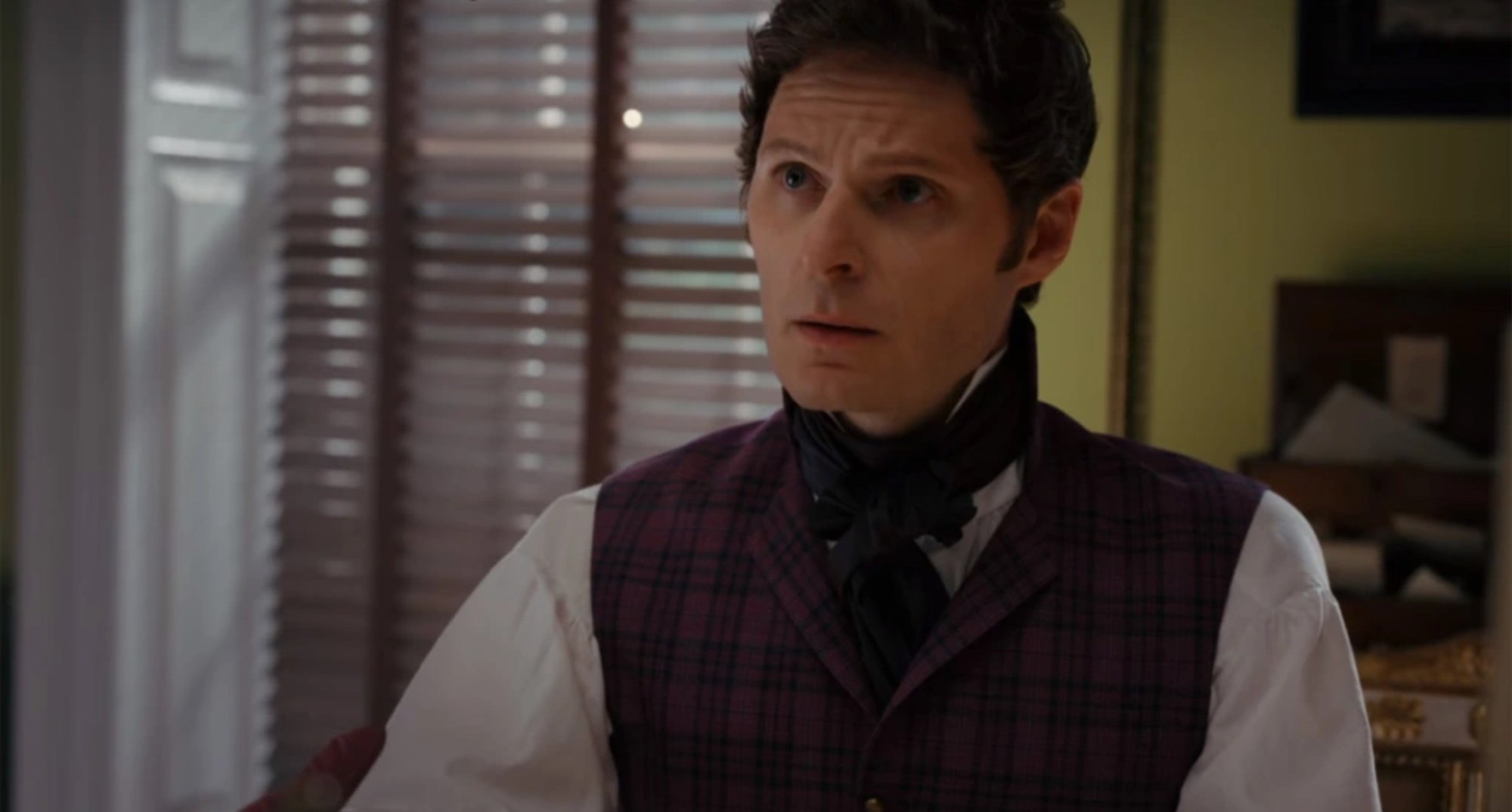 Jack Featherington comes to save the household in 'Bridgerton' Season 2
Each distinguished family of the ton has its own hidden secrets. For the Featheringtons, Lord Archibald Featherington hid the family's massive debt. Through Bridgerton, fans learn he had a gambling problem and often lost. Lady Featherington discovers he had gambled all the family's money away and his daughters' dowries.
Later in the season, Lord Featherington wins money by placing a bet. But he is tricked into a room by a prostitute and the earnings stolen. Lady Featherington and her daughters are informed of his death. Lady Featherinton learns who will inherit the family estate in the finale of the season.
In Bridgerton Season 2, the Featherington women meet Jack Featherington. Jack is a cousin of the deceased Lord Featherington. While he starts to change the ways of the household, Lady Featherinton puts up with it for the sake of her daughters. There is more to the new head of house than meets the eye.
The new Featherington has a secret and a dubious intentions in 'Bridgerton' Season
Who is Jack Featherington? Fans learn a lot about the new character. He traveled from America to London to take over the estate leaving behind his lucrative ruby mining business. He is able to pay Philipa's dowry for her to marry. The new and only male of the house seems in good standing as he tries to make sense of his cousin's money problems.
Lady Featherington is worried she and her daughters will be forced out of the estate. Like any suitable bachelor, Jack looks for a wife and sets his eyes on Cressida Cowper. Lady Featherington would rather concoct a plan for him to notice her daughter, Prudence, even if they are cousins. At the Bridgerton ball, she pushes her daughter to see the orange garden and pretends to walk in on her and Jack unattended.
It leads Jack to become courted to Prudence unwillingly. Later on, he tells Lady Featherington the truth. His ruby mines are nothing, and he is penniless. He used a fake ruby necklace for Philipa's dowry, and he planned to marry for money. Now he and Lady Featherington have to find a new means of wealth.
A counterfeit necklace and a lie lead Jack Featherington to a plan in 'Bridgerton' Season 2
While Jack tries to make reason of the estate, Lady Fatherington hatches a plan. Many of the wealthy men of the ton want to invest in Jacks' ruby mines. Jack takes up her plan of stealing their investments to restore the family wealth. They have Prudence wear a convincible fake to get the people of the ton talking enough to invest at Edwina and Anthony's wedding.
It seems that Jack has developed an odd fondness for Lady Featherington and her ability to take charge. At the wedding, Jack uses his charm on the men of the ton and Lady Featherington. His efforts also catch the eye of Colin Bridgerton. By the Bridgerton Season 2 finale, Colin learns Jack is a fraud, and his plan goes down the drain.
Instead of worrying, Jack plans to leave for America with the money and Lady Featherington, having fallen for her. Lady Featherington double-crosses him for her family's sake. She has her maid pack his things for him to leave alone and will set the lie that he conspired the plan and her a victim. In the dramatic finale, Jack's signature was forged on a document declaring Prudence's first son will inherit the estate.
Bridgerton Season 2 is available to stream on Netflix.