'Bridgerton' Season 3: Charithra Chandran Hints at What's Next for Edwina
It's not yet clear if Charithra Chandran will return for 'Bridgerton' Season 3, but she definitely has ideas about what she wants to see in Edwina's future.
Bridgerton Season 3 has been confirmed, but it's not clear yet if Charithra Chandran will be back. Chandran's character Edwina Sharma went through quite a journey in season 2. Although she ended the season without a husband, she finally began making decisions for herself. Chandran has hopes for what's next for Edwina, though she's not yet sure what her future with Bridgerton holds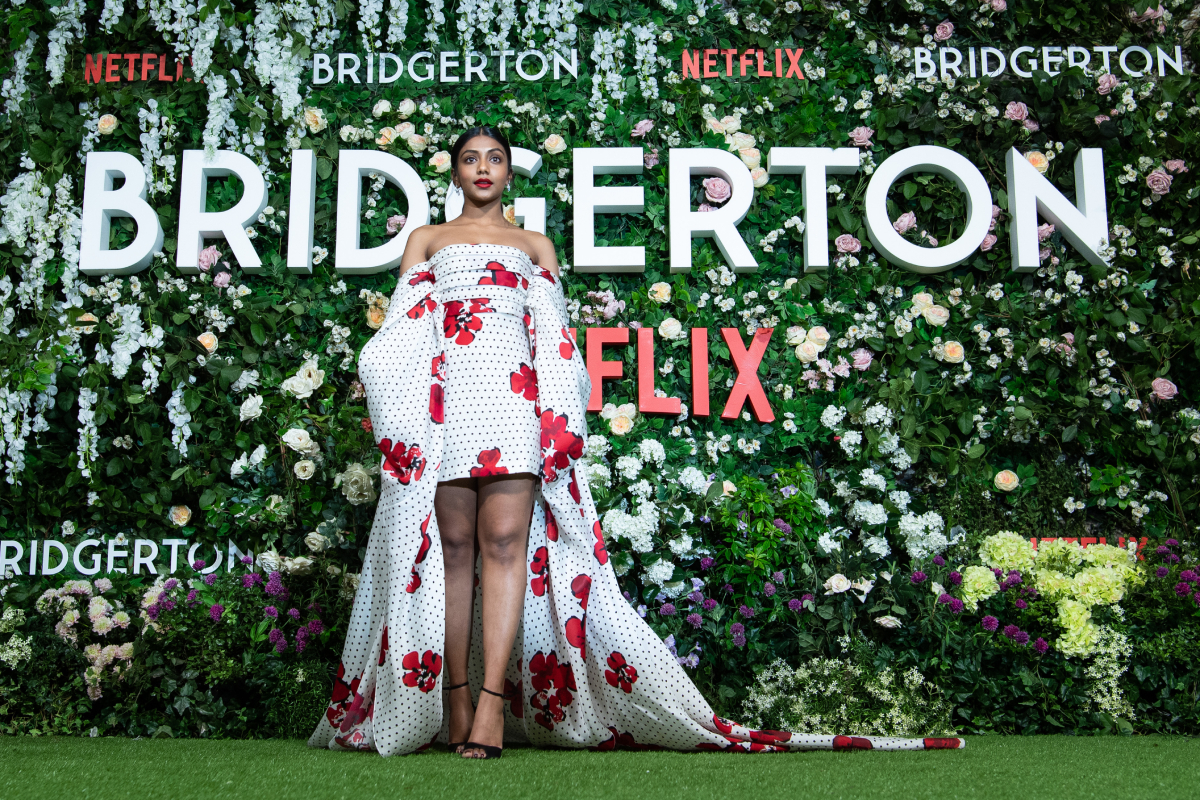 Edwina Sharma learns to make her own decisions in 'Bridgerton' Season 2
Bridgerton Season 2 introduced Edwina and Kate Sharma, a pair of beautiful sisters who arrive in London for the social season. Kate is determined to find a husband for her sister, but there's something she isn't telling her. If Edwina marries an English gentleman, she will inherit a large amount of money from her grandparents.
Edwina eventually realizes that Anthony Bridgerton loves Kate, not her. Although the marriage is salvageable, she chooses to make her own decisions for once and does not go through with the wedding. Eventually, Edwina comes to terms with Kate's feelings for Anthony. Queen Charlotte even mentions that her nephew is a prince — and he's available.
Will Charithra Chandran be in 'Bridgerton' Season 3?
Although Bridgerton Season 2 told Anthony and Kate's love story, Simone Ashley recently confirmed to Deadline that both she and Jonathan Bailey will be in Bridgerton Season 3. "We're going to be back! Kate and Anthony are just getting started," the actor said.
Chandran has not yet been confirmed for Bridgerton Season 3, but she does have hopes for Edwina's future. "I obviously do want Edwina to find love, but I think there is a far more important story to be told first — and then love can happen — which is one of self-discovery," Chandran told The Hollywood Reporter. "I hope, at least in the short term, there's a lot of excitement and adventure for Edwina."
Still, fans shouldn't expect Chandran to have a huge role in Bridgerton Season 3. "What I'd say is that Bridgerton is a show about the Bridgerton family, and at the end of the day Edwina is not part of that family — or she's not directly part of that family," Chandran told Entertainment Tonight. "At the end of the day, each season is about a different Bridgerton sibling," she continued, adding "Sure I may pop up."
'Bridgerton' is getting a spinoff series
In addition to season 3, Bridgerton is also getting a spinoff series. The new show will be a prequel centered on Queen Charlotte. Fans know that Edwina made a positive impression on the queen in season 2. "One of my favorite relationships is Edwina and the queen," Anthony actor Jonathan Bailey told Entertainment Tonight.
"And she's got her own spinoff so we might be seeing Edwina popping up in different versions of that," he said. It's not clear if that will work out, considering the prequel will probably take place before Edwina's time. Still, Bridgerton fans likely haven't seen the last of Charithra Chandran.
All episodes of Bridgerton are currently streaming on Netflix.