'Bridgerton' Season 3 Might Be About Colin and Penelope's Love Story
Bridgerton is already greenlighted for season 3. But there isn't much known about the future story. It's possible Penelope Featherington (Nicola Coughlan), and Colin Bridgerton (Luke Newton) will be at the center of the season, which goes against the book series' order.
Penelope's love for Colin has gone unnoticed on 'Bridgerton'
RELATED: 'Bridgerton': Which Bridgerton Will Season 3 Focus On?
Bridgerton started with Penelope being good friends with Eloise Bridgerton (Claudia Jessie). Season 1 showed them gossiping, and Eloise became obsessed with finding the identity of Lady Whistledown. Meanwhile, Penelope obviously had a crush on Eloise's brother, Colin, who had no clue.
Colin got engaged to Penelope's distant cousin, Marina Crane (Ruby Barker). Penelope disapproved of the relationship because of her feelings for Colin and because Marina was secretly pregnant with someone else's baby. The first season ended with Penelope successfully breaking up Marina and Colin.
Season 2 focuses on Anthony Bridgerton (Jonathan Bailey) and Kate Sharma's (Simone Ashley) relationship. But Colin does return home, and Penelope still has strong feelings for him.
'Bridgerton' Season 3 might focus on Colin and Penelope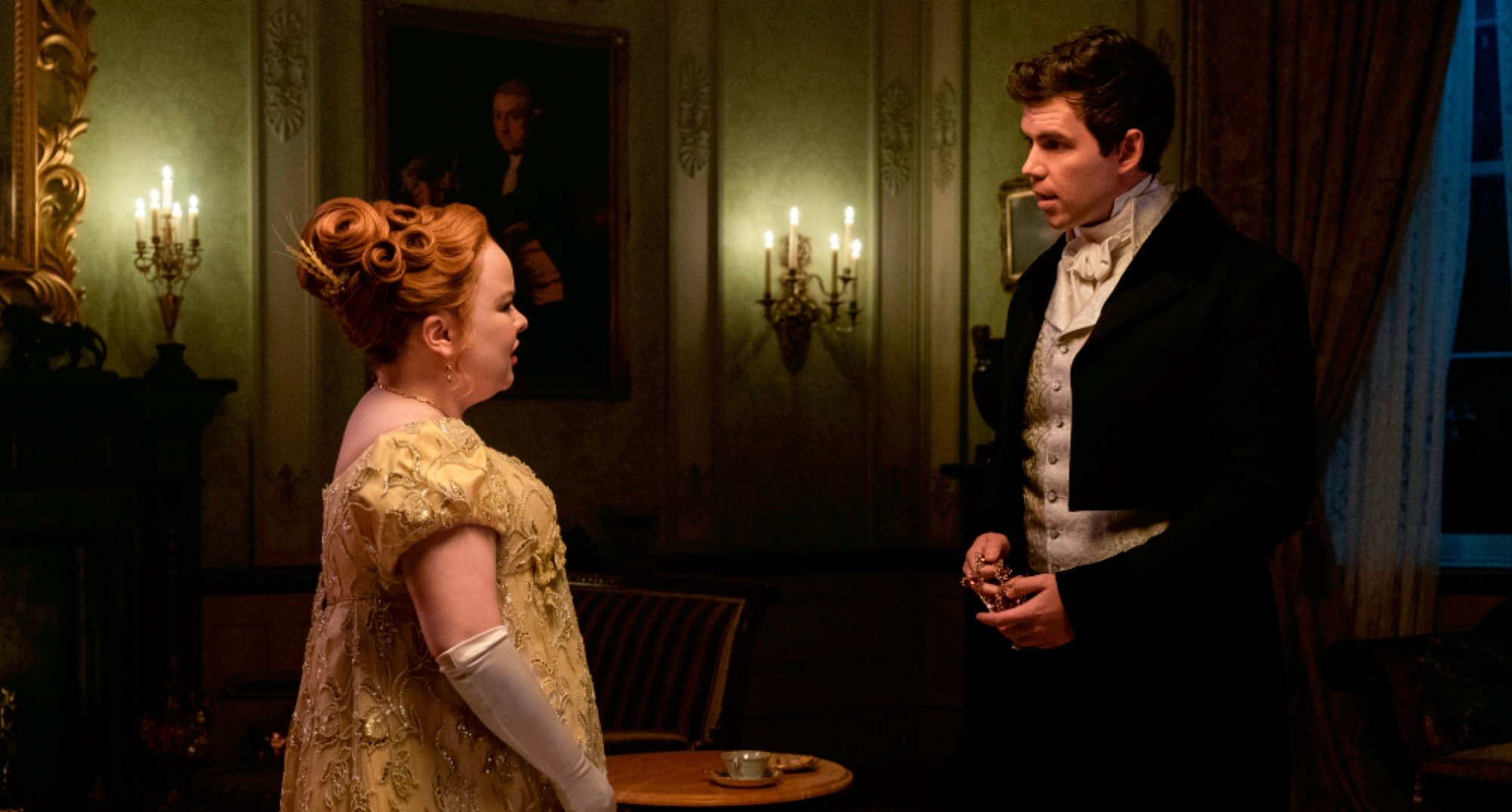 RELATED: 'Bridgerton' Renewed for Seasons 3 and 4; Will Regé-Jean Page Return?
Bridgerton has followed the order of the books through main love stories and building up future stories in the background. The third book, An Offer from a Gentleman, focuses on Benedict, while the fourth book, Romancing Mister Bridgerton, focuses on Colin and Penelope. But season 3 might jump out of order, according to creator Chris Van Dusen. 
"We did a lot of work in these first two seasons as far as setting up Penelope and Colin's love story," he told E! News. "There's so much yearning and so much angst there that it's going to be really satisfying when the show gets to really focus on the two of them."
Luke Newton, who plays Benedict Bridgerton, said, "We have no idea how close they're going to stay to future relationships or how it's gonna go." 
Luke Newton said he doesn't feel like he's waiting to tell Benedict's story
RELATED: 'Bridgerton:' What Colin's Book Reveals About the Direction of His Show Counterpart
The cast also talked about the changing nature of the series in a press conference on March 21. Newton talked about potentially telling Benedict's story one day.
"I'm really excited," he said. "It's a very nice show for not feeling too much pressure, I think, because each season and each stage sort of molds itself around the new story and the character. So it's not something we have to live up to every season because it's a breath of fresh air each time."
"Should it come, I'm really looking forward to it," Newton added. He said it doesn't feel like they're waiting for their moment. It's an orchestra and an ensemble effort.
It sounds like Newton isn't in a hurry to be the main leading man of a season. Fans will have to see if season 3 will be his or another Bridgerton brother's season.