'Bridgerton' Season 3: New Showrunner Addresses Penelope's Weight Loss in the Book Storyline
The first two seasons of Bridgerton established Penelope and Colin's story. Everything from her crush on him to his changed mindset after his trip to Greece. As Bridgerton Season 3 will focus on the two characters' love story, fans are curious to know how the book will be adapted. Fans have already seen a lot of the major moments in the seasons. But the new showrunner addresses one detail about Penelope and her supposed weight loss in the books for Bridgerton Season 3.
[Warning: This article contains spoilers for Bridgerton book.]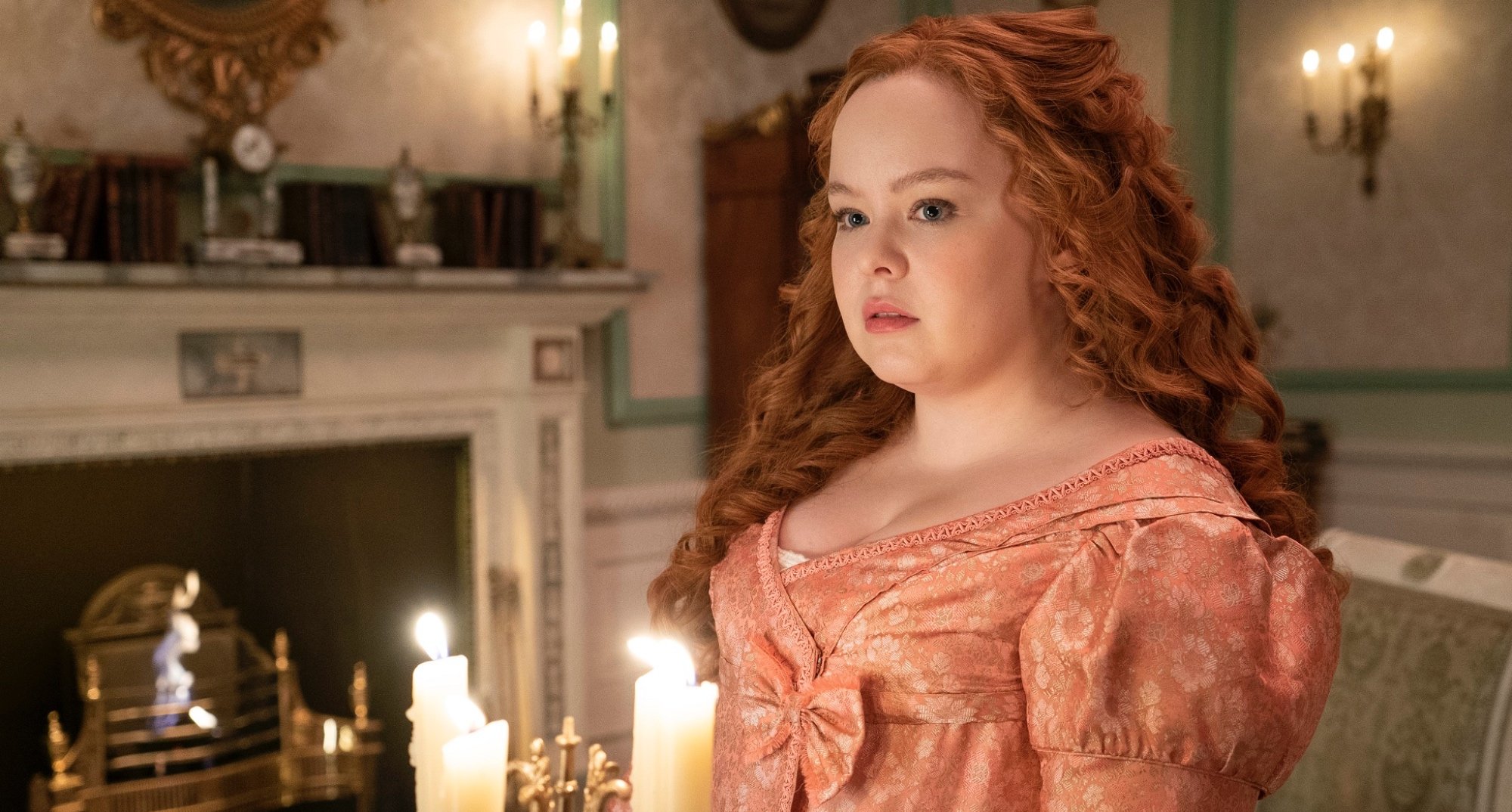 Penelope is described as 'curvy' and forced to wear unflattering clothing in 'Bridgerton'
Compared to her sisters, Penelope is full-figured but has not shown distaste toward it. Throughout both seasons of Bridgerton, Penelope has been forced to wear what her mother wants her to wear. On more than one occasion, Penelope has explained her hatred for wearing bright yellow dresses that make her look like a flower.
It is scarce to see Penelope in dresses that are not pink or yellow. It is also due to it being the Featherington family colors, just as the Bridgertons often wear blue. In the series, Penelope does feel the tension of not finding a suitor and Colin's unreturned feelings. But according to her storyline in Romancing Mister Bridgerton, Penelope comes into her own and steps out of the shadows.
She found confidence and thrill being her alternate persona Lady Whistledown. But with her secret almost revealed and realizing she needs to show her true self, she starts to dress differently. It leads to the assumption that she has fluctuated in weight and captured Colin's eye. Bridgerton Season 3 showrunner Jess Brownell addresses the detail about Penelope.
'Bridgerton' Season 3 showrunner explains Penelope's weight is not a focal point
RELATED: 'Bridgerton' Season 2: Why Fans Are Happy Colin and Penelope Didn't Happen
In the book, Penelope gains the confidence to no longer be a wallflower as she used to be. Her new zest for life has her dressing in gowns that fit her curvaceous body and dress in complementary colors. But throughout the book, Penelope's weight or weight loss is often mentioned, mostly through inner monologue.
Speaking with Variety, Brownell explains the subject matter does not define Penelope or have relevance in Bridgerton Season 3.
"We think that Penelope is beautiful, and I don't think it's really a part of her story. Her being a wallflower in our show I think is about her level of confidence more than it is about her outward appearance. So I think that's more what we're playing with this season," said Brownell.
Nicola Coughlan has also experienced her share of comments about her weight. According to Insider, Coughlan addressed the matter as "deeply uncomfortable." She explains her weight is not a topic of discussion and should be about the series and her abilities as an actor.
'Bridgerton' fans disagree with the assumption that Colin noticed Penelope because of her weight in the books
RELATED: 'Bridgerton' Season 2: Do Penelope and Colin Explore a Possible Relationship?
For fans who have read Penelope's story, there is an assumption that Colin only took notice of her because of her weight. A Reddit thread has fans disagreeing and explaining the reality of Penelope's story. Penelope lost only a small amount of weight. It helped the level of confidence she was already gaining as a curvy woman.
"The weight loss and being able to feel comfortable within one's skin with clothes that flattered her helped her feel more assure of who she is and it reflected in how she was able to speak up more. And in her speaking up more confidently, Colin saw the passion she had downplayed in previous years of their friendship," said a fan on Reddit.
Fans explain Penelope sees herself as a curvy woman, and Colin praised her for it and says she is perfect as she is. "Having read the book a good number of times, what caught Colin's attention, in my honest opinion, wasn't Pen losing weight or the flattering dresses. It's that they connected on an intellectual level. Pen was a spinster, so she hadn't been looking to please anyone or prove herself, not even to Colin," said a fan.
Bridgerton Season 3 will tackle a new phase of Colin and Penelope's story. He begins to see her as more than a friend. The second season also teased Penelope getting ready to step out of the shadows into her own.
RELATED: 'Bridgerton' Season 3: How The Books Continue Kate and Anthony's Story