'Bridgerton' Star Golda Rosheuvel Didn't Originally Audition for the Role of Queen Charlotte
The cast of British actors has hit the top of the popularity list with the recent release of Bridgerton Season 2. Fans cannot help but swoon over Jonathan Bailey as Anthony Bridgerton and feel empowered by Simone Ashley as Kate Sharma. Bridgerton Season 2 has also put the spotlight back on actor Golda Rosheuvel. Her character Queen Charlotte has become an even bigger fan favorite, but the actor did not audition with the idea of playing the character in mind.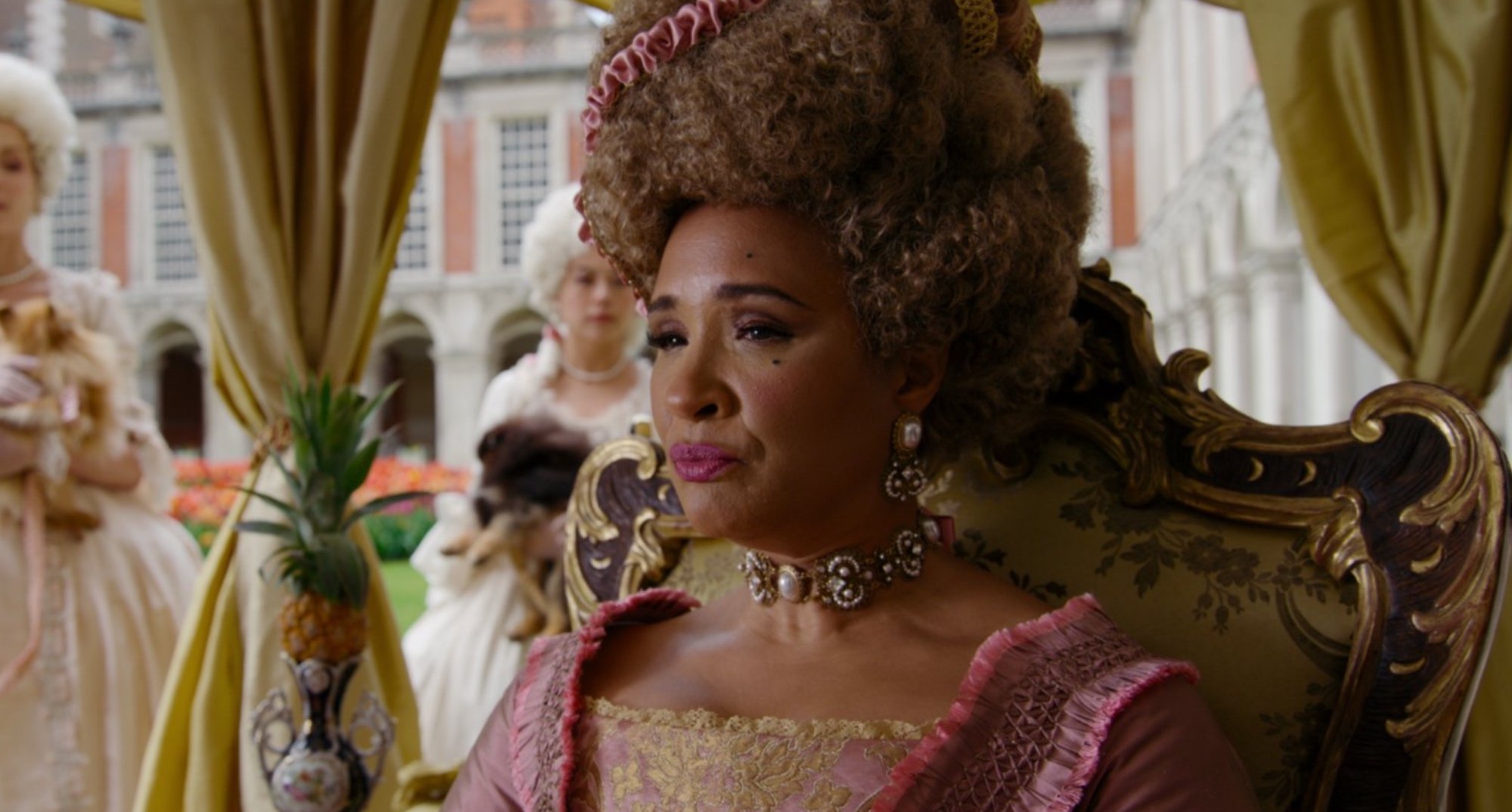 Fans see more of Golda Rosheuvel's Queen Charlotte in 'Bridgerton' Season 2
When fans first met Queen Charlotte, she had an undeniable air of royalty. In both seasons of Bridgerton, the queen looked for the season's diamond that would elicit enough drama and intrigue to keep her entertained.
In the first season, fans only got a snippet of the reality of the queen's life with the king. Queen Charlotte's turbulent past is slightly revealed in Bridgerton Season 2 when the king makes a surprise visit in the midst of the turmoil of Edwina's marriage. Rosheuvel explains fans see a new side to the queen and can see a three-dimensional character.
"It means that all the personal stuff, all the vulnerability can layer the kind of grandiose. When you see me at these lavish balls, I'm carrying all of that stuff with me — you don't see it — but it's good for me to hold that, to be able to create a rounded character," explained Rosheuvel to The Washington Post.
As Netflix announced a spinoff series based on a young Queen Charlotte, fans will be surprised to learn Rosheuvel did not originally audition for the character.
Golda Rosheuvel went in to audition for another head female figure of the ton in 'Bridgerton'
RELATED: 'Bridgerton' Season 2: Anthony Revealed an Easter Egg About Him and Kate's Future
There is no denying the scenes with Queen Charlotte tend to steal the show. Fans found her expressions, love for gossip, and reactions highly relatable. It is no surprise the character became a favorite and got a spinoff, all thanks to Rosheuvel's portrayal. But the actor went into auditions with Lady Danbury's role in mind.
According to her interview with The Guardian, Rosheuvel was asked to audition again for Bridgerton after the role of Lady Danbury was given to Ajoa Andoh. The process was tricky as Rosheuvel was ready to board a plane to France for the holidays.
"I only really had an afternoon to do it in. But I said to my agent: I'll have a go," explained Rosheuvel. To get it done, Rosheuvel asked for assistance from her partner and playwright, Shireen Mula. They sent in a demo tape of the actor doing a few scenes.
Rosheuvel got the news from her agent that the director of Bridgerton had passed her demo tape on to executive producer Shonda Rhimes. As a fan of Rhimes, Rosheuvel was over the moon.
"There was a part of me that didn't quite believe it, because I never think that anybody's going to like what I do. But also part of me was jaw-droppingly excited," said Rosheuvel. It was the birth of a never before seen version of Queen Charlotte, played by Rosheuvel.
The 'Bridgerton' actor shares her thoughts on the series's take on Queen Charlotte's lineage
RELATED: 'Bridgerton' Season 2: Why Lord Sheffield Looks Familiar to 'Buffy' Fans
Part of the reason why Netflix's Bridgerton series gained traction was not only for its scandalous sex scenes but its inclusive cast and characters. The character of Queen Charlotte is a real historical figure. Historians have debated whether or not she has an African lineage, making her the first Black queen.
"What if Queen Charlotte is a person of colour? What does that do to the world that we are trying to create? Chris Van Dusen calls it conscious casting, not colourblind casting because we are consciously creating this world. And, in doing it, the representation that we see in our own world is reflected back at us. It enables us to celebrate the kings and queens of this industry, who are people of colour, through the characters that we create in this fictitious world," explained Rosheuvel.
The Bridgerton spinoff series will bring back Rosheuvel as her character. Also, introduce a new actor as a younger version. The series explores the emergence of an integrated ton and how the queen's lineage changes London.
RELATED: 'Bridgerton' Season 2: Benedict's Solo Story Teased but Fans Might Not Get to See It Yet