'Bridgerton' Star Nicola Coughlan Teases a 'Dramatic' Season 2 Finale
In the popular period drama Bridgerton, actor Nicola Coughlan plays Penelope Featherington – a young debutante that is the anonymous gossip writer Lady Whistledown. After filming the second season, the 34-year-old actor promised fans the finale episode features "dramatic" scenes. Here is what fans should expect from the Bridgerton Season 2 finale.
The 'Bridgerton' actor hints at a 'heavy' season 2 finale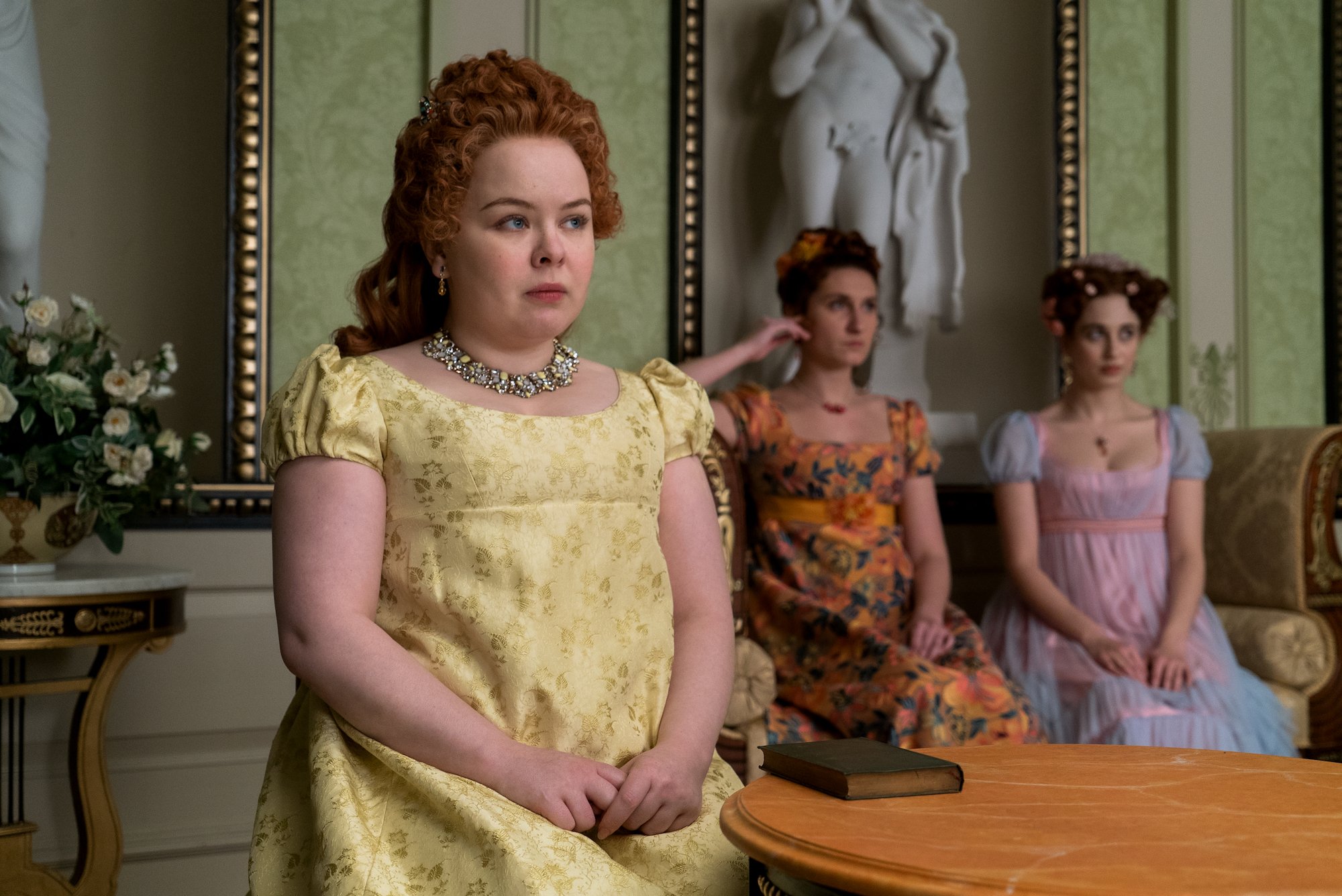 RELATED: 'Bridgerton': Netflix Unveils First Look Photos From Season 2
In an exclusive interview with Radio Times, Nicola Coughlan signaled what's to come for Penelope in Bridgerton Season 2. In the previous season, Penelope's true identity gets revealed to the audience. While Coughlan teased the upcoming season will explore her character's personal life, she shared that the final episode will feature some very "heavy" and "dramatic" scenes. 
"The drama has amped up a lot," she explained. "As I say, we're shooting all those big dramatic scenes for the end. It's exhausting but very satisfying."
Although Lady Whistledown's identity is revealed to the viewer, the rest of the characters don't know her true identity. In season 1, Eloise Bridgerton (Claudia Jessie) wanted to uncover the gossip writer for the queen. Even though she saved Lady Whistledown from the Bow Street Runners, she didn't see the writer's face.
It remains unknown if Penelope's secret will get exposed in Bridgerton Season 2. But, Coughlan promised fans that they would see the inner workings of Penelope, aka Lady Whistledown. "Those final moments of series one were definitely a peek into her life," she continued. "I think in season two, you kind of see how the sausage gets made and all that's happening."
Fans will get to see Penelope and Colin Bridgerton's relationship explored more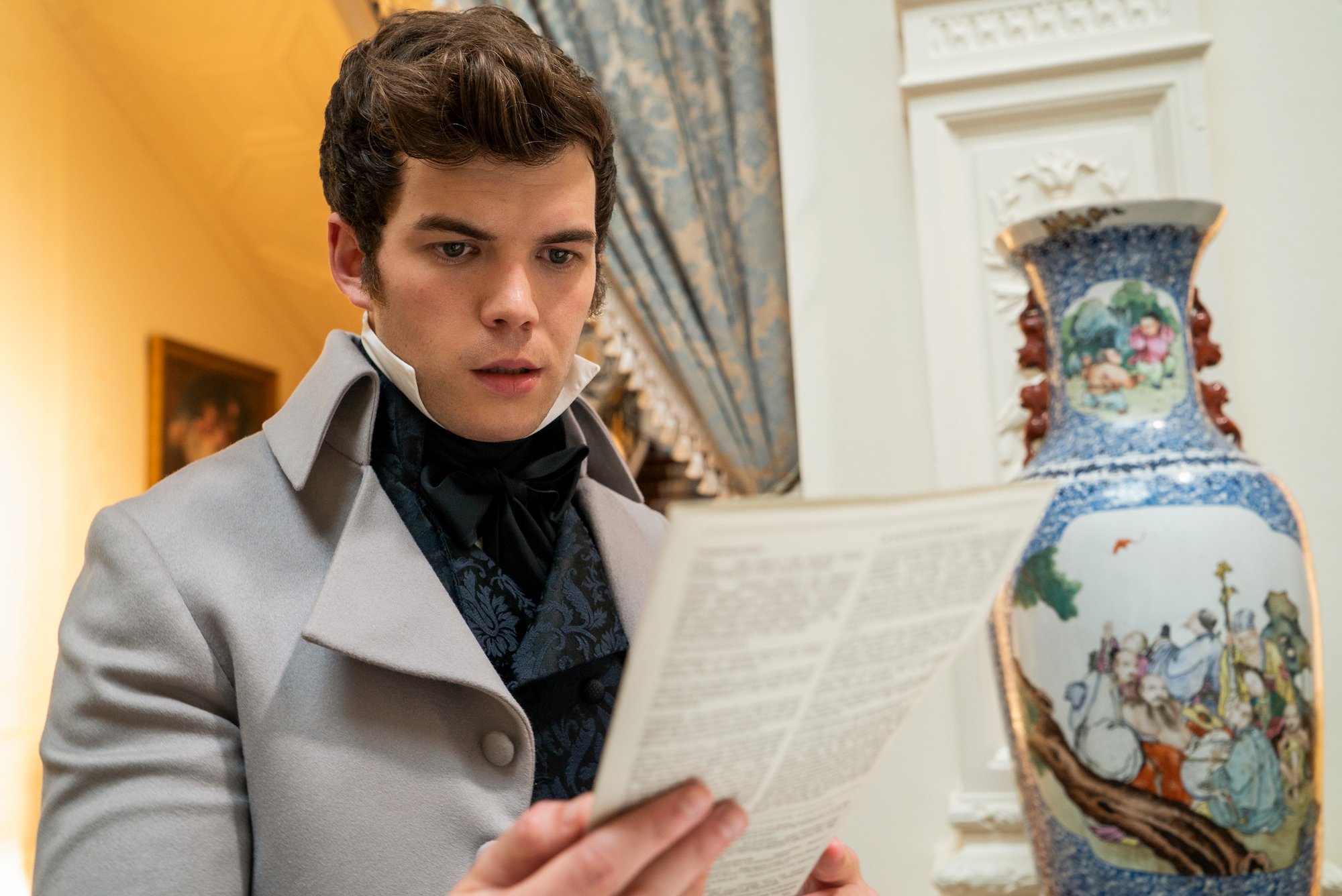 RELATED: 'Bridgerton': How Season 4 Could Combine Colin, Eloise, and Francesca's Storylines
During the interview, Coughlan shared that Penelope and Colin Bridgerton's (Luke Newton) relationship will blossom in Bridgerton Season 2. In season 1, Penelope had a crush on Colin, the third eldest Bridgerton sibling. Later, Colin announces his engagement to Marina Thompson, a distant cousin of the Featheringtons. However, their engagement ended after Lady Whistledown reported Marina's pregnancy. After the scandal, Colin told Mariana that he never wanted to see her again. Shortly after, Colin leaves for Greece. 
The Bridgerton actor went on to say that their relationship will develop in the second season. "[Penelope] and Colin Bridgerton, you get to explore their relationship [in season two], they've become closer in this sort of gap [since] we've last seen them," she explained.
Coughlan teases 'Bridgerton' Season 2 will be a 'whole lot spicier'
Ahead of the Bridgerton Season 2 premiere, actor Nicola Coughlan teased the next installment will be a "whole lot spicier." In an interview with Entertainment Tonight, the Bridgerton star revealed fans are in for an exciting second season.
"It's got a whole lot spicier, I will say. You definitely see more sides to her. We find out at the end of season 1 [that she's Lady Whistledown], that is there, but we don't get to explore it," Coughlan shared. "But the world cracks open. I feel like the Bridgerton world has grown, and you're going to see a lot more sides to her. She's a sassy chick."
At the moment, there is no official release date for the upcoming season. However, Bridgerton Season 2 will debut on Netflix in 2022.